7 Plumbing Safety Hazards and 13 Tips to Stay Safe on the Job
April 27, 2022
5 min. read
From minor falls and cuts to major burns and electric shocks, plumbers face safety hazards on the job daily.
To finish every job safely, you and your team of plumbers must know how to identify and prepare for these risks.
In this plumbing safety article, we'll cover:
Common plumbing hazards and risks
Every plumbing service or repair comes with potential safety hazards. Knowing the risks can help you better prepare for the plumbing work ahead.
Here are a few common plumbing risks and hazards you may face on the job:
Exposure to hazardous and biohazardous substances like chemicals, lead, mold, asbestos, raw sewage, and sulfur dioxide
Slips, trips, and falls from leaks and other wet working conditions
Hearing loss from loud noises like banging tools, pipes, or plumbing machinery
Cuts, fractures, or broken bones from working with plumbing equipment and power tools
Electric shock from working on metal pipes
Burns from hot water, steam lines, or power tools
Musculoskeletal injuries (like tendonitis or strains) from repetitive movements and working in tight or awkward spaces
Plumbing safety procedures and tips
Following the right safety protocols can help you and your team reduce the risk of accidents and injuries on the job site.
Here are some plumbing safety tips to help you stay safe on the job:
1. Build a health and safety policy
Creating a healthy and safety policy for your plumbing company is an important step in setting up a workplace safety program.
Your health and safety policy should include:
First aid and emergency procedures
Accident report and investigation procedures
General site rules to create a safe work environment
An emergency fire response plan
Pro Tip: Check with your local state and government to see if a health and safety policy is required and what specifically needs to be included.
2. Create detailed job orders
Your job orders should always include any information that may be helpful on the job site, like:
The plumbing issue or job to be done
Relevant plumbing or building codes
Images of the work environment
Any potential site hazards to be aware of
Here's an example of what a detailed job order could look like: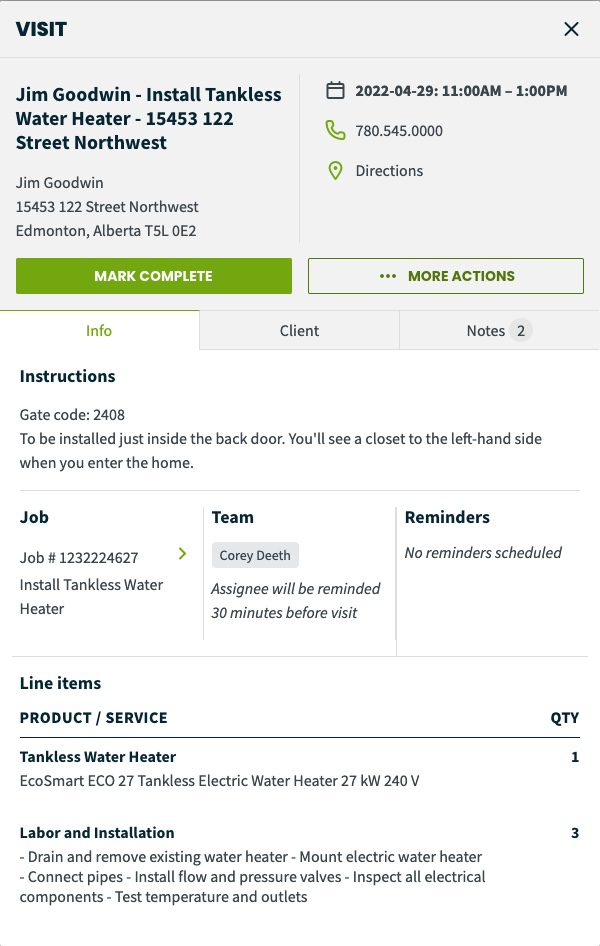 Use Jobber's job management software to capture all the details your team needs to get the job done safely.
3. Health and safety training
Get new hires to complete their health and safety training before starting on the job. Then provide an annual refresher to keep your staff up to date with the best health and safety procedures.
You can provide safety training for your team yourself, or through a third-party or government provider like OSHA.
Use this training to cover plumbing safety topics such as:
WHMIS training
Hazard awareness
Proper equipment handling
Personal protective equipment
READ MORE: Top 4 ways to get your employees on board with safety procedures
4. Use safety data sheets (SDS)
Safety data sheets help you understand the health hazards of the chemicals you're using and what PPE you'll need to safely handle the substances.
Make sure these are readily available to plumbers (in their work van or tool bag) at all times.
5. Inspect your plumbing equipment
Keeping your plumbing tools in tip-top condition can help you avoid accidents or injuries caused by unsafe equipment.
This should include regular maintenance and fuel top-ups for your plumbing van.
6. Invest in PPE
Make sure your team has the right protective gear (like gloves, safety glasses, and work boots) to stay safe against a potential safety hazard.
To protect against the spread of bacteria and viruses from working around raw sewage, have sanitizer and disinfectant wipes readily available to clean your hands and equipment.
JUMP TO: The best PPE for plumbers
7. Get the right insurance
Protect your plumbers and your plumbing company with the right business insurance coverage.
At the very least, you'll want general liability insurance to protect against claims related to injury and property damage. You may also want:
Professional liability insurance
Business property insurance
Workers' compensation insurance
Commercial auto insurance
Talk to your insurance company to figure out which policies are best for your business.
8. Create health and safety checklists
A safety checklist can help your plumbers identify hazards on the job site and prevent injuries and other health risks.
Here's what a custom safety checklist looks like in Jobber: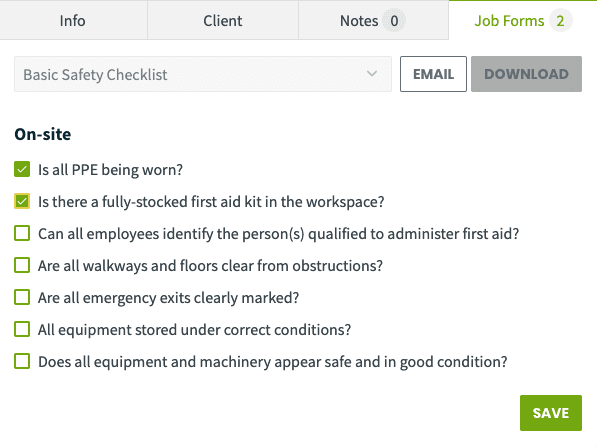 You can customize your Jobber safety checklists for specific jobs or work environments (residential or commercial).
The best PPE for plumbers
Personal protective equipment (PPE) is designed to protect you from potential injury on the job. For plumbers, the best PPE includes:
Protective eyewear
Safety glasses can help protect your eyes from flying debris and hot water or chemical splashes. Wear eye protection when you're using harsh chemicals or power tools.
Pro Tip: Prescription glasses and safety glasses are not created equal when it comes to safety on a job site. If you wear prescription glasses, find a pair of protective glasses that fit comfortably over your frames.
Plumbing gloves
Your hands are one of your most valuable plumbing tools, which is why it's important to protect them from cuts, burns, chemicals, biohazards, and more.
You'll want to invest in different types of plumbing gloves like nitrile and leather to protect your hands from every hazard.
Non-slip safety boots
Protect your feet from heavy falling objects and avoid slipping on wet surfaces with a good pair of safety boots. To keep safe and comfortable all day long, look for boots that have these features:
Waterproof
Oil and slip-resistant
Steel toe or steel cap
Electrical hazard protection
Lightweight and comfortable
Masks
Wearing a mask on the job can help protect your lungs from dangerous elements on the worksite.
When working with potentially toxic substances like mold or asbestos, it's best to wear a respirator mask.
Dust masks, on the other hand, will protect you from non-toxic dust caused by cutting pipes, or dirty work environments.
Wearing a face mask in a customer's home can help protect you against potential airborne viruses.
Earplugs
Sharp and loud noises on the job site can cause long-term damage to your ears. Use earplugs when working with loud machinery or on noisy worksites like construction zones.
READ MORE: Investing in a safety program: a little goes a long way
When it comes to plumbing safety, creating a safe working environment requires you to know the risks and be prepared for anything. Make identifying risks easier with Jobber's custom safety checklists.