Entrepreneur Inspiration
Creating Something From Trash: Turning a Dirty Bin Into a Thriving Business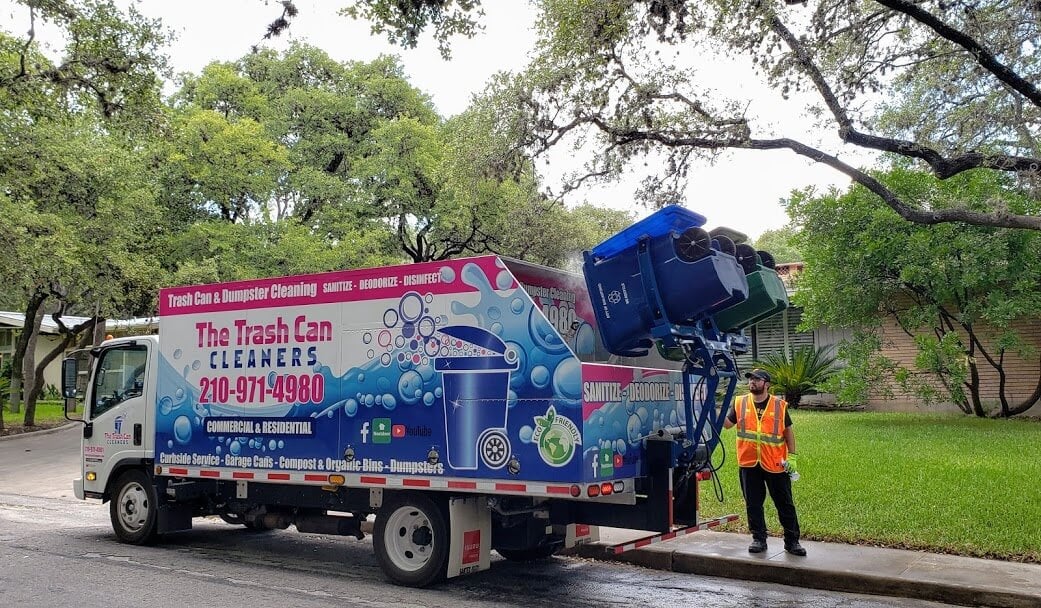 The Trash Can Cleaners
Learn how this business owner turned a dirty trash bin into a new bin cleaning company that has seen exponential growth.
Brannon and Mary Ann Fowler, along with their business partners Brandon and Lisa Brzozowski, started The Trash Can Cleaners together two years ago and have since seen incredible success.
The team has equipment that they manufacture themselves, an ability to easily upsell other services, and a willingness to share their formula with other entrepreneurs, which means that this business is only going to continue to thrive.
"There was a need," says Brannon. "We created the business, created the equipment, launched it in San Antonio, and here we are two years later. We have over 1,000 clients in Jobber, are running the business consistently, and helping other people get started."
Brannon and his team added Jobber to their business toolkit 2 years ago and haven't looked back since.
Thanks to Jobber, The Trash Can Cleaners have:
Grown from 0 to over 1,000 regular customers without a hitch
Been able to efficiently schedule routes that include multiple customers in order to maximize their day
Upsell services to existing customers resulting in thousands of dollars in additional revenue
The inspiration for the new venture came to the two couples based off of a common pain point — the smell left behind in their bins after the trash had been picked up.
"At one point we, altogether, had four kids in diapers at the same time," says Brannon. "And when you throw diapers in the trash can, even after they've been dumped, that trash can smells terrible."
They realized that it wasn't only people with kids that had the issue and it wasn't just the smell that was a problem, there were also other concerns.
"A lot of people who live in these larger communities, a typical neighbourhood, or an area that has a homeowners association, have requirements to keep their trash cans out of sight. It's easiest to keep the trash can in the garage. So, it smells terrible, and you put it in your garage… and now you have this attractor of pests, and this thing creating a terrible smell, right there in your house. Putting it in your backyard isn't any better, because you end up grilling beside your trash."
Brannon and team realized that they were keeping everything in their house clean — their kitchens, bathrooms, their car — but not their trash bins.
That needed to change.
Brannon and his partners also run a mechanical equipment business, so having that background made it possible for them to build their own equipment for this type of business, rather than having to outsource it to another company.
"We realized there was an opportunity in the market. [Trash bin cleaning] wasn't being done anywhere in San Antonio, and when we evaluated the equipment that existed, we realized that because of our mechanical background we could build something that was an enhancement over what else was out there."
Once they had the idea and the equipment, Brannon knew the key to making the new venture successful was getting the right software in place.
Finding software that can scale
With a background in software sales for small to medium sized businesses, Brannon understood the questions that he needed to ask in order to find what would work best for his company. The most important thing for him was finding software that would scale as his company grew.
"I knew it was important was to find software that could handle a huge workload. A lot of software that is developed for smaller companies may be able to accommodate five or six stops in a day, but not more than that. We had some of Jobber's competitors tell us they would do everything we needed, but when we asked what would happen if we ended up having 100 stops in a day or 200 stops in a day, they would tell us that their system was not made for that, but would look into it. When I asked the people at Jobber, their answer was 'no problem'."
"We started with Jobber before we even got the first truck on the road," says Brannon. "And we are now at the point where we have over 1,000 customers in Jobber and it still runs as smooth as it did on day one. To us, that is a sign that Jobber will continue to provide what we need as we continue to grow."
Using Jobber to upsell services
When Brannon started the business, he knew that the equipment was going to be very versatile and could be leveraged in multiple different ways.
"It's what made the risk of starting this business so low — we knew that the equipment could be used for other things. To wash houses, driveways, fences — we started the business with the focus of residential trash bins, but knew that potential was there to expand into other services."
He now uses Jobber to upsell services like pressure washing to his existing customer base.
"All we have to do is send out an email blast to our existing customers and remind them that we can wash their driveway, roof, fence, cars, etc. with the same equipment, and it's not unusual for us to book thousands of extra dollars in revenue with a pressure washing add-on. They trust us and know we are consistent; we are going to be at their house anyway to clean their bins — it's an easy sell. And, on our end, because they are already set up in Jobber it's easy — their credit card and all of their information is already on file."
Running as efficiently as possible
According to Brannon, being efficient is the only way that a business like this will succeed.
"There are so many customers that the scheduling and routing is critical. Being able to put routes together that are efficient is huge, and something that Jobber allows us to do quickly and easily."
"We take advantage of pretty much everything that Jobber offers to help us be more efficient. I'm planning on replacing all the forms on our website with the Jobber work requests so it's a smoother workflow with customers signing up within Jobber itself."
Being able to remind customers when they are coming is also a key feature for Brannon. "The client reminders are huge because we offer three recurring cleaning options—once a month, once every other month or once a quarter. We can't expect a client to remember to put their trash can out one day in a month, so we really take advantage of the client notification feature to remind our clients that we are going to be coming in the next day. That way it also ensures that our drivers aren't showing up for no reason or having to reschedule and it also gives the client a chance to cancel or change their appointment if they are going to be out of town."
Brannon also regularly uses the GPS waypoint feature when he needs to look up job histories, and loves being able to add images to job notes so that the driver can quickly and easily document any concerns.
"The driver of our truck also has the ability to document any damage to cans when he arrives and upload it into Jobber so that we can protect ourselves in case customers blame us for damage."
Growth and mentorship
Brannon and team have expanded the mechanical side of their business by building and selling their equipment nationally and internationally (into Canada), and have also started mentoring those interested in starting a bin cleaning business of their own.
"I am very open to sharing information with people and having conversations with potential new business owners," says Brannon. "We educate them, at no charge, on how to start the business — marketing, finance, and getting started with Jobber."
He believes that there is a huge opportunity for people looking to start a bin cleaning business, and the market is only going to grow.
"The population of the US is growing, and the population of major cities is increasing rapidly. The world is becoming less rural, which means that the smell of trash bins in a concentrated area is only going to become a more common problem."
"Plus, people used to have only a single trash bin, but now they also have recycling bins, and from east coast to west coast they are also now starting to implement compost bins. So, that's great for this business because it's now a whole other can per customer to clean!"
Brannon's ultimate goal? Become the "John Deere" of trash can cleaning equipment and continue to support those that are creating a business in their own city.
"A couple years from now, there may be competitors and franchises across the country. We want to continue to grow the mechanical side of the company so that we can become the "John Deere" of Trash Bin Cleaning equipment. And, we hope that people who buy the equipment and take our training end up creating their own franchise and achieving as much, or more, success as we have."