QuickBooks vs Xero: Key Differences, Pros, and Cons (2024)
The main difference between QuickBooks and Xero is that QuickBooks is more customizable accounting software that can automate more of your bookkeeping. Meanwhile, Xero is a lower-cost accounting solution that supports unlimited users, but with limited payroll tools and customer support.

Only QuickBooks Online syncs with Jobber to connect your accounting with your field service quoting, invoicing, and payments software without double entry.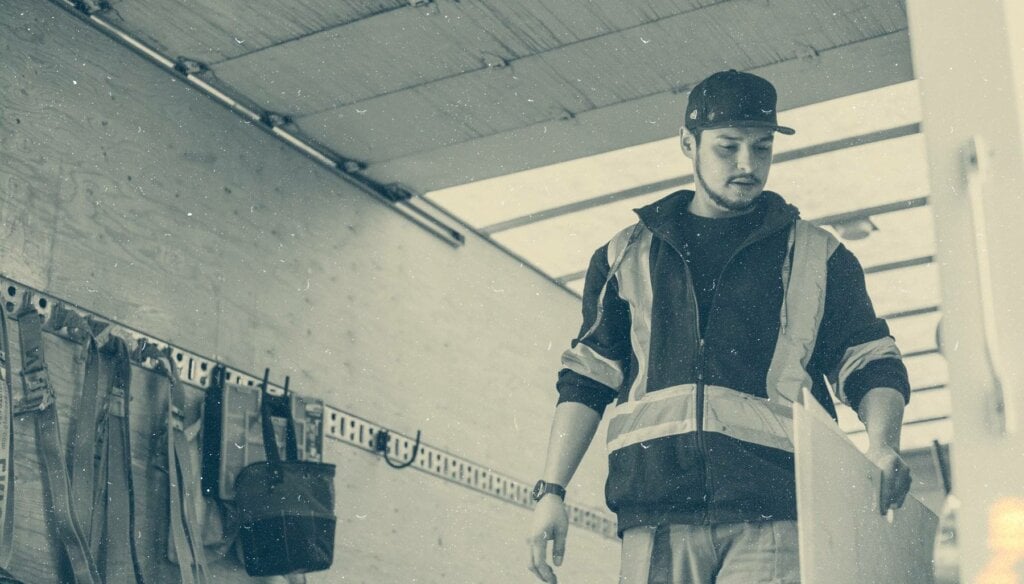 QuickBooks and Xero are both popular accounting solutions for businesses across many industries. They offer tools to improve your cash flow management, accounts receivable, accounts payable, financial reporting, and more.
How are QuickBooks and Xero different?
QuickBooks offers advanced bank matching, expense tracking, invoicing, and payroll tools to help you keep more detailed financial records. Compared to Xero, QuickBooks has:
More features that automate your accounting workflow, like invoice approvals and tax deduction calculations
More plans and versions that fit a wider variety of business types and levels of accounting experience
More recognition—since QuickBooks has been around for longer, you're more likely to find an accountant who has experience with QuickBooks
Xero has fewer advanced accounting features than QuickBooks, but it's slightly easier for beginners to use. Xero is unique for having:
No limit to how many employees or accountants can use your Xero account
Lower monthly subscription fees
More integrations with third-party apps
Here's a few other ways QuickBooks and Xero are different:
QuickBooks
Xero
Ideal business types
Small business teams that want to automate their accounting and bookkeeping
Larger teams; businesses with international clients
Unique features
• Create up to 40 transaction tracking categories

• Send unlimited invoices

• Expense claims and tracking available on all plans

• Syncs with Jobber (field service management software)
• Pay and get paid in over 160 currencies
• Basic inventory management available on all plans
Number of users supported
1–25
Unlimited users
Available add-ons
• Track time on a project from anywhere (QuickBooks Time)

• Pay your team, track hours, and offer employee benefits (QuickBooks Payroll)

• Get live online support from expert bookkeepers (QuickBooks Live Bookkeeping)
• Expense tracking and management (Xero Expenses)

• Project management (Xero Projects)
Third-party app integrations
450+
1,000+
Customer support
All plans include 24/7 live chat support. Phone support is available at select times Monday through Sunday.
No phone number, email, or live chat support. Customers have to wait for a call back after requesting support.
Compare key features of QuickBooks and Xero
QuickBooks and Xero can help you accomplish many of the same accounting and bookkeeping tasks, with some notable differences in how their features work.
Here are the differences between QuickBooks and Xero's key features:
Bank reconciliation
📚 Reconciliation: the process of comparing your business records with your bank records to ensure they match.
QuickBooks
Xero
• Separate tools for transaction categorization and bank reconciliation
• See all transactions in a table view
• More detailed transaction records
• See transactions side-by-side with your bank feed
• Edit transaction details in fewer clicks
Both QuickBooks and Xero can detect matches between your bank statement and the transactions you've entered into your accounting software. However, each accounting tool has a different approach to the bank reconciliation process:
QuickBooks: Bank Feeds in QuickBooks helps you match and categorize your transactions before you officially reconcile them with your bank account. You can use Bank Feeds by connecting your business bank account to QuickBooks Online.
In Bank Feeds, all transactions you've entered into QuickBooks appear in a single, clean table: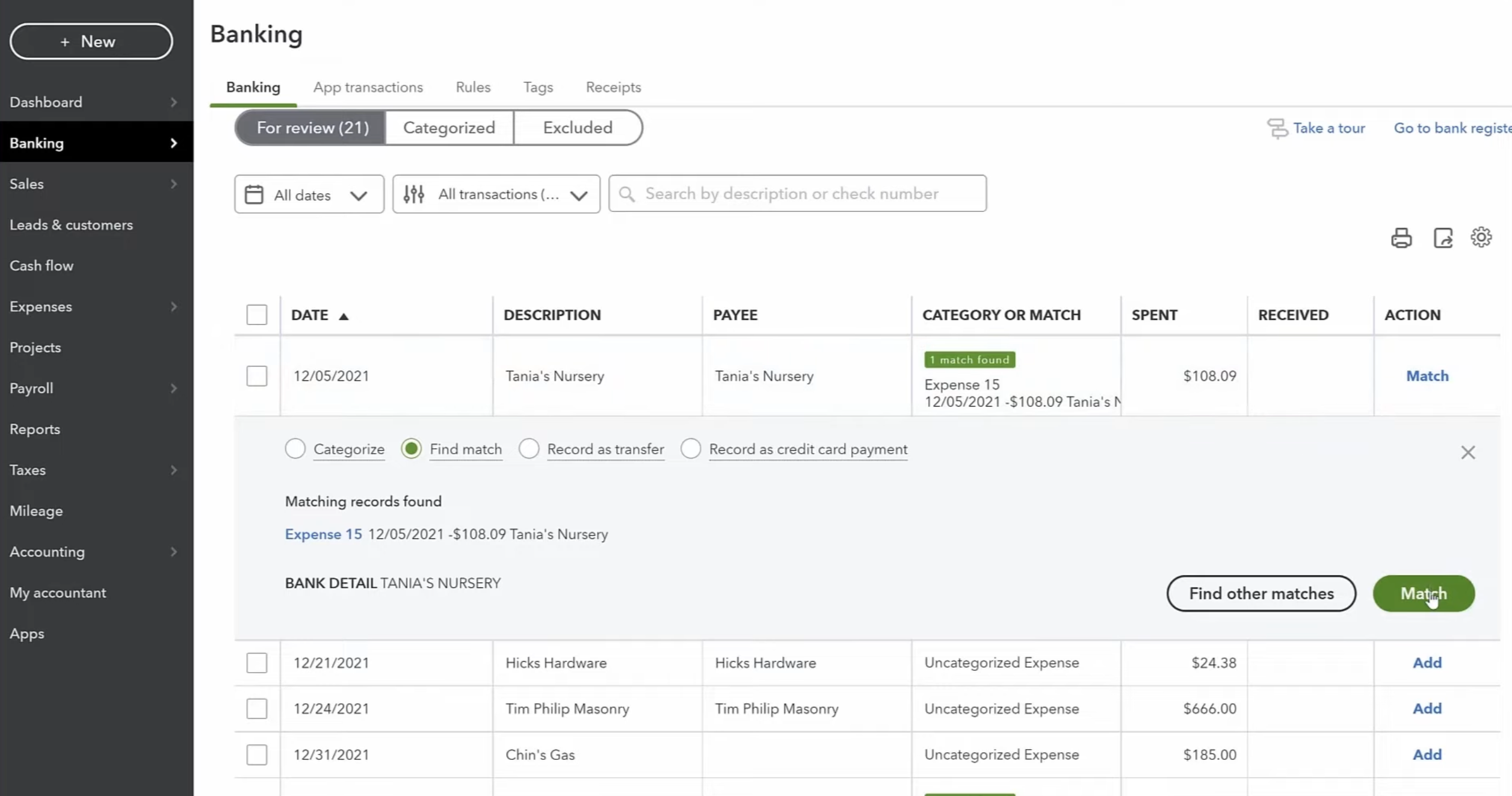 QuickBooks tells you when it finds a matching bank transaction, and lets you set custom rules that automatically file transactions under the categories you've set.
When it's time to reconcile the balance in QuickBooks with your bank balance, QuickBooks offers a more traditional bank reconciliation system than Xero.
Use the Reconcile tool to check off transactions as you verify that they match with items in your bank ledger: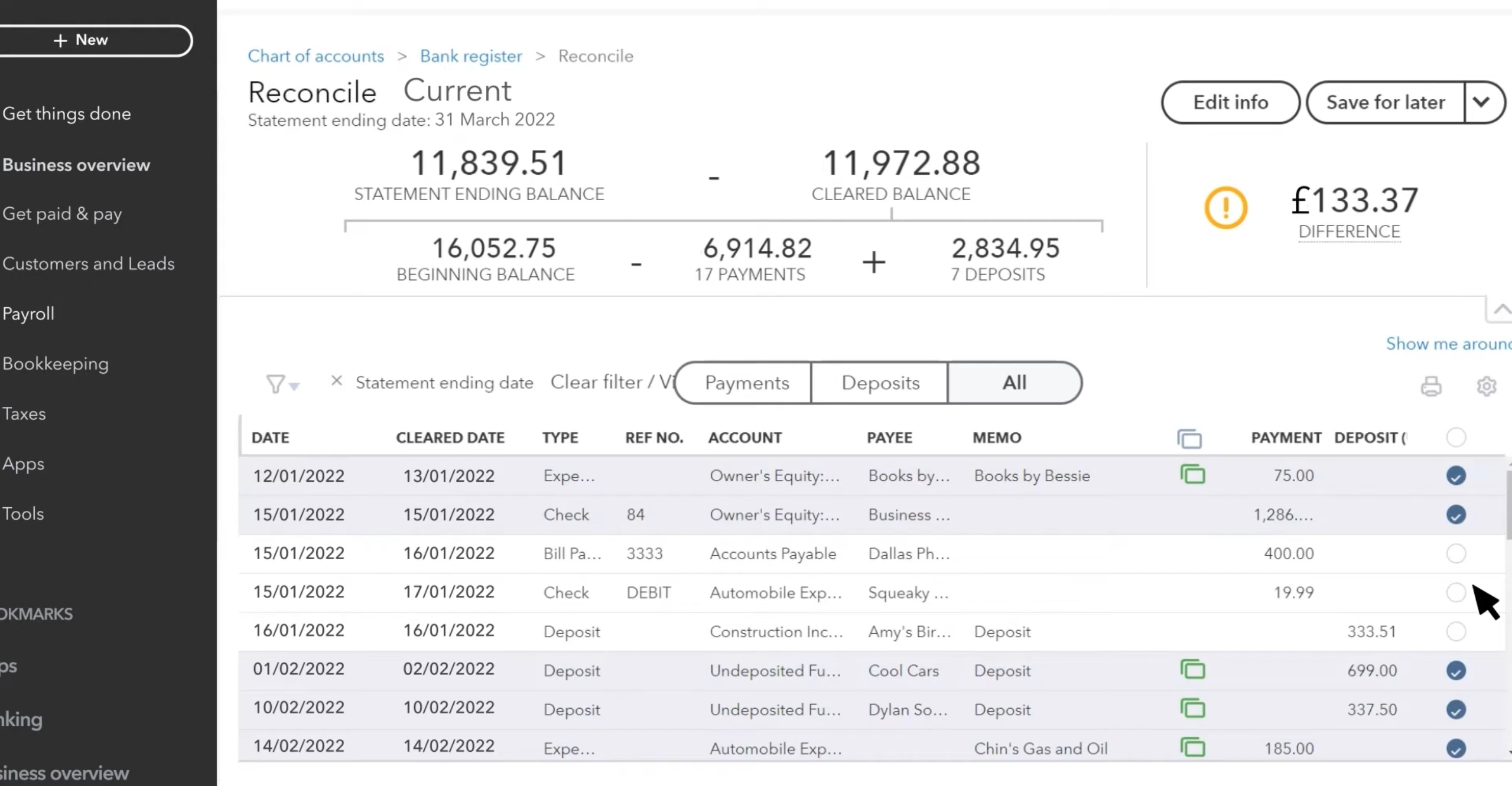 Xero: Transaction matching, categorization, and bank reconciliation all happen in one place. All transactions you've entered in Xero appear side-by-side with your bank feed.
This format lets you compare your bank ledger with your Xero transactions on one page and reconcile them on the spot: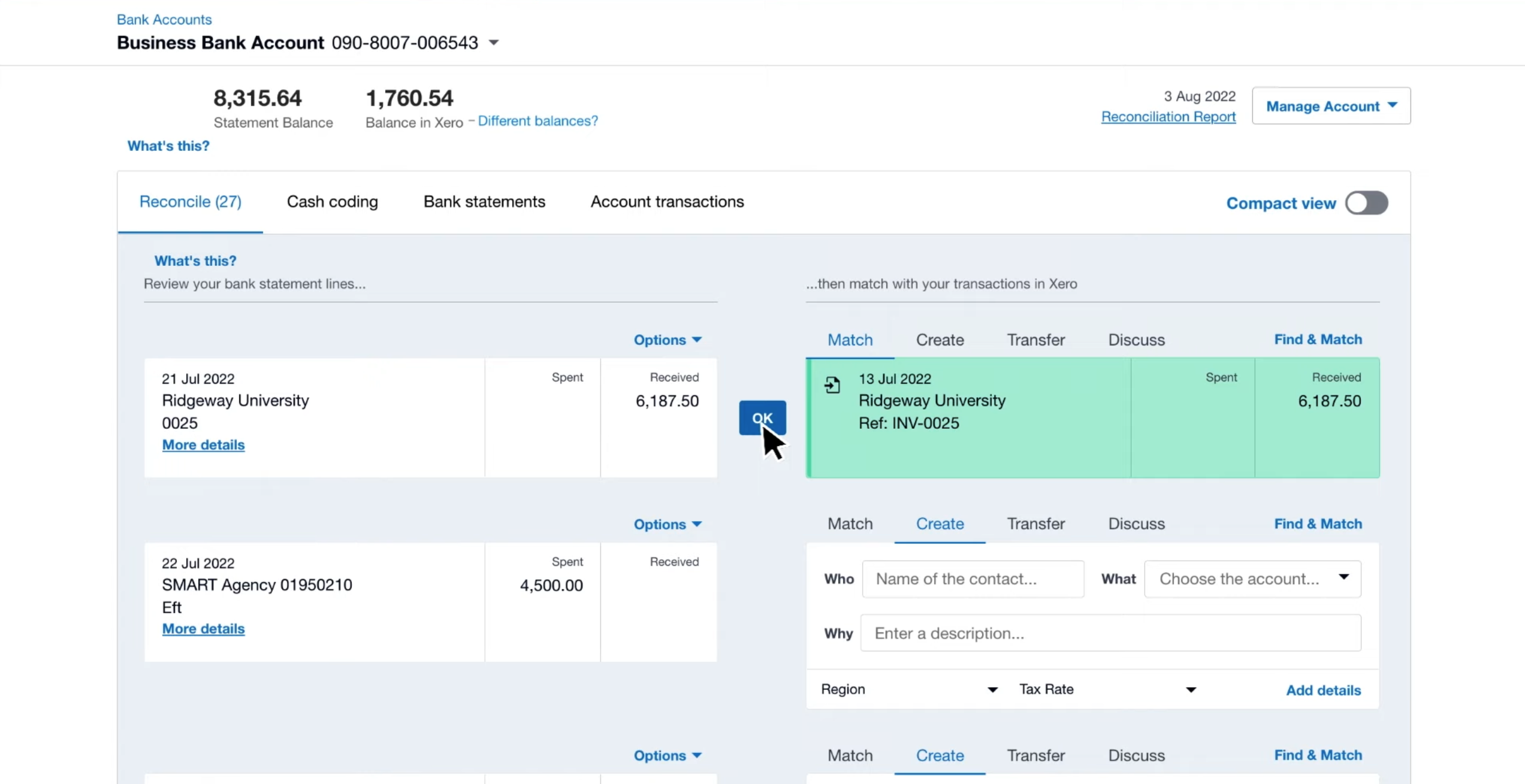 While Xero makes it easy to edit and add transaction details while you reconcile, it doesn't provide the same level of detail up front as the transaction table in QuickBooks' Bank Feeds.
Invoicing
QuickBooks
Xero
• Choose what details customer see on their invoice
• Color and font customization
• Track when a customer has viewed their invoice
• Add custom tax rate to each line item
• Select your preferred currency directly from the invoice
QuickBooks and Xero both help you manage your accounts receivable with a dashboard that show outstanding balances and invoice statuses. You can use either software to send recurring invoices and set automated invoice reminders.
Xero and QuickBooks also let you customize, preview, and send invoices easily, but QuickBooks stands out for allowing more invoice customization.
QuickBooks: QuickBooks lets you choose the details that customers see on your invoice. You can include or exclude a ship-to address, invoice number, payment terms, a SKU number for inventory, and custom tags: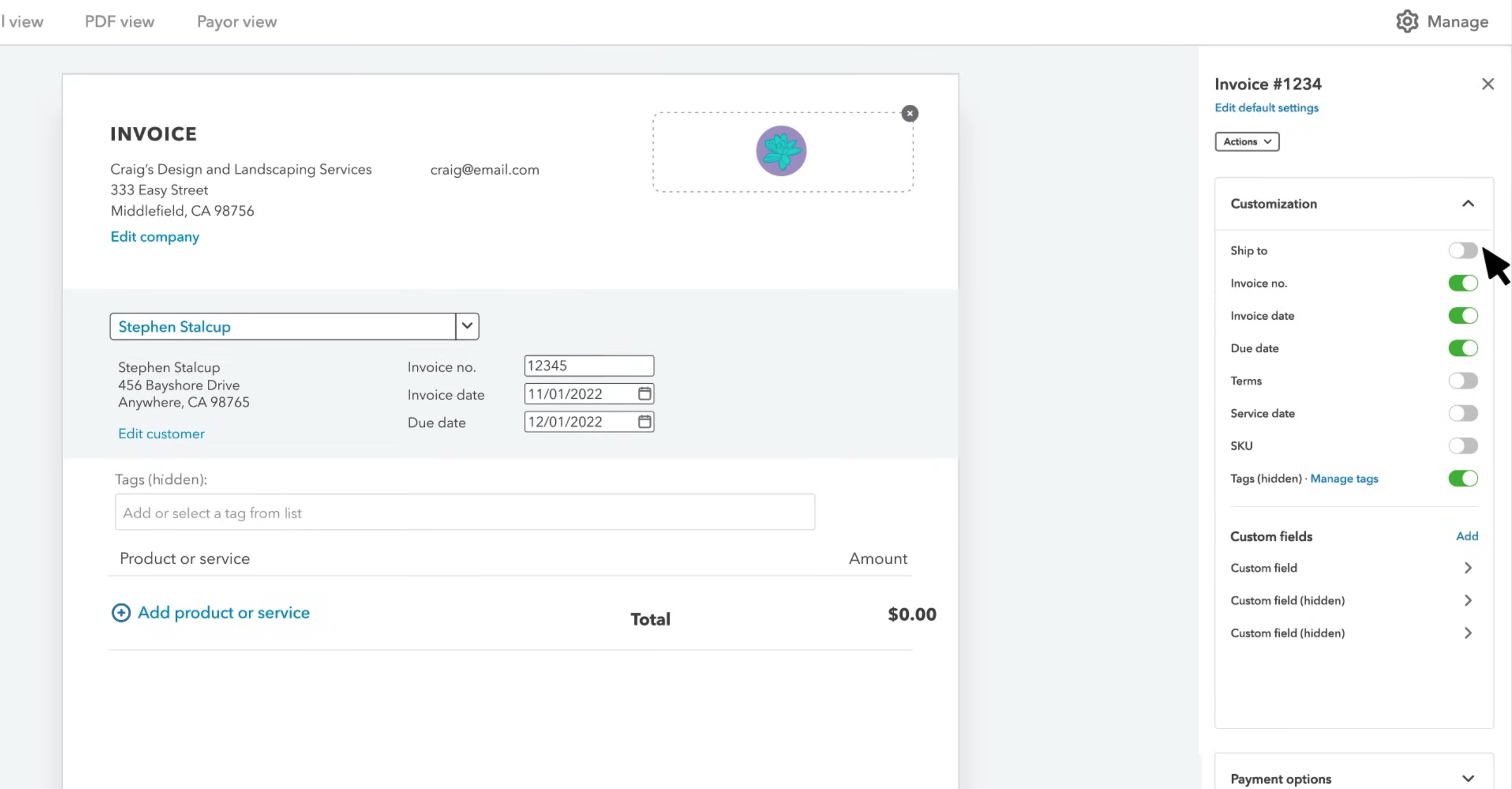 QuickBooks Online will also show you when a customer has reviewed an invoice.
Xero: The fields that appear on Xero invoices are fixed. However, Xero does let you add customized tax rates to individual line items and select which account each line item is associated with.
To invoice international customers, Xero lets you select your desired currency directly from the invoicing screen: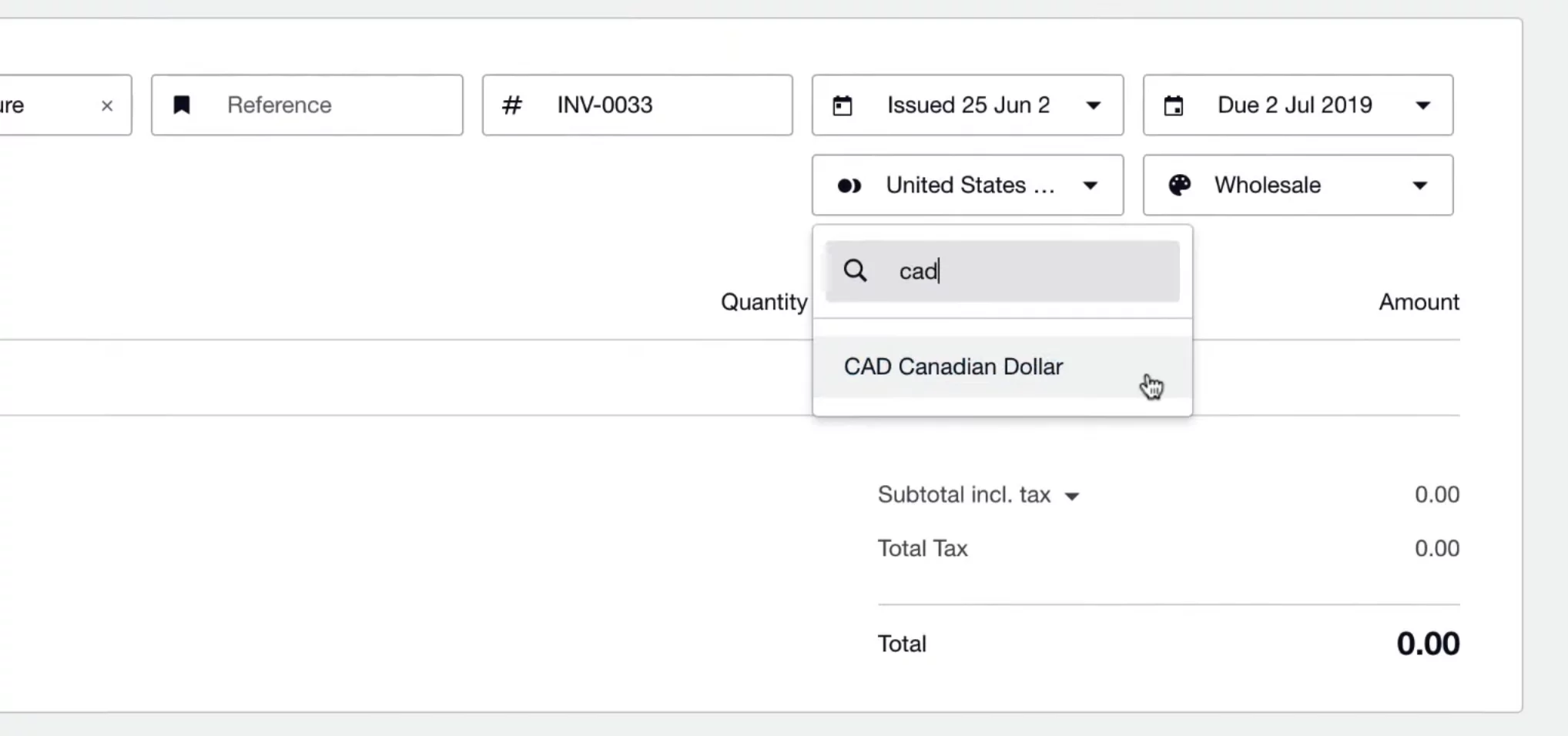 Expense tracking
QuickBooks
Xero
• Included on all plans
• Specify the payment method for every expense
• Create categories for expenses
• Only available as an add-on
• Get notified when your team submits expenses
• Submit mileage claims separately
QuickBooks and Xero both help you track expenses automatically or manually. While expense tracking is available on all QuickBooks Online plans, Xero offers it at an additional cost with their Xero Expenses add-on.
You can connect your bank account, credit card, and payment processing software (like Paypal or Square) to both QuickBooks and Xero Expenses. This way, expenses you've paid for will get automatically imported into your accounting software.
To import expenses manually, you can snap photos of receipts from the QuickBooks or the Xero Expenses app. Both apps will automatically pull information from your receipt photo.
QuickBooks: When you upload an expense manually, you can specify the payment method used and the category it falls under.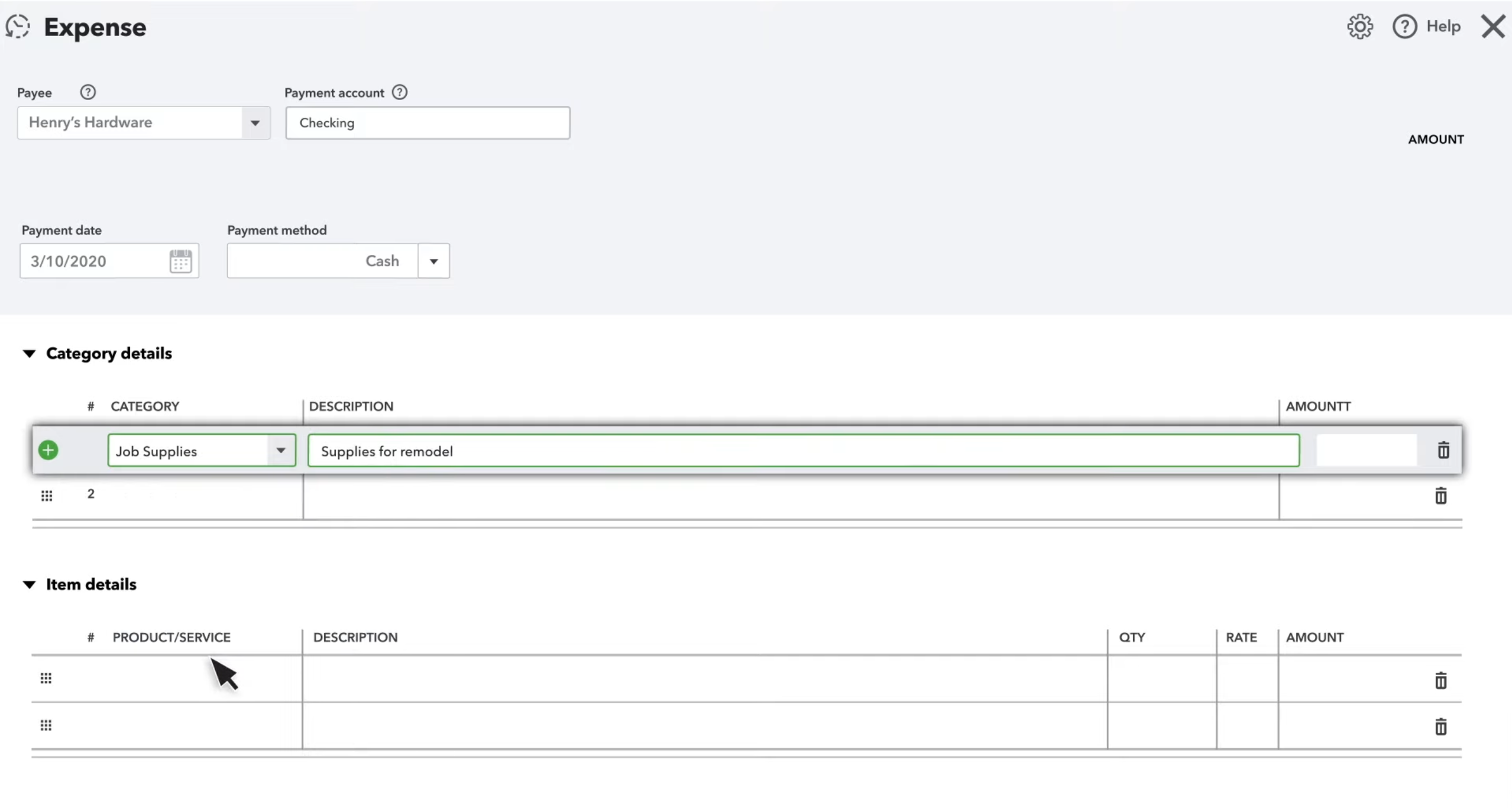 For inventory purchases, QuickBooks gives you a place to name the new product you've procured and add a description.
Xero: While submitting an expense claim may take less time, expenses don't contain as much detail compared to QuickBooks. Your employees can also submit expense claims, and you'll be notified when they do.
Uniquely, Xero has a separate mileage claims form that calculates your fuel costs based on how many miles you traveled.
| Looking to save money on your mileage? Here's how service routing software cuts down your driving time
Payroll
QuickBooks
Xero
• Automatic tax calculations, paycheck processing, and filings
• Make multiple pay runs at once
• Not a full payroll solution
• Recommended for a small number of employees
While QuickBooks offers a full payroll solution at an extra cost, Xero is limited to manual pay runs.
QuickBooks: QuickBooks Payroll completes payroll calculations automatically, including T4 and RL-1 forms. You can also make multiple pay runs ahead of time and set payroll to run automatically.
Xero: The pay run feature in Xero is only recommended for a small number of employees. Xero recommends using a third-party app for a more powerful payroll solution.
Consider Gusto, an all-in-one HR platform that puts the tools you need to hire, pay, and manage your team at your fingertips. With Gusto, payroll takes just a few clicks.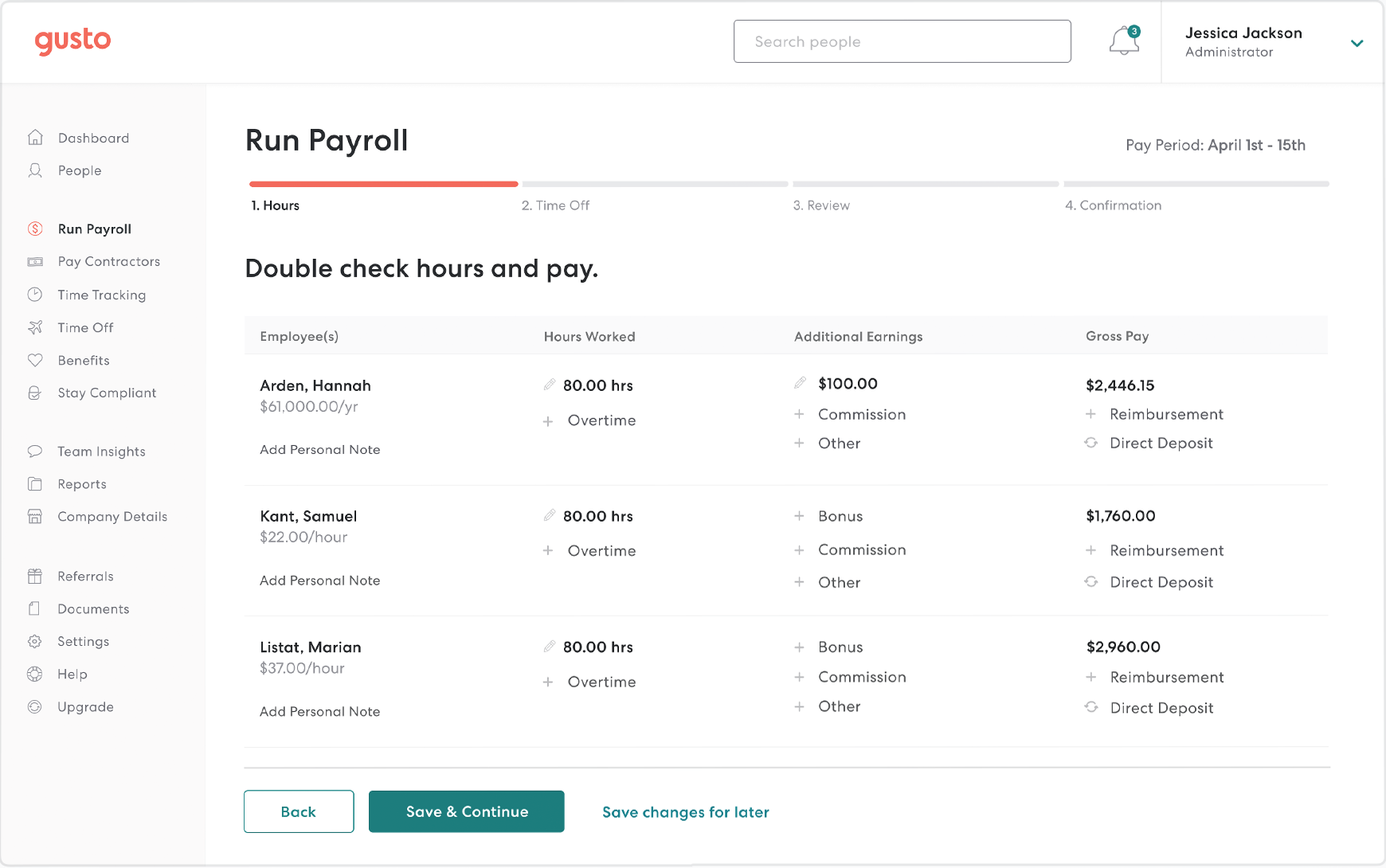 Here's what else you can do with Gusto:
Run payroll as many times as you need each month, at no extra cost.
File your taxes automatically
Get help with compliance
Save money by identifying tax credits you may never have known you qualified for
Pro Tip: Automatically sync timesheets and reimbursable expenses from Jobber to Gusto and rest assured knowing your payroll will be accurate and on-time. You can even set custom overtime rules to ensure payroll is accurate and compliant.
Compare pricing plans
QuickBooks offers more pricing plans than Xero, while Xero's plans are less expensive. Although Xero and QuickBooks update their pricing often, the features included in each plan generally stay the same.
Here are all QuickBooks Online pricing plans and the features they offer:
QuickBooks Online EasyStart offers basic accounting tools for a single user. It's the best place to start for solopreneurs, freelancers, or sole bookkeepers.
QuickBooks Online Essentials supports up to three users, includes accounts payable tools, and offers multi-currency support. It also integrates with QuickBooks Time, a time tracking add-on.
QuickBooks Online Plus supports up to five users and lets you track project profitability, inventory, and multiple business locations.
QuickBooks Online Advanced supports up to 25 users and offers robust reporting and customization. Advanced also lets you build automated accounting workflows to save time, send invoices in batches, and sync your Excel spreadsheets.
| Wondering about QuickBooks Desktop plans? Read this guide to compare QuickBooks Online with QuickBooks Desktop
Xero offers three pricing tiers with the following features:
Starter is Xero's best plan for sole traders, new businesses, and self-employed entrepreneurs. You get basic accounting features and are limited to five bills and 20 invoices.
Standard is geared to growing small businesses. There are no bill or invoice limits, and you can reconcile transactions in bulk.
Premium is best for established businesses that need advanced analytics and do business in multiple currencies.
Only Quickbooks Online connects with Jobber to keep your service business organized
QuickBooks Online pairs with Jobber—a highly rated field service management solution—to keep your customer, invoice, and payment information accurate without any double entry.
By quickly and accurately syncing your important business information from Jobber to QuickBooks Online, you'll cut hours of manual work every week and get back valuable time.
When you connect Jobber with QuickBooks Online, you can:
Easily import existing clients, products, and services from QuickBooks Online to ensure both are accurate from day one
Control when and how important information is synced from Jobber to QuickBooks Online moving forward
Automatically sync your clients, products and services, timesheets, invoices, payments, refunds, tips, and payouts from Jobber to QuickBooks Online
Approve timesheets in Jobber and sync them to QuickBooks Online to use for payroll
Automatically reconcile payouts for payments and tips collected through online payments in Jobber
See what customers say about Jobber