WITH JOBBER, IT'S EASY FOR YOU AND YOUR TEAM TO TRACK BUSINESS EXPENSES FROM THE OFFICE OR THE FIELD.
Give every member of your team the ability to track expenses, no matter where they are. Simply use the mobile app to enter expenses, assign them to jobs, and snap and attach receipt photos.
Stop wasting time calculating material costs, job estimates, and reimbursements for payroll or accounting.
Jobber's expense tracking keeps your business organized, so you'll know exactly how much money was spent on each job.
Available on Connect and Grow plans. Visit Pricing
RECEIPT SCANNER
Don't risk forgetting or misplacing receipts. Use Jobber's app to take photos of receipts and attach them directly to the expense log from anywhere.
Jobber lets you keep detailed track of each expense, from the date and amount down to who will be reimbursed, all in a few clicks.
Expense Reports
View, filter, and export detailed expense reports for budgeting, payroll, or accounting purposes. Get an accurate view of how your business doing with over 20 built-in reports, including expense, job, and time tracking.
Accounting Codes
Create unique accounting codes for each expense to make payroll and accounting a breeze.
Track reimbursable expenses and mark them as paid.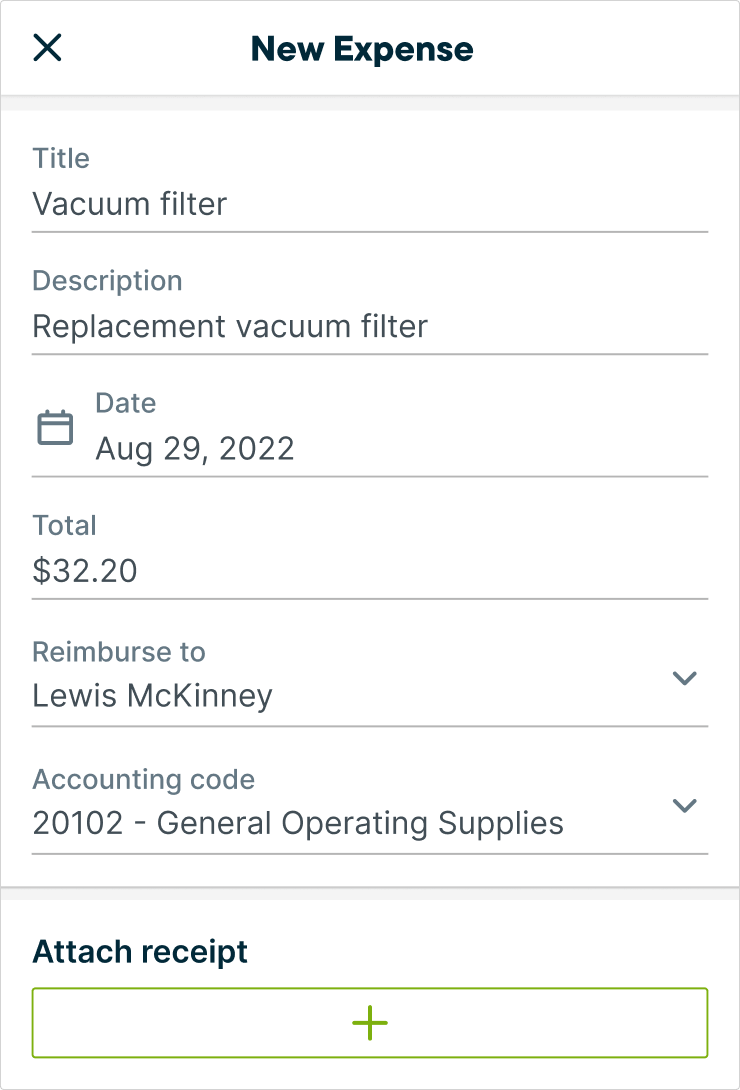 It works for everyone: 18 year olds who are warehouse staff to staff who are 60 years olds. My mom doesn't know how to check her email, but can use Jobber.
Frequently Asked Questions
When you run a business, costs can start to pile up. Materials, fuel, and new equipment are all necessary to run your business. But if you aren't tracking how much you spend on these, your profitability will suffer. Business expense tracking software gives you and your team and easy way to log, track, and reimburse day-to-day expenses from a desktop or mobile phone. With Jobber, every team member can instantly log their expenses and attach receipt photos so you know exactly how much money was spent on each job.

You bet. Expenses can happen anytime, anywhere. If you have to wait until you're at the office to track them, you're more likely to forget or misplace the receipts. Jobber's expense tracking app lets you snap photos of receipts and log an expense from iOS or Android. It couldn't be easier. Learn more about our

mobile app

.

It's easy to reimburse expenses with the Jobber app. When an expense is created, you or the team member creating it can select if the expense needs to be reimbursed to a user. Reimbursable Expenses are automatically tracked and can be marked as paid in Jobber for accurate payroll and accounting.

Yes, Jobber's field service management software includes time and job tracking software. When your team member starts a job, they can clock in by starting a timer in Jobber. When they clock out, Jobber updates both the job and the employee's timesheet to reflect the time spent working. Learn more about

time and job tracking

.

Whether you're checking us out for the first time, or you're one of our oldest customers, we've got your back when it comes to support. Phone support, email support, and online chat are available to you for free, and included in all Jobber plans.