Managing Your Business
Is Online Booking Right for You? 4 Factors to Consider
September 28, 2023
6 min. read
Online booking lets customers book your services without the back-and-forth of calls or emails—it all happens on the web.
It saves you time and helps your customers get what they want faster. Everybody wins.
Not sure if you're ready to use online booking or if it's even a good fit for how you work? Keep reading to find out exactly what it can do, how it helps you book more jobs, and how to choose booking software that fits like a good work glove.
How does online booking work?
An online booking system is a portal on your website, social media, or other online channel where customers can select the services they want from you.
Once you set your availability and service offerings, customers can select a date and time slot, book an appointment, and often pay online when the work is done.
You can integrate this system with your calendar, get instant notifications, and even manage cancellations or reschedules.
Here's a preview of how online booking works in Jobber:
Benefits of online booking
Choosing a more convenient way to schedule customers is a great way to add efficiency to your business. Here's why online booking is the way to go:
1. Reduce back-and-forth customer communication
With an online booking system, you don't have to take phone calls or answer emails all day to get work booked in your calendar.
You'll also save time reminding customers about upcoming appointments, since most booking systems do this automatically.
Receiving bookings through a 24/7, online system frees up your time to perfect your customer service, complete more jobs, or catch up on other administrative work that's been on the backburner.
2. Keep your team on the same page
In the same way that you're reducing back and forth emails and calls with customers, you'll be cutting out the hassle of coordinating bookings with your employees.
With online booking software that lets you set preferences around your employees' schedules, you'll save time figuring out who can take on the job.
Jobber, for example, will automatically choose a team member who's available so you can do less admin work and prevent double bookings.
3. Automatically receive work in your calendar
Once your customer picks a date and time for their appointment, getting it in your schedule takes no effort.
An online booking system that integrates with your team's drag and drop calendar will ensure no booking gets missed.
READ MORE: 8 best scheduling apps for small business owners
4. Stay in control of your schedule
Online booking doesn't give your customers free reign over your schedule. In fact, it helps you set strict limits on how and when appointments are scheduled without saying "no" to booking requests.
For example, if you don't want appointments booked with less than a day's notice, you can set your earliest availability to one business day.
5. Reduce no-shows and cancellations
It can be easy for customers to forget about a booking. Online booking systems automate your scheduling process from start to finish—and that includes your appointment reminder messages.
Appointment confirmation emails or text messages let customers know their work has been scheduled, provide details about their upcoming work, and remind them when an appointment is coming up.
6. Look professional and attract new customers
Beyond the quality of your work, customers look for businesses that put their convenience first. Many customers make online transactions every day. You'll be more competitive if you can match the convenience they're used to.
Beyond attracting customers by looking modern and professional, you'll have more time to spend on your marketing, sales, and the customer service you provide during and after the job.
7. Keep your customers coming back
Convenience doesn't just attract new customers. You'll make it easier for existing customers to book more services with an online booking tool.
When you upgrade from manual scheduling to online booking, you'll show your customers you're invested in improving their experience with your business.
What types of businesses should use online booking software?
Businesses in all kinds of industries are a great fit for online booking software, including home service providers, consultants, photographers, educators, and more.
As long as you need to service customers at specific times, online booking is the way to save your business time and effort on appointment scheduling.
It's especially useful for mobile service teams that are constantly on the move and don't have office staff to coordinate bookings.
Jobber has online booking software built specifically for field service businesses whose work happens on customer properties. That includes (but isn't limited to):
Residential cleaning
Window washing
Pressure washing
Lawn care and maintenance
Handyman services
Pest control
What to look for in your online booking software
A great online booking tool does more than just plug work to your calendar. It keeps you in control of the services customers can book and when, and helps you easily communicate with your team and customers about bookings.
To help you choose software that saves you more time and effort, look for online booking tools that allow you to:
1. Choose your bookable services
Your online booking system should let you choose the services your customers can book online and help them make an informed decision.
You might not want all your services to be available for online booking—for example, you might prefer to use a quote request form when you need to collect information and specifications from your customer before providing an estimate.
Once you choose your bookable services, set the right expectations. In Jobber, you can show customers what each service includes, how long it will take, and the estimated price.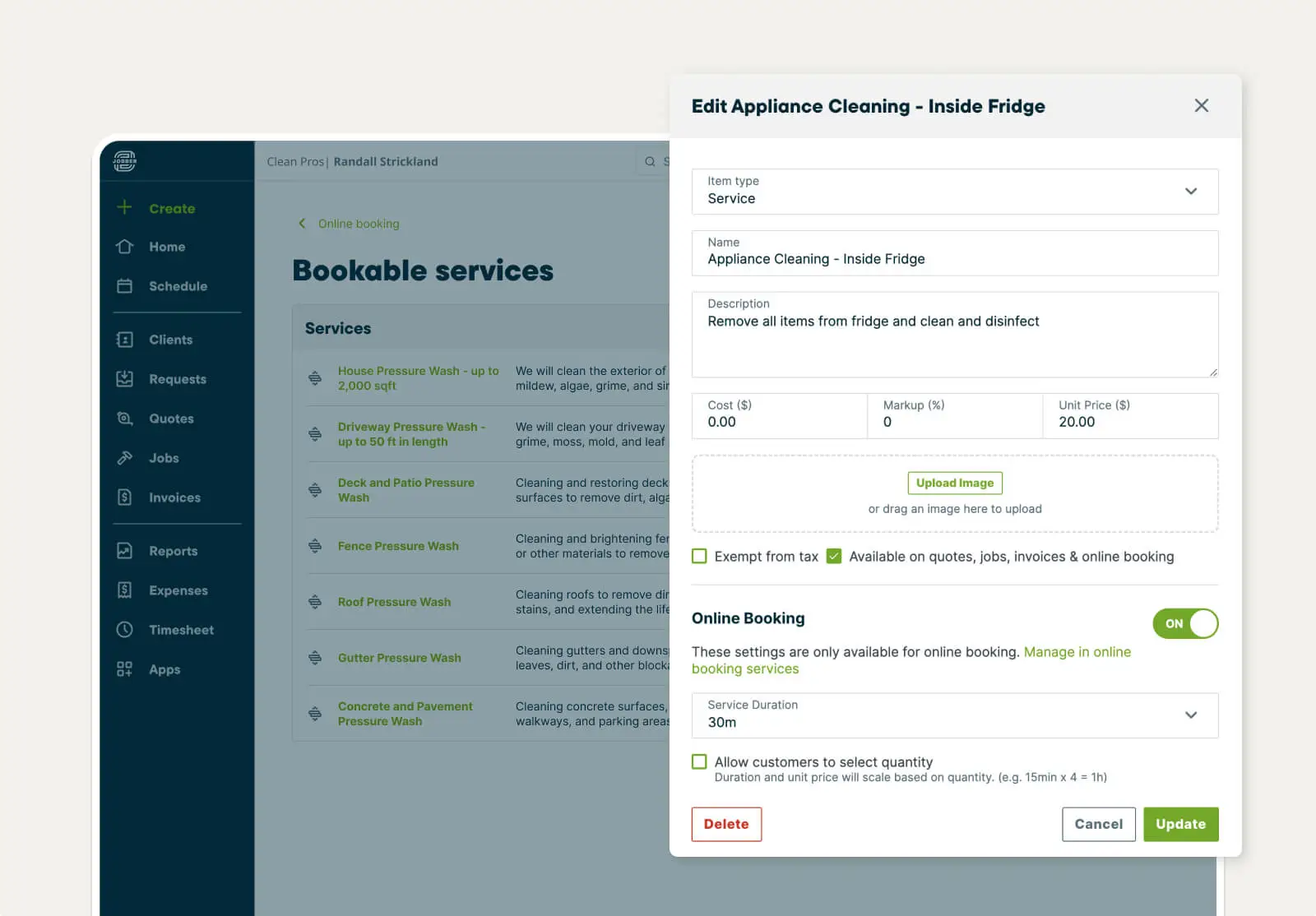 2. Set team member availability
To save time assigning new bookings, pick online booking software that helps you choose which team members' calendars can be made available for bookings and what hours they're available to be booked.
Jobber will automatically assign the appointment to your first available team member based on the availability preferences you set for them.
If you have any part-time workers or contractors, you can easily set unique hours for them to ensure bookings fit into their schedules.
3. Control your business's availability
Find a tool that lets you set detailed booking preferences that control how and when customers can book your services.
For example, you can set your earliest availability to 1 business day so customers can't book an appointment with less than a day's notice.
4. Set geographical limits
You're on the road all day when you work a mobile service job—and not all online booking software is built with that in mind.
To save you road time and costly fuel, Jobber lets you set a limit on how far you'll drive between appointments. This way, online bookings will automatically get scheduled around your existing appointments.
You can also prevent customers that live outside your service area from booking into your schedule. By only taking bookings in the area you set, you'll have a more efficient schedule.
5. Get automatic notifications when jobs are booked
Most online booking software sends notifications and email confirmations—but the convenience shouldn't stop there.
When customers book you through Jobber, their booking confirmation messages give them access to a 24/7 client portal where they can review details and view assigned team members.
They'll also get automated email and text updates as your work progresses—and reminders when quotes and invoices need their attention.
And the cherry on top? You and your team can text with customers while on the go, knowing that conversations are stored in Jobber for everyone's reference.
Getting serious about online booking means you're on the path to working smarter and growing your business. If you're ready to choose a solution that makes sense for your service business, give Jobber a try.