Entrepreneur Inspiration
Why This Successful Plumbing Business Doesn't Have a Website
February 23, 2018
7 min. read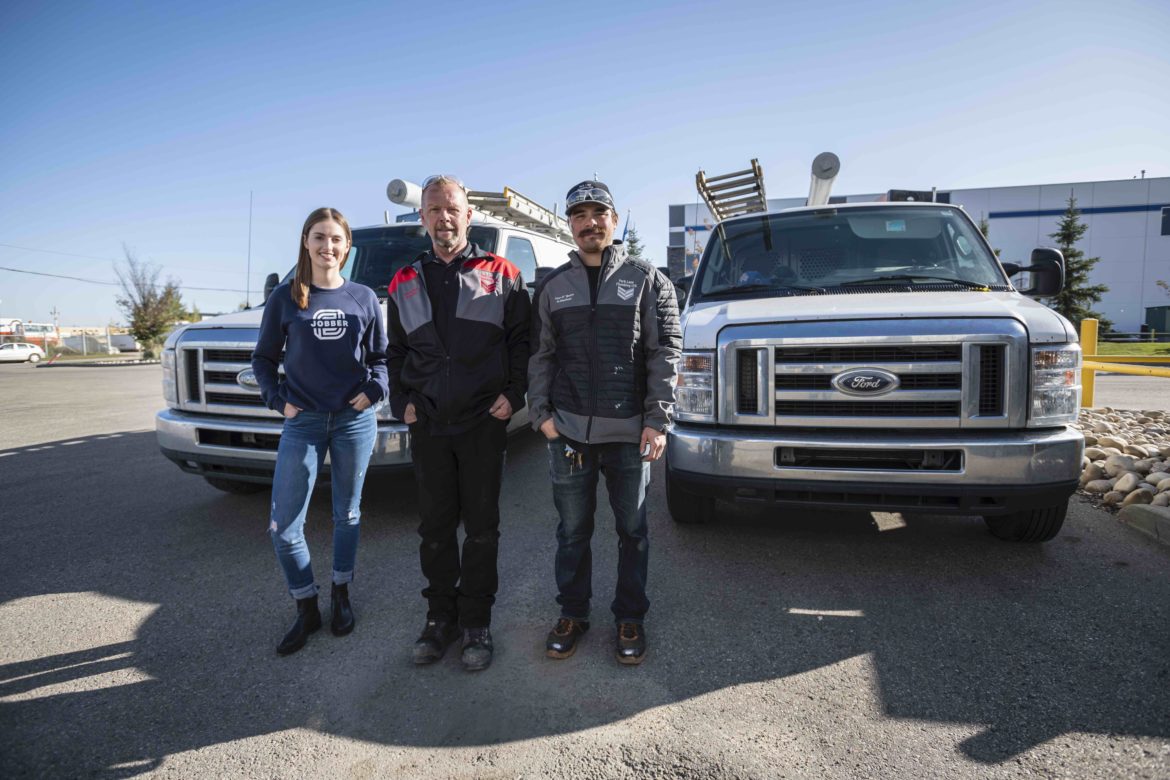 Park Lane Plumbing
The key to a lasting plumbing business isn't always a big marketing budget. Park Lane Plumbing has been in business for over 30 years with no website, social media, or advertisements to speak of. Their secret? Finding the right customers and treating them well.
Ann and Len Lane founded Park Lane Plumbing in 1985. Fast forward to today, and there's no Park Lane website, no social media, no YouTube videos, and no Google Ads to peruse.
That said, Park Lane is doing just fine, thank you very much.
"The thinking behind no marketing is just wanting to service the customers we already have," says Ann. "They give us enough work, all day, every day. There's no need to flood the market."
Just because they've forgone marketing doesn't mean Park Plane Plumbing isn't tech-savvy.
In fact, Ann and Len use business management software to:
organize crucial client, equipment, and job information
set themselves apart from the competition
get quotes approved in less than 24 hours
They share their thoughts on commercial versus residential plumbing, how an HVAC business partnership paid off, and why they'd be devastated if they lost their favourite plumbing software, below.
On rough beginnings and meaningful partnerships
Back in 1985, Len was " . . . a number working for someone else," who wanted to start his own business. "I thought he was crazy," Ann recalls. "He was like, I've got the plumbing tools. I'll just buy a truck and that's it."
By staying agile to the opportunities that came their way and and relying on Ann's income from her own job when things were lean, Park Lane survived the early years.
"We got the few jobs we needed and managed to keep the bills paid," she says. "After a while, more work started to come in fits and starts, but to keep things afloat we were having to do all sorts of residential work and were always chasing money."
So, as a strategic move, Park Lane formed a partnership with an HVAC company that served commercial clientele.
"They were getting calls for plumbing from their clients and turning it down. We were getting calls for HVAC from our clients and turning it down . . . it just made sense," says Ann. "For six years we worked together out of the same office. At one point we had 8 employees. This was when we really understood that commercial work was where we wanted to be.
"But then the economy dived, the oil patch companies started laying people off, and by the time we realized how it was affecting us the phone had stopped ringing."
Scaling down and leveling up
When it was time to detach from the partnership, Park Lane went back home, to the two-bay shop on the rural acreage outside Edmonton.
"It was scary at first wondering what would happen to our commercial clients," says Ann. "Would they deal with a mom and pop operation, or was what they really wanted office people, lots of trucks and people in uniforms?"
Turns out what they really wanted was what every customer wants: good service, fair rates, and a human being who returns their calls in a timely manner.
That's been more than enough to win business from some elite brands, including Starbucks, Subway and the Jim Pattison Group—a stalwart Canadian enterprise with hundreds of commercial properties.
"Our clients were wonderful. They'd been through economic ups and downs themselves, so they understood what was happening with us," says Ann. "As soon as we reverted back to our old brand and small operation, all our old clients started calling us and they've never stopped."
That's when Ann and Len Lane realized their business wasn't really about plumbing. Rather it's about the relationships they have with their customers. In fact, Ann says their top marketing channel is word of mouth and referrals.
"When they call, I treat them as a friend. I empathize and feel bad if they have an emergency. They know that we're going to do whatever we can to help them. This became our reality," she says. "My husband is a smart guy. He does great quality work and knows his way around every plumbing issue."
"So we've got the listener, and we've got the fixer, and that's what our customers want."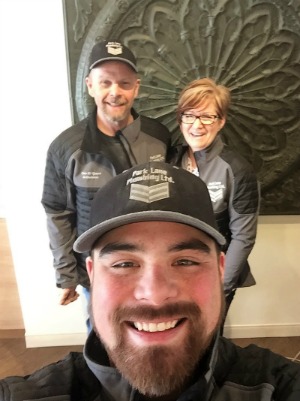 Finding their flow in commercial plumbing
The beauty of commercial plumbing work vs. the residential market is its predictability. Backflow tests, for example, are something every commercial building in Edmonton must have completed annually—Park Lane is certified to do just that.
"There's a lot of scheduling and early mornings involved but it's very steady and great filler work," says Ann. This predictability gives Park Lane lots of vision into their revenue cycles and the ability to align income with expense and overhead, which is low given the size of the company.
"We do a lot of maintenance on boilers, hot water tanks, and such," says Ann. "When we have those, we don't need new customers, otherwise our steady clients' maintenance work would end up getting pushed. Preventative maintenance deals are always best."
Asked what advice she'd offer Park Lane when the business was just getting started over 30 years ago, Ann is unequivocal.
"Maturity," she says. "The younger us took everything personally because we didn't have a lot of work. We had to put food on the table so we did jobs we probably wouldn't do now and sometimes it came back to bite us. Don't put all your eggs in one basket, like only working for one client. Don't chase residential work — it's too hard to collect. Don't do things you're not good at," she says.
"Do the work that you know will pay the bills and learn to deal with people in a lighter, friendly way." Following these maxims, Ann says, "makes the job seem like it's not a job."
"When our business shrunk again, it felt like it was just the two of us, but our clients were right there with us." she says "We're so immersed in this because it's been our life for so long and we love what we do. We get to work with our friends day in and day out, and that makes it all worthwhile."
"It's so easy now. We have the best of both worlds and we love it."
Embracing business technology on their terms
Park Lane keeps customers coming back thanks to their stellar customer service. Year after year, those lifetime clients — and all of their information— has really started to add up!
In order to stay organized and never skip a beat, they use Jobber's field service software.
Jobber helps Park Lane keep work orders organized, impress clients with stellar communication, and win more jobs, faster, thanks to their sleek quoting process.
"I keep track of a lot of the equipment information using Jobber's custom fields – serial numbers, location of equipment, etc.," says Ann. "I create my recurring job, then on the day of the visit I see I need to do my communications to schedule a specific time and can see all of the info I've recorded. People think I'm a genius. I can easily grab invoices and attachments for my customers all at once, adding value for our customers that not many plumbing companies can. If I lost Jobber tomorrow, I'd be devastated."
As far as quoting, Park Lane uses Jobber's quote approval feature to eliminate back and forth with their clients.
"Something really cool happened this morning. I did up two quotes, and no sooner than I sent it I got an email notification that one had been approved. I could see our customer signed it, and there was no need for them to email me about it — brilliant! A lot of times we send out quotes and just wait, and two this morning have already been approved. I can't say enough good things."
"When I had a question, they caught it and fixed it within 2 days. They've answered everything I ever asked and then some, like how to attach a picture to an invoice. They constantly evolve and try to make everybody happy. I'm just some small company, but I'm never made to feel like I'm a peon with stupid questions."
At the end of the day, Park Lane Plumbing's business strategy is about working smarter, not harder, thanks to partnerships, software, and knowing which clients are right for them.
It's not all about work, of course. After 33 years in business, Ann and Len have not only mastered plumbing, they've also mastered the art of unwinding:
"We have been building a cabin—it's become our happy place," says Ann. "It's all built by hand by myself, my husband and our two boys. It's a place we go to entertain, we go boating, we sit on the beach and eat and drink with neighbours and have many potluck parties and games nights. Our kids come out with their friends, we had our 25th anniversary out there, we had my husband's 50th birthday out there."
"And we work hard out there, it's not like we sit there and do nothing. A lot of our time is put into making that cabin into a beautiful home. We work hard in the yard all day, and finally it's 5:00pm and the neighbors text us about happy hour. Then we just stop and look at the work we've done. It's a lovely, lovely cabin. It's our unwind for sure."