SEO for Plumbers: The Ultimate Guide to Search Engine Optimization
April 8, 2022
9 min. read
To get your plumbing business found online, you'll need to add search engine optimization (SEO) to your marketing strategy.
But it's not as quick and easy as posting to your Facebook page or creating a plumbing ad—the plumbing industry is extremely competitive which can make SEO difficult.
For better results, you might work with a freelancer or hire an SEO service agency, but it can get expensive. After all, SEO is an ongoing process, and it can take a long time to see results.
To get you started, we'll walk you through what you need to know about plumbing SEO and the easy steps you can take to improve your SEO performance.
In this SEO for plumbers article, we'll cover:
What is plumber SEO?
Search engine optimization is a marketing strategy to improve your plumbing business's visibility on search engines and help you get found online.
Appearing at the top of the search results page helps to generate free traffic to your website and allows you to connect with customers actively looking for your services.
Different types of SEO for plumbing companies
There are four different types of SEO for plumbers:
Local SEO helps your plumbing business become more visible to potential customers searching for plumbing services in your service area. Your local SEO strategy should include claiming your Google Business profile and Bing Places listing. You can then improve your online reputation with reviews, citations, and social media profiles.
Technical SEO is the backend improvements you can make to your website that make it easier for search engines to crawl and index. If you're not familiar with web design or programming, seek out an expert to help with your technical SEO strategy.
On-page SEO refers to optimizing the content and coding of your plumbing web pages to rank higher on search engines. This can include elements like title tags, meta descriptions, headings, URL structure, and page content.
Off-page SEO is how your plumbing business generates awareness for your website through other actions like backlinks (a website that links back to your website), brand mentions, posting to forums, and guest blogging.
How to get more leads with local SEO for plumbers
Showing up on the local map is the best way to get more leads for your plumbing business.
To improve your local SEO strategy try the following:
Ask happy customers for five-star reviews
Knowing how to ask for positive online reviews can help build trust with potential clients and stand out from other plumbers in your service area. But best of all, asking happy customers to give you a five-star review will help improve your SEO rankings.
Businesses with higher average review scores will rank higher on Google's local search results. Just look at these search results for plumbers in New York City: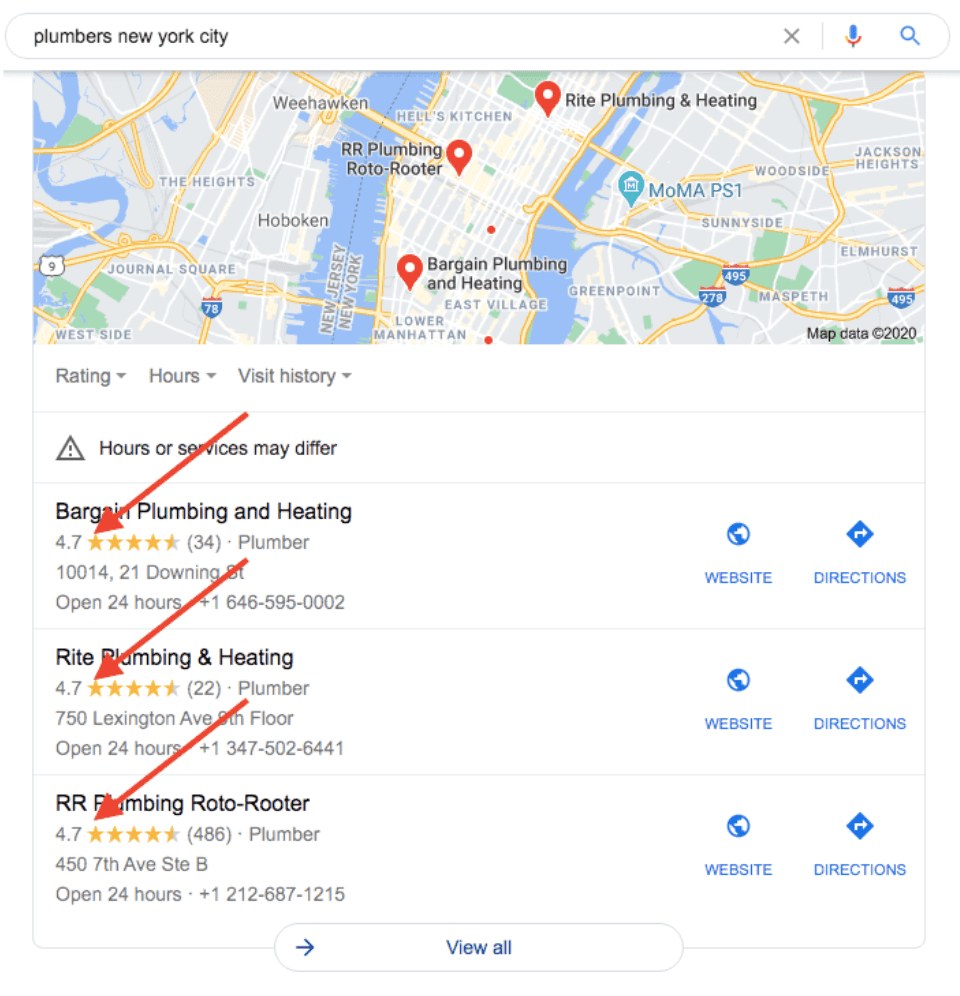 This is why you need to deliver fantastic work, provide exceptional customer service, and have a process in place for getting those excellent reviews you know you deserve.
Pro Tip: Use Jobber's NiceJob integration to automate your customer review process and get more great reviews to build your online reputation and improve your SEO ranking.
READ MORE: How to respond to negative reviews
Claim your Google Business Profile and Bing Business listing
One of the easiest ways to improve your visibility on search results is by claiming your free Google Business Profile and Bing Places for Business Listing.
To claim your Google Business Profile, type in your business name on Google Business Profile Manager, and follow the prompts.
Once you've set up your Google Business Profile, your plumbing business will appear on Google Maps and search results when prospective customers search for local plumbers in your service area.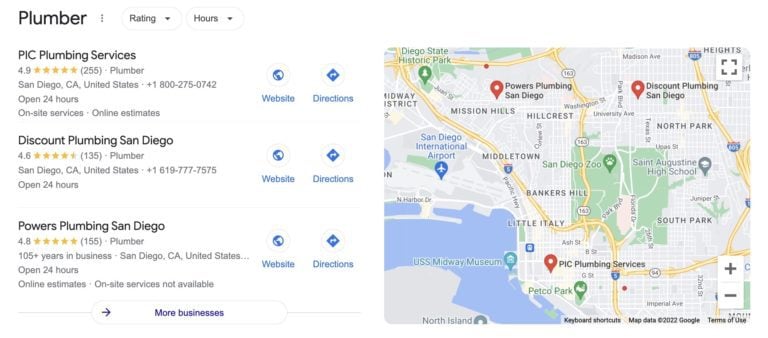 You can use your Google profile to share your business's contact information, hours of operations, and plumbing service offerings, and to collect and respond to customer reviews.
To claim your Bing Places for Business Listing click "New User" on the Bing Places homepage and follow the prompts.
Similar to your Google Business profile, your Bing business listing helps you appear on Bing search results and Bing Maps. You can also use your listing to share important information about your plumbing business, like your phone number, website, and working hours.
What is NAP consistency?
NAP Consistency means that your company name, address, and phone number remain the same across all your business listings, your website, and your social media profiles.
An important ranking factor for local SEO, NAP Consistency shows search engines like Google that the information for your plumbing business is accurate and trustworthy.
Get local links for your plumbing business
A local citation is a listing of your business on a website or online directory that includes your business name, address, and phone number. They help drive traffic to your website and increase your visibility to potential customers.
Pro Tip: You can use WhiteSpark or BrightLocal to find the top citation sites to list your plumbing business.
Joining local business directories like your local Chamber of Commerce is another great way to help you attract new customers in your service area. Search "business directories in your city" to see what local business directories you should list your plumbing business on.
Pro Tip: Set up a separate email to use when creating your plumbing business listings to avoid being bombarded with spam emails.
How to improve your plumbing website's SEO
Whether or not your business ranks high on the search result pages heavily depends on your plumbing website.
The best plumbing websites are easy to navigate, quick to load, and optimized for search engines. Here's how to improve yours:
Use the right plumbing keywords
Keywords are the terms or phrases a prospective customer would typically use to find a plumber online. They may be the services you offer, or the area you service.
Including these terms or phrases in your Google Business Profile, website, and plumbing blogs can help your web pages rank higher on search results and (ultimately) help customers find your business.
Pro Tip: You can use free online keyword generator tools to perform your own keyword research and find the best terms for your plumbing business.
Make sure your website loads fast
Improving your site speed can make sure your website loads quickly for users and decreases the percentage of users that land on your website and quickly leave (your bounce rate).
To check your site speed on mobile and desktop devices, plug your web address into Google PageSpeed Insights.
Ideally, you want your website to load in under three seconds. If your load time is longer than five seconds you'll need to work with an SEO expert or web developer to tackle some of the technical factors to improve your site speed.
Create web pages specific to your services
Create individual web pages specific to each service your plumbing business offers, like leak repair, toilet repair, or drain cleaning. This helps your website appear when your customer searches online for that service.
Each service page should include a description of the service, relevant keywords, and other on-page SEO elements.
JUMP TO: What on-page SEO looks like for plumbing websites
Focus on organic SEO
Organic search results are the listings that are found on a search results page below the ads, local pack, and map results.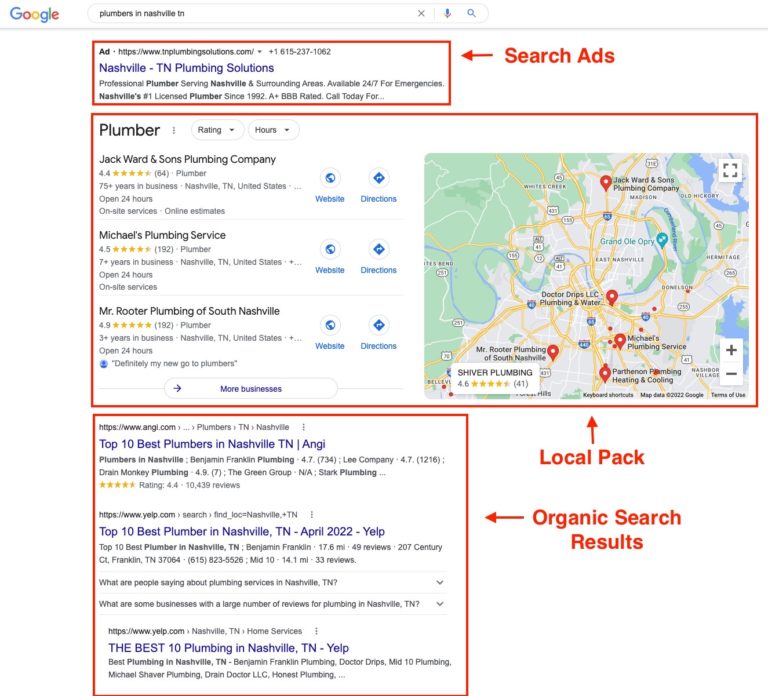 A clean and simple URL structure that tells search engines what your web page is about.
A page header that includes your target keyword.
High-quality page content that's relevant to your services and your target market.

Other SEO strategies for plumbers
Check out your competition
Whether you're just starting your plumbing business, or looking at improving your SEO strategy, checking out the competition is a good place to start.
To find your biggest competitors, Google the keywords you want to rank for like "plumber in [my city]" and "local plumber near me" then check out the first three to five listings.
Look at the plumbing keywords they use in their title tags, meta descriptions, headers, and URLs. Are there any new or different keywords that you should be targeting?
Then search these plumbing companies individually to see what directories they are listed on, what social media platforms they post on, and what kind of content they share with their audience.
Adding a plumbing blog to your website shows potential customers (and search engines) that you're a trusted industry expert—and it improves your search rankings.
You can write and publish your own blog post, or hire a freelancer or agency to help your plumbing company with content creation. Share your published content with your audience through your social media profiles or in email campaigns.
Pro Tip: To find topic ideas, start typing your target keywords into Google and use Google autocomplete to see what users are searching for.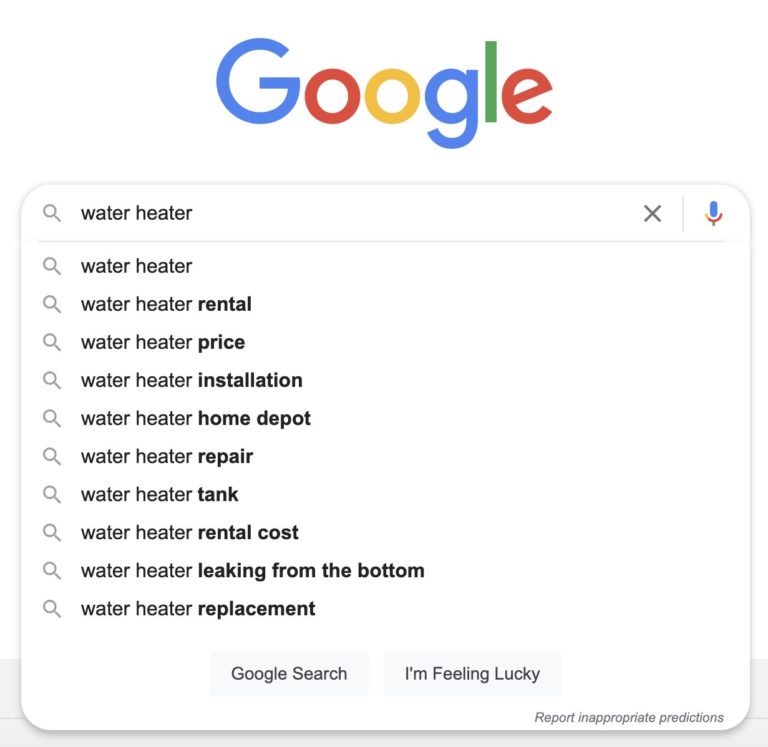 Pro Tip: Get inspiration for what content to include on your website from the best plumbing blogs on the internet.
[Advanced SEO] How to track your plumbing SEO performance
If you're ready to take your SEO strategy to the next level, tracking your performance can help you make effective changes to improve your online visibility, increase the number of visitors to your site, and ultimately get more plumbing leads.
Set up Google Search Console and Google Analytics
Google Search Console (GSC) monitors how search engines see and rank your website.
Use Google Search Console to:
Learn what keywords get the most views and clicks from potential customers
Track your web page rankings to see how high on the search results page they will appear
See what web pages are receiving the most visitors over a set period of time
If you're working with a freelance SEO specialist or a plumber SEO company, they'll use GSC to improve your website's technical SEO. This may include adding your sitemap, monitoring core web vitals, and locating errors on your website that need fixing.
To get started, visit Google Search Console, enter the URL of your website, and follow the prompts.
Google Analytics, on the other hand, monitors how potential customers find and use your website.
Use Google Analytics to monitor:
The number of visitors to your website, how long they spend on your site, and how many web pages they view
How potential customers are finding your plumbing business (organic search, paid ads, social media, etc.)
An SEO expert or company will also use Google Analytics to find trends in how potential customers are engaging with your website, and where improvements can be made.
To get started, click "Start Measuring" on Google Analytics and follow the prompts to set up your account.
Get started marketing your plumbing business
Investing in SEO is a long-term strategy, and the unfortunate reality is it can take a while to see results.
But combined with other marketing strategies (like plumbing ads) SEO is the best way to grow your online visibility and get more plumbing leads.
Use this guide as a starting point to improve your local SEO and move your plumbing company one step closer to reaching the top of Google's search results. 
Originally published January 2021. Last updated April 8th, 2022.