Working with Clients
6 Auto-Reply Messages and How to Use Them
As a business owner, you want to give your clients amazing service. You know that clients appreciate it when you follow up on quotes, send appointment reminders, and tell them you're on your way.
But sending messages takes time, and all those minutes add up. It's hard to stay on top of those tasks when your to-do list is growing all the time. And hiring someone else to manage them is expensive.
Sending auto-reply messages can help you offer top-notch customer service—without having to remember to do it. We'll show you what kinds of messages to send and how to set them up.
What are auto-reply messages?
Auto-reply messages are automatically sent based on a client's predefined action, like contacting you, asking for a quote, booking an appointment, waiting for your arrival, or paying an invoice. You can set up auto-reply messages for each action, as well as the time and date they're sent.
What kinds of auto-reply messages can you send?
1. First contact
When a client first contacts you, you can set up auto-reply messages to let them know you received their message, even if you're not able to answer them right away.
This makes your business look more professional and gives the client peace of mind knowing you got their message. It also buys you some time to respond in more detail later on.
First contact with a potential new client can come through just about any channel, like your website, social media, email, or even text message.
Here's an example of what a first contact auto-reply message could look like:
Auto-reply message sample: first contact
Thank you for contacting Green Lawns. I'm currently with another client, but you should hear back from me within the next 60–90 minutes.
2. Quote follow-ups
Warm leads are one of your best options for new business because they've already expressed an interest in your services. Sometimes, though, they need a little extra attention before they can become a sale.
If you have a quote out with a client, you can set automatic follow-ups through email and text message. You can customize these messages based on what the quote is for and what the next steps are.
READ MORE: Find out why quote follow-ups are so important
Once you've sent the reminder, you now have another chance to answer any questions and potentially close the deal.
Auto-reply message sample: quote follow-up
Hello Kristen,
This is Sheila from HVAC Helper—I hope all is well with you! Are you still interested in having our team repair your furnace?
Let me know if you have any questions or if you're ready to move forward with the repair. You can contact me at 555-555-5555 or [email protected].
I've also attached a copy of the quote to this email for your reference.
Thank you,
Sheila
3. Appointment reminders
Your clients are busy, just like you. Sometimes they need a little extra help remembering your appointment and anything they have to do in advance.
You can avoid misunderstandings and provide consistently excellent service with automated appointment reminders before a scheduled visit.
READ MORE: This business earned a record-breaking year through client follow-ups
Send out an email a week before your visit and a text message the day before. Tell the client where and when the appointment is happening, which workers are coming, and what you need from them.
Some details might be tricky to include because they're custom to the client. However, if you have a business management tool like Jobber, your client details are in the same place as your workflow.
This makes it easy to add that data directly into your message.
Auto-reply message sample: appointment reminder
Hi Priya,
This is a reminder that Jason from Green Lawn Mowing will be coming to your home (1178 23 Street) at 9:00am on Wednesday, July 21, to provide mowing services.
Please remember to leave your gate unlocked so we can access the backyard.
If you have any questions or if these details aren't correct, please contact us at 555-555-5555 right away so we can accommodate your needs.
Thank you!
4. On-my-way notifications
On the day of the appointment, send the client a quick text and tell them when you're heading over, whether you're on time or running late.
You can also include your name and contact info in case the client wants to call you. This is especially important if the client has to make any changes to their appointment.
The last thing you want is a client waiting and wondering where you are. This is a simple way to show you care about the client and respect their time.
Auto-reply message sample: on-my-way notification
Hi Nina, this is James from Apex Plumbing. I'm on the way and I will arrive at 1:00pm as scheduled. If you need to adjust your appointment time, please call me at 555-555-5555. See you soon!
5. Appointment follow-ups
After an appointment, it's a good idea to send a follow-up email to thank the customer for their business and summarize the services you provided for them.
This is also an opportunity to send a client satisfaction survey or ask for an online review. If the client needs to book a second appointment to finish the work, include that information, too.
A follow-up email can lead to repeat business, positive reviews, strong word of mouth, and a solid presence in your community—all of which can help your business grow.
READ MORE: Learn how this business owner got 500+ 5-star reviews
Auto-reply message sample: appointment follow-up
Hello Michael,
Thank you for choosing The Tree Guys for your tree care needs! We appreciate you supporting a local business.
Here's what we did today:
– Trimming extra growth
– Pruning dead branches
If you have a moment, please tell us how we did by leaving a Google review. It really helps other homeowners when they're choosing a tree care business.
Thanks again, and we hope to serve you again in the future.
—The Tree Guys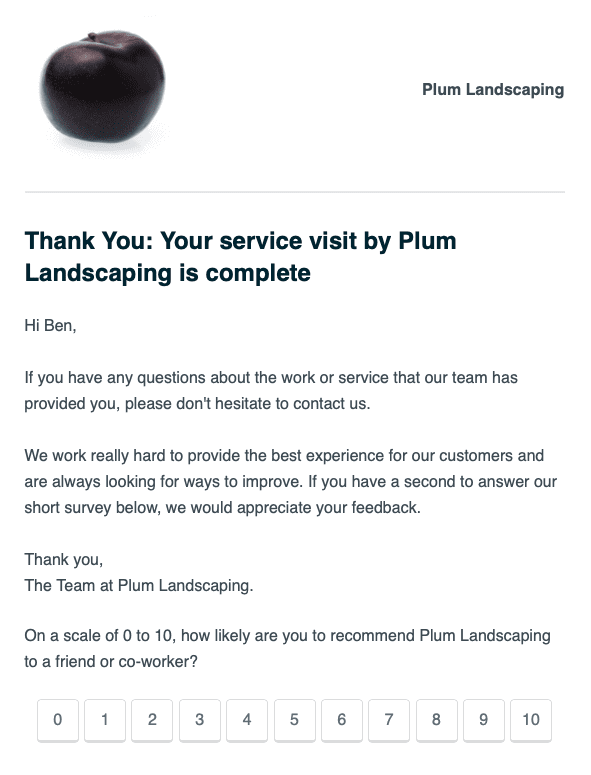 6. Invoice follow-ups
Sometimes clients don't pay their invoices right away. It's your job to stay on top of unpaid accounts and remind clients to send payment.
It can be hard to remember while you're on the go, though. This is where auto-reply messages come in handy.
When you use a business management tool like Jobber, your system knows when a client hasn't paid and automatically sends them an overdue invoice message.
This message contains a link to your client hub, where they quickly and conveniently pay online. All you have to do is decide what to say in the reminder.
We know it can feel uncomfortable to ask clients about unpaid invoices, so here's an example:
Auto-reply message sample: invoice follow-up
Hello Katherine,
We still haven't received payment for the pool cleaning services provided on Friday, August 6.
The outstanding balance is $150.00. You can pay this balance via credit card through our client hub.
Thank you for your business!
—Make-A-Splash Pool Services

How do you set up auto-reply messages?
There are several auto-reply solutions you can choose from to manage client communications while you're out in the field. This helps you work smarter, not harder.
1. Client notifications
Automated, customizable notifications keep your clients in the loop at key points before, during, and after the work is completed.
Jobber combines client notification software with field service software so you can talk to your clients in the same place you manage their work. You can automatically:
Send appointment reminders and on-my-way texts
Email follow-up messages
Ask for feedback and reviews
Remind clients about open quotes and unpaid invoices
Sign up for a free trial with Jobber and start automating your client notifications right away.
2. Auto response email
You can create auto-reply messages via email in Gmail and Outlook. Just go into your settings and create a new out-of-office message.
These canned responses tell clients that you're out in the field and not responding to emails.
In addition to telling the client that you aren't available, you can direct them to immediate help. This could be through your phone number, if you're taking calls, or another employee's email address.
3. Chatbots
People looking for home services often have time-sensitive problems that need to be solved ASAP.
Chatbots start a conversation and gather relevant information with some predefined questions. Then they send that information to your mobile device so you can pick up where the chatbot left off.
Multiple people can have access to the chat, so if you're busy, another team member can keep the conversation going.
Facebook offers a free chatbot that integrates with your website and your Facebook business page. You can also use more specialized software for your website, like Broadly (which integrates with Jobber), Mobile Monkey, or Chatfuel.
4. Text messaging
Many clients like to use text messaging to contact their home service provider. It's quick, it's convenient, and it feels more personal, like texting someone they know.
But if you're driving or on a job, or if it's after regular business hours, you may not be able to answer right away.
Automate text message notifications with Jobber, or sign up with a business text messaging service like Textline to send an automatic "welcome" text after someone first contacts you.
This tells the client that you've received their text and that you'll follow up within a certain amount of time. The client will be more patient knowing where they stand with you.
Pro Tip: If you have an iPhone, you can also set up a basic auto-reply message to specific contacts or to all contacts from Do Not Disturb mode. This message can include a shortened URL to capture new requests through your client hub.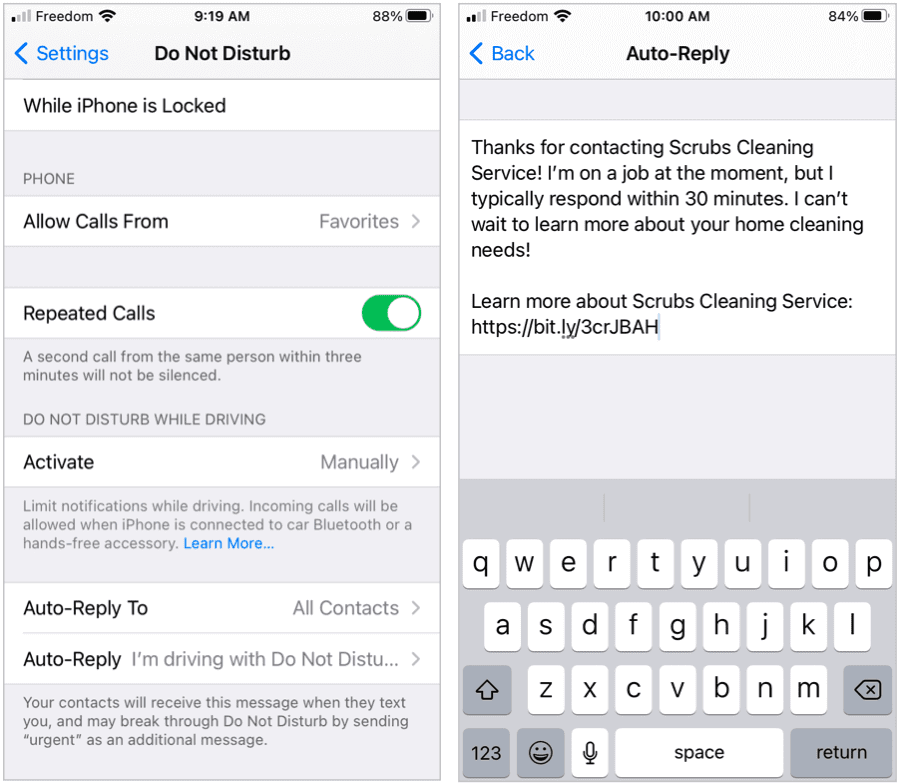 Start using auto-reply messages for your business.
Out in the field doesn't have to mean out of reach. Auto-reply messages are a simple way to shorten your to-do list, get more work, and give your customers five-star service in the process.
Give it a try and watch your business grow!
Editor's Note: This post was originally published on Jobber Academy in November 2019. It was last updated in June 2021 for accuracy and to meet industry standards.