53 Handyman Tools for All Types of Work
November 7, 2023
7 min. read
Handyman jobs will have you performing odd tasks all over your customers' homes—from plumbing emergencies to furniture assembly and quick paint jobs. That's why you need a diverse set of tools in your tool bag.
To help you start your handyman business with the right tools, we've compiled a list of handyman tools for your most common types of jobs, including average prices for each.
When you're ready to shop, download this handyman tool checklist to keep track of what you've purchased and what you still need.
⚠️ The tool prices listed are approximate ranges. Pricing will vary by brand, store, quality, and whether they're new or used.
Basic hand tools for all jobs
Keep these basic hand tools in your toolbox for all types of handiwork:
1. Utility knife ($5–50): A utility or razor knife lets you cut cables, wire insulation, and other materials neatly for all kinds of repairs and installs.
2. Hammer ($10–30): Find a lightweight hammer with a comfortable grip, and keep it handy for assembly jobs and repairs. Keep a claw hammer around for carpentry and woodworking projects.
3. Screwdriver set ($10–30): Purchase a screwdriver set with flat-head, square tip, and Phillips driver heads. These will help you install and change plumbing fixtures, control panels, switch plates, and appliance parts. 
4. Pliers or plier set ($15–45): Needle-nose pliers and channel lock pliers are useful for gripping, bending, and cutting materials. Slip-joint pliers have adjustable jaws that help you grip objects of various sizes.
5. Tape measure ($5–20): Use a tape measure to take precise measurements of components and equipment, whether you're replacing or installing them.
6. Adjustable wrench ($15–45): A wrench with a movable jaw lets you torque nuts and bolts of various sizes.
7. Stud finder ($10–30): By detecting changes in the density of a wall, stud finders help you locate framing studs so you can securely mount shelves, cabinets, or TVs.
8. Staple gun ($25–35): Handymen use staple guns as an alternative to nails or screws to fasten upholstery and carpeting or to complete small repairs.
Basic power tools
Here are the most essential power tools for common handyman services:
9. Cordless drill and drill bits ($40–80): You'll use a drill to create holes, bore, fasten, and more. Look for a drill with adjustable torque and speed settings.
10. Impact driver ($50–160): Impact drivers provide higher torque than drills, which help you drive screws efficiently—even into dense materials—without stripping screw heads.
11. Power saws ($30–130 each): Use a reciprocating saw or a jigsaw to create detailed cutouts in panels or drywall, a circular saw for long, straight lines, and a hole saw for round holes.
12. Heat gun ($25–60): Heat guns provide controlled, directed heat to help you shrink or manipulate materials and make secure, insulated connections.
13. Power sander ($60–95): Use this tool to achieve a smooth finish when refinishing furniture, decks, or other wooden materials.
Specialized tools by job type
Depending on the services you offer, you may need tools made specifically for plumbing, painting, and other specialized work. Pick up specialized tools if you plan to do any of the work below.
Plumbing tools
These pipework tools, wrenches, and declogging tools are essential for plumbing work:
14. Pipe cutters, including plastic ($12–50), copper ($15–60), and steel cutters ($25–75)
15. Pipe wrench ($20–60)
16. Basin wrench ($15–50)
17. Faucet seat wrench ($5–30)
18. Plungers ($5–20)
19. Plumber's snake ($10–25)
READ MORE: 40 best plumbing tools for all jobs
Appliance repair tools
Appliance repair jobs can have you fixing washers and dryers, refrigerators, ovens, and more. Be prepared by picking up these tools for appliance repair:
20. Rubber mallet ($4–10)
21. Nut driver set ($12–30)
22. Belt tension gauge ($20–40)
23. Tub nut wrench ($15–20)
24. Temperature probe ($20–35)
25. Gas leak detector ($30–60)
Painting tools
Carry these essential pieces of painting equipment for residential paint jobs:
26. Painter's multi-tool ($8–20)
27. Masking tape ($1–6 per roll)
28. Manual caulk gun ($15–30)
29. Patching knife or putty knife ($7–15)
30. Drywall tape knife ($8–15)
31. Brushes ($10–25 each)
32. Paint rollers and covers ($20–45)
33. Paint tray ($3–6)
Electrical work tools
Add these basic electrician tools to your handyman tool kit so you're equipped for electrical repairs:
34. Wire stripper ($10–50)
35. Wire crimper ($20–35)
36. Coaxial cable crimper ($20–50)
37. Multimeter ($30–40)
38. Voltage tester ($20–35)
39. Fish tape ($15–60)
In many U.S. states, you need an electrician's license before you complete any electrical work legally. Check out our electrician licensing guide to double check if you need certification in your state.
Supplies and accessories
To be prepared for any handiwork job, stock your van with these essential supplies and accessories:
40. Tool belt ($30–60): To keep all your tools in arm's reach while you work, purchase a tool belt you can comfortably wear throughout the day.
41. Portable tool box ($25–50): Get a rolling tool box—or one with a handle—to keep your tool organized and accessible on the go.
42. Extension cords ($20–35): Extension cords let you work on outdoor projects without being tethered to a nearby outlet.
43. Step ladder ($25–45): A basic step ladder will help you paint, replace light fixtures, and complete repairs in hard-to-reach places.
44. Duct tape ($3–8 per roll): This tape is a must-have for quick fixes and longer-term repairs—like patching holes and sealing ducts.
45. Wood glue and superglue ($4–10 per bottle): Apply wood glue to joints or cracks when completing deck or furniture repairs. Superglue comes in handy for assembling small components or stopping a fray from unraveling.

READ MORE: How to price handyman jobs in 4 simple steps
Safety gear
Stock your van or truck with these safety tools to protect yourself, your customers, and their property:
46. Goggles ($10–25): Whether you're soldering, drilling, or sawing, safety goggles are a must-have to protect your eyes from flying debris and chemicals.
47. Earplugs ($0.50–20): Handymen use earplugs to protect their hearing during high-noise tasks like drilling or sawing. They're a small investment for your long-term health.
48. Respirator ($15–45): Respirators, or gas masks, provide you protection against dust, fumes, and other hazardous airborne particles while you're sanding, painting, or handling chemicals.
49. Knee pads ($20–40): Handiwork can keep you on your knees for long periods. Knee pads help soften the pressure and save you from serious joint issues down the road.
50. Gloves ($7–25): Pick a heavy-duty work glove to protect your hands from cuts, and burns, or nitrile gloves for cleaning agents and other chemicals.

READ MORE: 7 plumbing safety hazards and 13 tips to stay safe on the job
Business management tools
In addition to hand tools and power tools, look into software that simplifies your quoting, scheduling, customer service, and all other parts of running your business.
Consider these business management tech tools that help you win handyman jobs and keep customers happy:
51. Handyman invoice generator
The free handyman invoice generator from Jobber lets you create and download a professional invoice that you can send to your customers in minutes.
Simply add your company and client information, job details, and pricing, then download your invoice as a PDF that's easy to send to clients.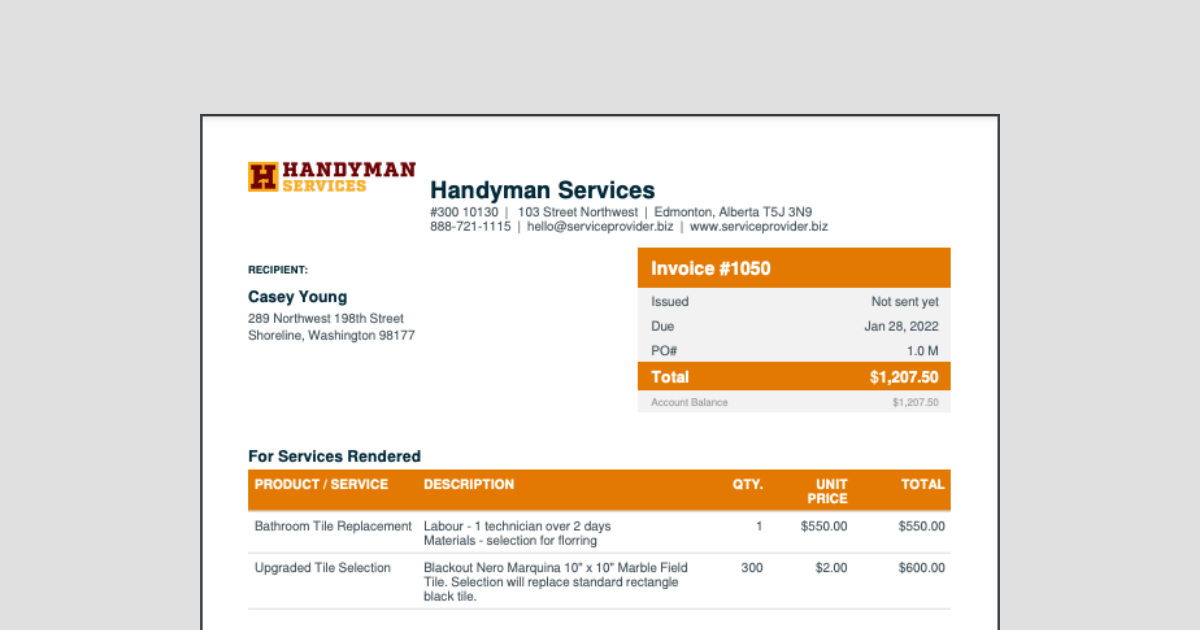 Use Jobber's invoice template to include all the necessary information—and look more professional than you would with handwritten invoices.
Or try using field service invoicing software to convert job details into invoices, send multiple invoices at once with batch invoicing, and automatically follow up with customers on overdue payments.
52. Accounting software
Accounting software is essential for managing expenses, payments, payroll, and all your finance work. QuickBooks Online helps you track and manage:
Payments from clients
Payroll to contractors or employees
Costs related to home repairs and handyman services, like gas, materials, or parts
Expense receipts to prepare for tax season and claim tax deductions
Plus, QuickBooks integrates with Jobber so you can keep your customer, invoice, and payment information accurate without any double-entry.
53. Handyman business software
Handyman business software like Jobber helps business owners create quotes, schedule service calls, invoice, and collect payments—from the office or the job site.
Using Jobber, you can win bigger jobs by suggesting additional services or maintenance packages. Customers can pick the option that best fits their needs and watch their total update automatically before they approve.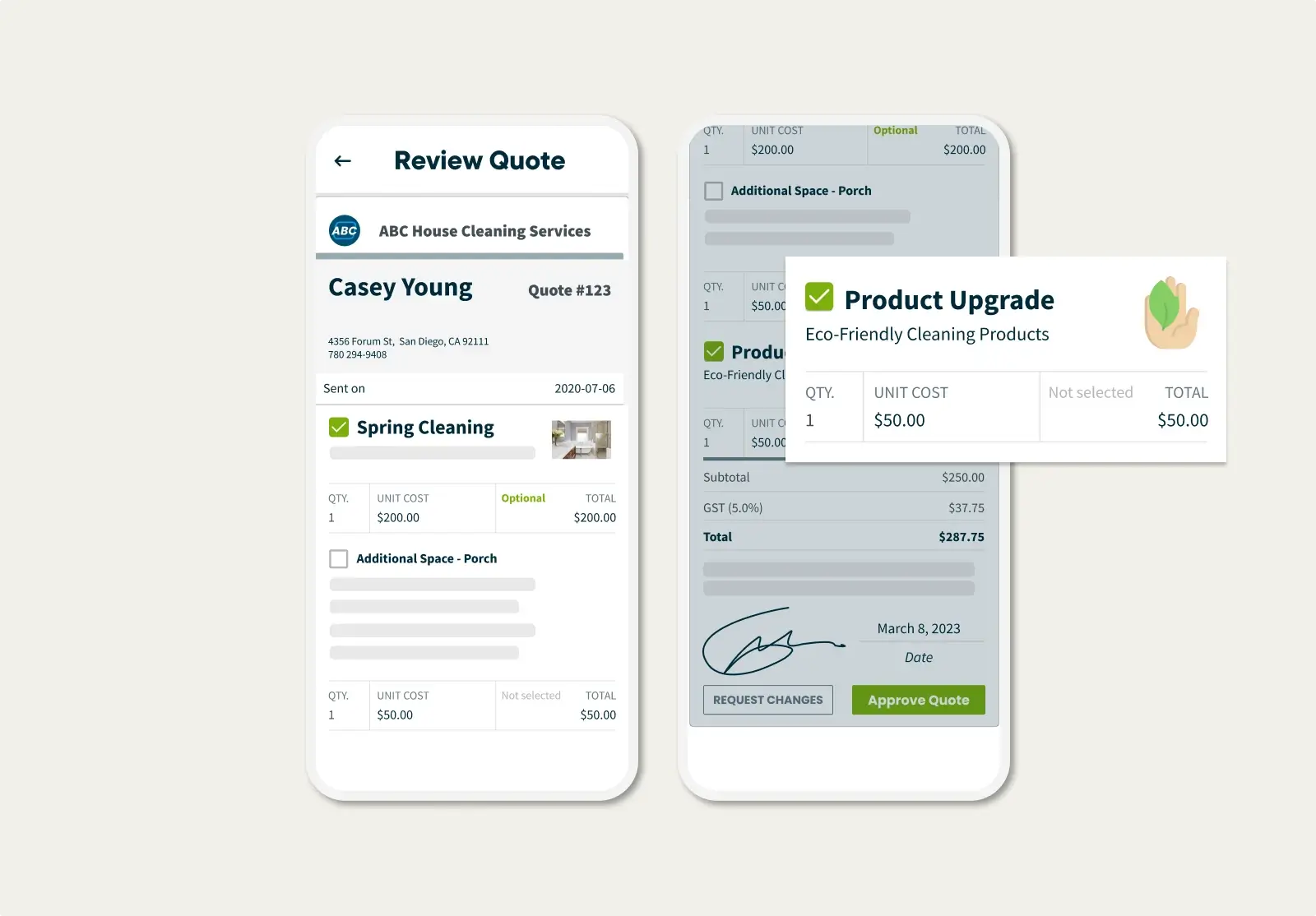 Jobber also sends automatic quote follow-up emails and lets you collect quote signatures online. And you'll easily access those estimate details from your customer's home once the job starts.
Then, use Jobber to access measurements, expenses, and photo attachments on-site so you can complete the job exactly as planned.
 When the job is complete, use the Jobber Card Reader to collect payment with one tap. You'll get paid faster and impress your customers with a convenient, professional experience.