How to Get More Appliance Repair Leads
Starting an appliance repair business is one thing, but getting clients is another. Lead generation is how you spread the word about your services to prospective clients using appliance repair marketing and advertising techniques.
Getting appliance repair leads is essential to having a profitable appliance repair business because it's what keeps new clients and jobs coming in. Without it, you'll struggle to fill your calendar with service appointments, making it hard to stay afloat.
Thankfully, there are a ton of different ways to get more appliance repair leads that fit a variety of budgets.
1. Physical appliance repair ads
Physical ads are one of the most common advertising methods out there. Not only do they come in a variety of forms, but they also fit a wide range of budgets.
Physical ads can be:
Business cards
Advertisements in local papers
Postcards and door hangers
Vehicle wraps and decals
Not only do these types of advertisements help to generate leads, but they also boost brand awareness in general. Just make sure that your logo, business name, contact info, and colors are consistent so all of your ads are attributed to your appliance repair business.
READ MORE: Create custom appliance repair postcards with Jobber and MailChimp
2. Appliance repair business website
If making a website isn't on your appliance repair marketing plan, it probably should be. Websites help to build your online presence and add legitimacy to your business.
A basic website should include:
Your business name and logo
A list of your services
Your location and service area
Relevant certifications
Contact information, like a business number, address, and email
Instructions for how to book an appointment
You can make yours even more helpful to yourself and your potential clients by incorporating handy features such as:
Email and newsletter sign-ups
In an increasingly digital world, clients like the convenience of booking a service without having to make a phone call during your office hours. Online booking gives clients the freedom to get in touch when they want and how they want. And, it takes a few administrative tasks off your plate, like answering the phone and gathering client information.
For example, Don's Appliances uses an online booking form powered by Jobber that lets them collect customer information and service details online, at any day or time.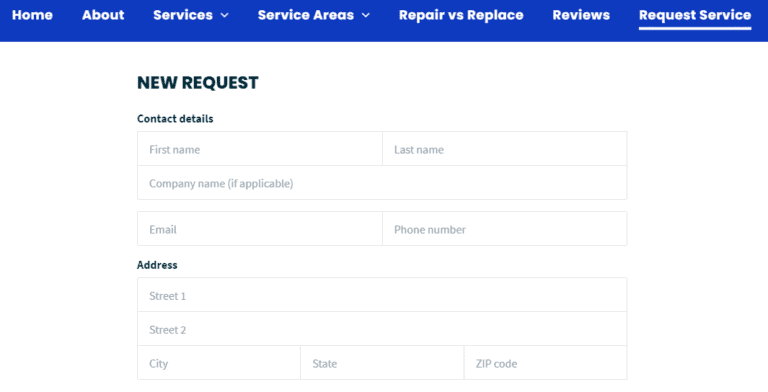 You can also use Google ads to direct clients to your website. This is especially useful considering that so many people use the internet to research and choose home service providers.
And, if you plan to offer digital promotions or newsletters down the road, your website is the perfect place to highlight a subscription.
3. Online booking through Google Ads
If you don't have a website yet, don't worry. You can still use Google to facilitate online booking using Jobber's Google Local Services Ads (LSA) integration.
All you need is:
A Google LSA account
A Jobber account and calendar integration
And while you don't have to have one, it's recommended you create a Google My Business listing as well, since Google reviews can affect how your appliance repair company listing ranks.
That's it! Once you've got everything up and running, clients can book appointments with your appliance repair company straight from Google. No website needed.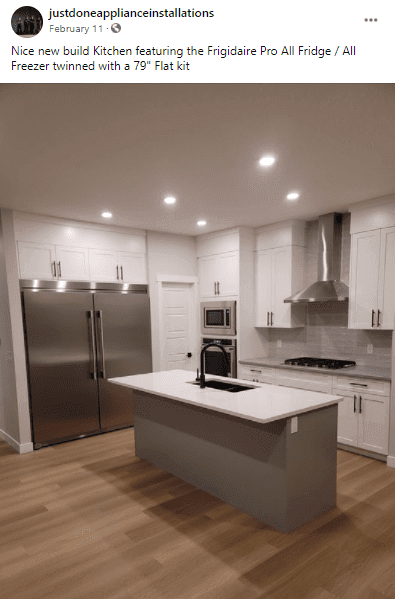 JustDone! Appliances Installations does a great job of using visuals to demonstrate their work on Facebook, showing prospective clients what they could do for them.
READ MORE: 7 ways to use social media to build customer relationships
You can also use your social media pages to generate more appliance repair leads by:
Running ads
Posting educational articles videos
Answering customer questions
Providing information about your business, like your services and hours
Hosting contests
Promoting marketing initiatives, like seasonal discounts or package deals
Using Jobber's online booking feature, clients can even book appointments through your business's social media pages. This is a great option when you're just starting your appliance repair business and want to scale your marketing efforts slowly.
READ MORE: 10 best appliance repair apps to run your business
5. Lead generation sites for appliance repair businesses
Lead generation sites like Angi (formerly Angie's List), TaskRabbit, and HomeAdvisor bring in appliance repair leads by promoting your business to their users.
You create a profile based on your location and services, and they match you with potential clients who need an appliance repaired, maintained, or installed.
Some lead generation sites charge you a fee per lead they send your way while others charge a monthly or yearly membership fee.
Make sure to do your research before choosing a lead generation service. Costs can vary based on factors such as competition in your area, job size, and even the type of profile you have. Find one that works for your industry and budget.
READ MORE: 14 Thumbtack alternatives for your home service business
6. Ask for client reviews
Testimonials and reviews go a long way in bringing in more appliance repair leads. Prospective clients who are researching appliance repair companies online want to see proof that others have used—and been satisfied with—your services.
What better way to build trust and prove you're a top-notch appliance repair company than by having happy customers shout your praises?
Here are a few examples from one appliance repair company:
"Prompt, friendly service. No wait times for scheduling. Great job. Thanks!" —Donna P.
"Great service, very friendly, and was able to book me for the same day as the delivery was scheduled, making for an easy transition between old and new appliances." —Samantha V.
"Great experience. Quick, friendly, and super helpful." —Ruth N.
You can use these testimonials on their website to help potential clients to feel confident that they're making the right choice.
After a job well done, follow-up with happy clients to ask if they're willing to leave you a review. Or, use appliance repair software to follow up with clients for you.
Positive reviews add professionalism and legitimacy to your business, growing your reputation as a high-quality and trustworthy appliance repair business.
READ MORE: Follow these steps to get more reviews
7. Start a referral program
Developing a successful referral program takes time and effort, but when done right, it comes with a lot of benefits. A great referral program can be used to:
Encourage repeat customers
Reward loyal clients
Generate new leads
Turn leads into clients
Referral programs don't need to be expensive or complicated. Start out with a simple and straightforward program and spread the word to your clients to get the ball rolling.