Entrepreneur Inspiration
How This Appliance Business Saves 20 Hours a Week in Office Work
July 19, 2021
4 min. read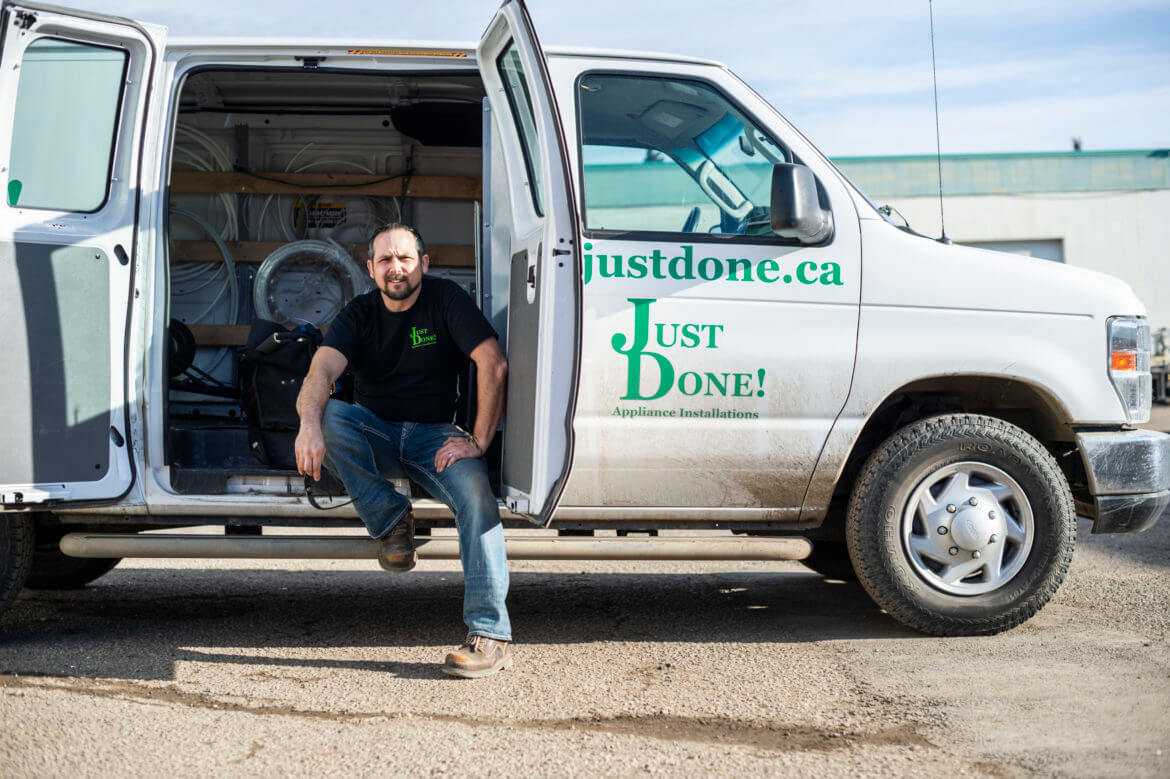 Just Done Appliance Installations
This appliance business is winning more bids than ever and saving 20 hours of office work per week with Jobber. Find out how they do it.
When the economy took a turn in 2008, Jesse Tookey's one-man house flipping business was in danger.
Seeing a gap in the market, Jesse quickly pivoted to appliance installation. "There weren't many others doing appliance installs at the time," he says. "12 years later, our appliance business is servicing 30, 35 homes a day."
The only way to keep up with that demand has been to continuously adapt. In 2018, Jesse started using Jobber to work more efficiently, manage his growing team and schedule, and impress his clients.
Here's how he did it.
Just Done! Appliances added Jobber to their toolkit in 2018
Since then, they've been able to:
Speed up job and hazard assessments
Win more jobs with professional quotes
Get quick GPS directions to every job
Save 20 hours a week in office work
Professionalism as a differentiator
When Jesse started Just Done! Appliances, professionalism and consistency in the industry was not the norm.
"Appliance repair techs would never show up in uniform, you never knew what tools they have. Each business would do every job differently. There was no level of professionalism," says Jesse.
So, Jesse saw an opportunity to develop the local industry and stand out with a new level of professionalism.
"Before Jobber, we'd hop into a Word document and write a quote that looked moderately standardized and professional. We did our best with what we had. And customers were impressed by how much further we had taken things than some of our competitors," says Jesse.
But as the business grew, Jesse wanted to take his processes and his reputation a step further. That's where appliance repair software came in. Jesse and his team got started with Jobber in 2018.
"I basically got threatened with mutiny when I told the team I was going to remove our old system and bring in something new," says Jesse.
"Within three days, just about everybody in the field and the office had a handle on it. Within a week they understood it. And within two weeks, it was just how we do things around here."
Keeping a record of work and customer addresses
Before Jobber, the process of recording work and sending it to the office was cumbersome.
Jesse used an app to record job assessments in a PDF, which he would email to the office. When it came time to take photos on the job, he would have to email those back to the office too.
"Somebody at the office had to assign those files to a job in a folder should someone else need to find photos for that job. It took a lot of digging and a lot of time," says Jesse.
That meant less time for his office team to respond to new leads, manage payroll, and scheduling.
When they got Jobber, Jesse said goodbye to single-use apps and constantly emailing his office to file important information. Job and hazard assessments now live in Jobber so he can save and share client profiles right from his device.
They can also show customers a timestamp of their visits, right from Jobber.
"That's helped us with customers who weren't onsite for their install. If they ask, we can share photos and all of the information about the job, right to the customer," says Jesse.
"It's allowed us to bring professionalism to our jobs."
READ MORE: Profitability tips for appliance repair businesses
Taking back time in the day
The amount of time Jesse and his team have gotten back every week is significant.
Even getting to their install appointments is faster with Jobber's CRM and route optimization software.
"Before we even get to the job, we look at Jobber and it says, 'Great, okay, I'm going here'", says Jessie. "I don't have to go digging to find the address. It's right there, I can hit the map button, done."
Winning more jobs with professional estimates
With Jobber, customers can view an estimate, approve it, request changes, and later get an appliance repair invoice when the job is complete.
"Everything is linear. I definitely think we're bringing more professionalism to the table because we look a step above everybody else," says Jesse.
From the initial job request to estimating to invoicing, all of the information Jesse and his team needs flows from start to finish. And his customers are noticing.
Online estimates and quotes in Jobber have not only been easier and faster, but it's also made Just Done! Appliances more successful at winning jobs, too.
Standing out from the crowd
From day one, Jesse's known that looking professional would impress his customers and give him an edge on the competition.
"Jobber's definitely changed our business. It's allowed us to have a lot more of a seamless flow from point A to point B. It's given us the opportunity to showcase a much more professional side of our business," says Jesse.
When it comes to growing an appliance repair and installation business, sending professional estimates and having more time to focus on the actual work is what sets Jesse and his team apart.