House Cleaning Checklists: 12 Professional Templates to Get (and Stay) Organized
October 6, 2021
8 min. read
The most successful cleaning businesses all have one thing in common: quality service.
But as your to-do list as a business owner grows, it can get tougher to keep tabs on every job—and to see if your crew is delivering quality cleanings every single time.
House cleaning checklists help cleaners stay consistent from job to job. They also offer proof to your customers that you've done a thorough cleaning and left no nook or cranny behind.
When you use cleaning service checklists:
Your service is consistent. When employees have access to standardized to-do lists, your crew can maintain high-quality service on every job and reduce the chance of errors.
Your customers stay satisfied. Consistent service quality keeps customers happy and turns them into repeat customers.
You look professional. Using a cleaning checklist and sharing it with customers makes you look more professional.
You stay organized. Your team can be more organized and spend time only on relevant cleaning tasks that improve overall efficiency.
You improve accountability. If a cleaning job isn't done right, you can refer employees to your house cleaning list to see what happened.
If you aren't using checklists yet, don't sweat it. We've put together several cleaning checklist templates and some bonus checklist tips to help new and veteran cleaning businesses work more efficiently.
How to clean a house professionally
Use basic cleaning checklists to plan before every cleaning job
When your crew has more time to clean, they can do a more thorough job.
Shave prep time off the start of a visit by asking your clients to run through a few simple tasks to prepare the house for cleaning.
To help your clients clear up the house before a cleaning, try sending a decluttering to-do list beforehand with tasks like these:
Put away fragile items
Remove all clutter like paper, clothes, and anything that isn't decor
Clear all dishes out of the sink and dishwasher
When you send this list a few days before the visit, be sure to let your client know that decluttering will make way for a better cleaning experience.
Preparation on your end will also save your crew lots of time. Create a pre-cleaning checklist so nothing slips through the cracks. It can start with:
Organize your cleaning supplies
Before creating your detailed house cleaning checklist, make sure you have a shareable list of cleaning supplies that covers every room and every type of job.
Checking this list before you dispatch your team will ensure your cleaners never miss a sponge or spray bottle. Here's a cleaning supplies list you can start with:
Vacuum cleaner
Broom and dustpan
Bucket
Extendable duster
Rubber gloves
Spray bottle
All-purpose cleaner
Glass cleaner
Wood cleaner
Furniture polish
Disinfectant for germ-prone areas
Microfiber cloths
Microfiber mop for wood floors
Toilet brush
Sponges
Paper towels
Garbage bags
READ MORE: What equipment do you need to start a cleaning business?
Create regular and deep cleaning checklists
Your clients' house cleaning schedules will depend on what they need and can afford, but it's best to set two types of repeating visits: a regular cleaning and a deep cleaning.
Most of your clients are probably too busy to deep clean their own homes—and it's likely that they haven't done a proper deep cleaning since moving in! This type of cleaning job gives your cleaners the chance to go the extra mile, and it'll make your regular cleanings easier, too.
Let your clients know why it's important to deep clean, and try to schedule deep cleanings every six months in addition to your regular appointments.
When you create checklists for these cleanings using the job forms feature in Jobber, you can attach them to your recurring visits. Then your workers can access those checklists on their mobile devices during the job.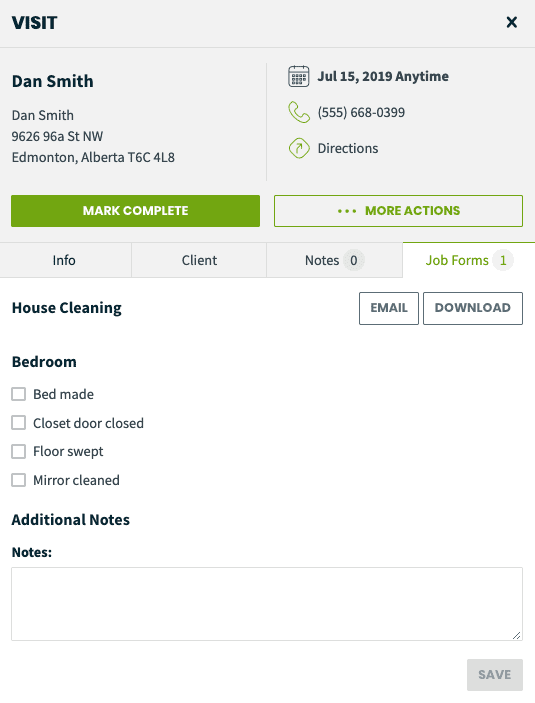 These checklists keep your crew consistent and efficient by giving them an order of rooms to follow. They'll also ensure your cleaners always start from the top down (e.g., furniture and countertops before floors) so that dust and dirt don't fall onto surfaces they've already cleaned.
With a routine to lean on, your team can work more and more efficiently with each job.
Professional house cleaning checklists
Since many cleaning services are unique, and no one job is the same, use the cleaning checklist templates below as skeletons to build your own checklists.
We've compiled lists for major rooms in the house and for different types of jobs. Customize them, add to them, and delete what doesn't apply to you.
Regular house cleaning tasks
Dust all furniture, shelves and decor
Dust window ledges and blinds
Dust lamps, light fixtures, and ceiling fans
Dust baseboards
Wipe down doors and doorframes
Clean out all corners for cobwebs
Tidy shoe closets
Vacuum all floors, carpets, rugs, and stairs
Mop hard floors
Clean glass surfaces
Vacuum sofa and other upholstered furniture (remove cushions)
Straighten pillows and linens
Empty and replace wastebasket
Weekly cleaning checklist
Vacuum floors and furniture
Sweep all floors
Mop kitchen and bathroom floors
Dust furniture
Change bedding
Wipe down kitchen appliances
Clean microwave
Sanitize sponges
Disinfect door knobs and light switches
READ MORE: 20 types of cleaning services you can offer
Deep cleaning checklist
A deep cleaning house checklist should include all your general cleaning tasks, plus these extras:
Clean and disinfect:

the inside of the oven, stove grates, and hood fan
inside of the refrigerator
inside of the dishwasher
the walls behind large appliances
ceiling fans

Polish metal hardware
Clean grout and soap scum from shower tiles
Change bedsheets
Wash windows (inside only)
Deep clean carpets
Wash shower curtain
Wash or shampoo rugs
Clean gutters
Move-out cleaning checklist
Clean doors, walls, and shelves
Dust baseboards, window sills, and shelves
Dust closets
Wipe interior and exterior of cabinets and drawers
Sweep, mop, or vacuum floors
Remove cobwebs
Replace burnt out light bulbs
Dust light fixtures
Clean shower, tub, sinks, and toilet
Clean laundry machines
Remove nails and hooks from walls, and fill in holes
Spot clean walls
Wash window sills and baseboards
Remove carpet stains
Wipe down and disinfect all countertops
Monthly cleaning checklist
Wipe baseboards
Wash windows
Clean blinds
Dust and clean grime from ceiling fan blades
Dust and vacuum air vents
Wipe chair rails
Wash blankets
Wash mattress pads
Deep clean kitchen appliances
Clean out pantry
Scrub tile grout
Clean light fixtures
Spot treat carpet and upholstery
Wipe down door frames
Clean garage
Clean laundry room and washing machines
Wash rugs
Clean out dryer vent
Clean trash cans
READ MORE: Simple ways to improve employee training for your cleaning business
Cleaning checklist for Airbnb
Wash and change bedsheets
Wash towels and bathrobes
Clean the kitchen
Throw out leftover food
Dust furniture and other surfaces
Wipe down countertops
Sweep and mop floors
Vacuum carpets and rugs
Vacuum all sofas and underneath furniture
Clean toilets, showers, and bathtubs
Disinfect door knobs, light switches, and remotes
Take out trash and replace the garbage bag
Cleaning checklists by room
Kitchen cleaning checklist
Dust tops of kitchen cabinets and appliances
Wipe down countertops and cabinets
Wipe down stovetop
Clean microwave inside and out, including turntable
Clean dishwasher
Soak stove drip pans and knobs in sink
Clean inside and around sink
Clean and dry all appliance surfaces including dishwasher, toaster, oven, top of refrigerator, freezer, stovetop, and range hood
Shine stainless steel appliances
Clean stove drip pans, burner grates, and control knobs
Clean and disinfect kitchen sink
Wipe cupboard fronts, tables, and chairs
Sweep and mop floor
Replace rugs
Empty and replace wastebasket
Bathroom cleaning checklist
Remove all dirty towels and washcloths
Dust all surfaces, including light fixtures and decor
Clean and disinfect shower, bathtub, and sinks (inside and out)
Clean and disinfect toilet bowl, seat, lid, tank, flush handle, and base
Clean and shine all mirrors, chrome, and tile
Remove hair from bathtub drain
Wipe cabinet fronts, fixtures, and countertops
Vacuum and mop floor
Replace rugs
Empty and replace wastebasket
READ MORE: Get the free e-book on how to run a better cleaning business
Bedroom cleaning checklist
Reposition furniture as necessary to vacuum
Dust all furniture
Vacuum room and closet floors
Wipe down window sills
Clean window coverings
Clean mirrors and picture frames
Return furniture to original position
Make bed
Living areas cleaning checklist
Dust from top to bottom with microfiber cloth
Remove lint from all furniture
Vacuum upholstered furniture and floor
Clean picture frames
Clean window coverings
Wipe down light fixtures, switches, and outlets
Dust and clean TV
Clean coffee tables and end tables
Clean fireplace and mantel
READ MORE: How to promote your cleaning business
Window cleaning checklist
Remove drapes or wipe down blinds
Vacuum dust and debris from window frames
Scrub window frames with sponge, soap, and water
Dry window frames with microfiber cloth
Remove and clean window screens
Clean window tracks
Clean exterior window glass
Wipe exterior window frames clean
These house cleaning checklists are just a start. You can customize your lists by task instead of by room, or create custom checklists for customers with pets, children, or allergies.
You can also create specific cleaning checklists for special cases like COVID-19 deep cleans.
FREE TOOL: Try our free cleaning receipt template
Create a mobile-friendly house cleaning checklist
When you're ready to create and distribute your own house cleaning list, invest in cleaning business software instead of printing and re-printing paper checklists in over-stuffed binders.