Snow Removal Ads to Attract Customers and Generate Leads
September 27, 2023
6 min. read
Snow removal ads are an important part of your marketing strategy to help you reach your ideal customers, generate more leads, and grow.
But, as with any seasonal business, time is not on your side. Learn which snow removal ads to invest in to secure new snow removal contracts before the first sight of snow.
Snow removal flyers
Snow removal flyers are a popular way to introduce your snow removal business and services to new or existing customers. At minimum, your flyer should include a simple headline, list of services, and your contact information.
You can make them yourself, using a drag-and-drop design tool like Canva, or pay for a snow removal flyer template from VistaPrint or Staples. Or, create custom custom postcards and have them mailed directly to homes in your neighborhood with Jobber's Mailchimp integration.
Deliver your snow removal flyers to the mailboxes of residents in your service area when the weather gets colder and potential clients start thinking about winter.
Here's an example of a snow removal flyer: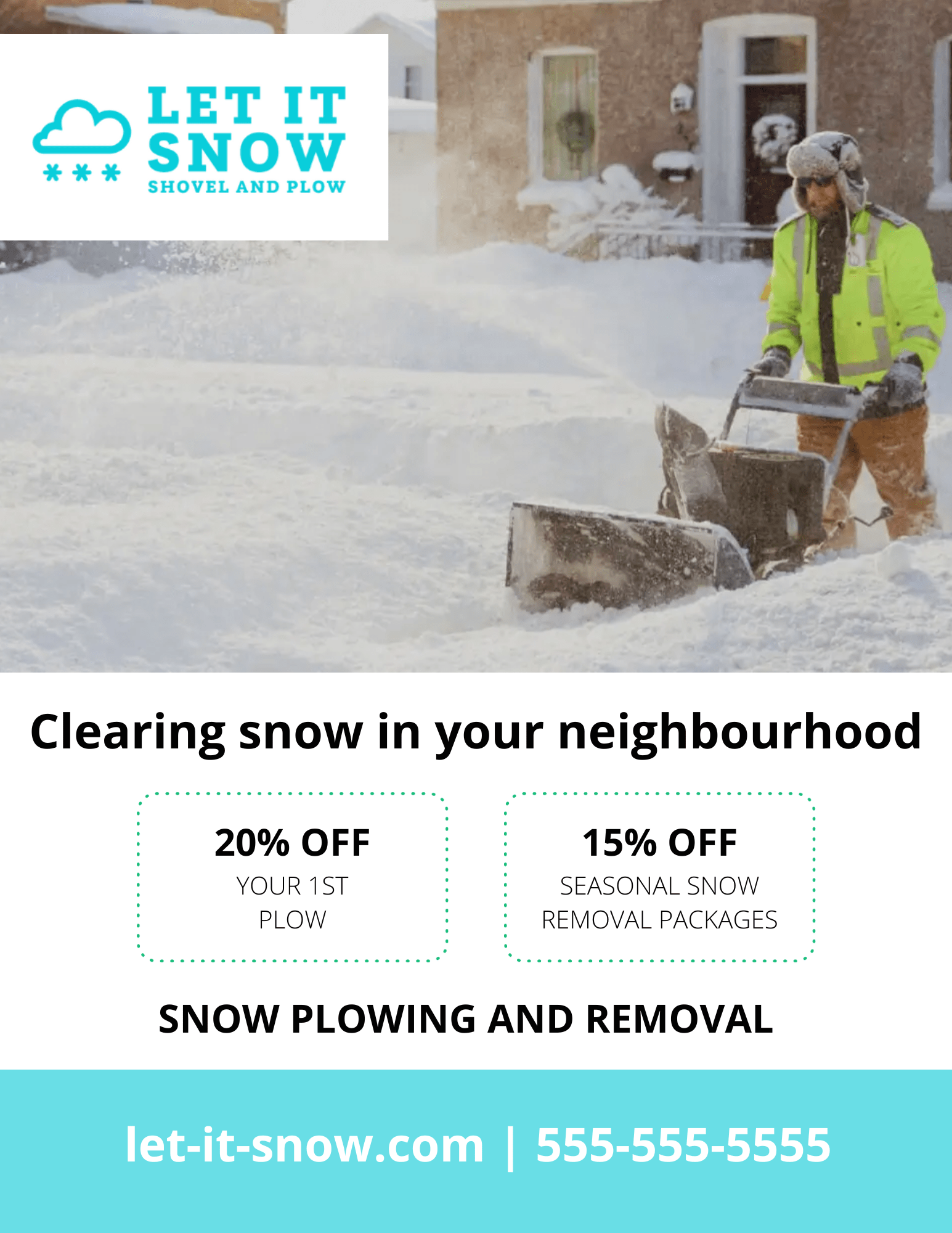 Tearaway flyers
Tearaway flyers let you reach potential customers in the places they frequent most, like the grocery store, community centers, fitness facilities, or public libraries.
They're also quick to design and distribute. Pinning one tearaway flyer on a community bulletin board can generate up to 10 leads for your business. (Just make sure to ask for permission before posting.)
Here's what a snow removal flyer looks like when you create it with Jobber's tearaway flyer maker.
Vehicle decals
When you're out plowing, adding your company name and contact information to your truck will tell shoveling neighbors who to call for snow removal services before the next storm.
You can choose to have your full vehicle wrapped or to print and apply a decal to effectively promote your business and attract interest wherever you drive.
Google ads
When a potential customer is looking for snow removal services, they're going to start their search on the largest search engine—Google.
There are three different types of Google ads you can invest in:
1. Local Services ads
Google's Local Services ads appear at the very top of the search results page when people search for snow removal services for a specific area (like "snow removal in Boston").
You can use Local Services Ads to attract new and local customers in your service area.
Here's what Local Services ads look like:
2. Search ads
Google's Search ads appear just below the local services ads at the top of the search results page. To run one of these ads, you'll bid on keywords or phrases potential customers would use to search for your services, like "snow removal in [CITY]" or "snow plowing services".
You can use Search ads to reach a larger audience than Local Services ads and maximize your advertising budget.
Here's what Google Search ads look like:
3. Display ads
Google Display ads are graphics, banners, or videos that appear on actual websites as customers browse the web.
You can use Display ads to target specific demographics and increase traffic to your snow removal website.
Lead generation websites
Advertising on lead generation sites, like Thumbtack, TaskRabbit, or Angi, help you connect with customers who are actively searching for your snow removal services. You can choose to list your business for free and pay for each lead you receive, or run a snow removal ad to reach a bigger audience.
Here's what advertising on Thumbtack looks like:
Or, try joining local Facebook groups or advertising on sites like Nextdoor to introduce your snow removal business to your community. 
Email marketing campaigns
Email campaigns can encourage current and potential customers to invest in your company, whether you're adding snow removal as a seasonal business idea or starting a snow removal business.
Use email marketing to offer discounts on seasonal snow removal or let customers know about new service offerings, like salting or sanding.
Word of mouth marketing
Happy customers are more likely to tell their friends or family about your services and send them your way as a referral. This is called word-of-mouth marketing.
The key is to offer quality snow removal and customer service that gets your customers talking. Once the job is complete, ask satisfied customers to write a positive review online. Then add these reviews to your website and snow removal ads.
You can also start a customer referral program that encourages your customer base to recommend your business to family and friends.
How to start advertising your snow removal business
Follow these steps to successfully start advertising your snow removal business:
1. Define your audience: Identify whether you're targeting residential homeowners, commercial properties, or both. Understand their unique needs and pain points.
2. Determine your unique selling point (USP): Why should customers choose your business? It could be that you offer a guaranteed response time, around-the-clock services, fixed seasonal rates, or liability coverage. Use your USP in your snow removal ad to encourage customers to invest in your services.
3. Create your advertising goal: What do you want to achieve with your ads? It could be to generate new leads, or introduce new services to your existing customers.
4. Design your snow removal ads: With your audience, USP, and advertising goal in mind, design your snow removal ads using a template on Canva or hire a professional to design them for you. Make sure your snow removal ads include your branding, the snow removal services you offer, and your contact information for customers to get in touch.
5. Set your advertising budget: Figure out how much you must spend to get a new lead (also known as customer acquisition cost or CAC) and how many customers you need each month. Then use this formula to set your monthly advertising budget:
CAC x desired number of new customers = monthly ad budget
6. Track your performance: Tracking your ad campaigns performance and results will show if you're reaching your goals and what advertising methods are most effective for your business.
When it comes to marketing your snow removal services, effective advertising can make sure your business stands out when temperatures drop. Now that you know the different types of snow removal ads available to you, you're ready to try a few of them out.
Start by investing a small amount into two or three different advertising channels and monitor their performance to see which performs best, then update your budget as you go. Before you know it, you'll have a full roster of clients just in time for the snow removal season.