How to Start a Chimney Cleaning Business: From $0 to $200K in One Year
September 23, 2022
8 min. read
Want to start a chimney cleaning business? Now is the best time. Competition is low compared to other service industries. And chimneys need to be cleaned at least once per year, so there's guaranteed recurring demand from homeowners.
Combined with low chimney sweep startup costs ($7,500 in some cases) and the chance to make healthy profits (12.5–20% profit margins), you have a market that's ripe for the picking.
However, a good business opportunity doesn't mean starting a chimney sweep business will be easy. There's a lot to do—from getting certified and registering your business, to setting up operations and marketing.
To help you on this journey, we spoke with Patriot Chimney, a chimney cleaning business that generated over $212,000 in its first year. Read on and use this "How to Start a Chimney Cleaning Business" checklist to get started.
How to start a chimney cleaning business: your eight-point checklist
1. Get certification and experience
By law, you don't need a chimney cleaning license to start a chimney sweep business. A general business license will do (more on that later).
However, you can be liable for damages that result from not cleaning a chimney properly. The best way to prevent this is to get certified to improve your knowledge of the job.
Plus, having the certification is a way to market your business and attract higher-paying clients. It's a stamp of credibility that tells homeowners you put their safety first and do a reliable job.
READ MORE: 10 easy ways to increase revenue from new customers
Besides getting certified, you should also gain experience in the field as a technician. On-the-job experience will help you find out if this industry is a good fit, while teaching you how to avoid mistakes that could cost your business customers and money.
If your background is business or marketing, you can hire certified technicians to do the work or build a team with diverse skills. That's what Mitchell Blackmon and the team at Patriot Chimney did to build a profitable chimney sweep business.
READ MORE: Hiring your first employee: when and how to do it successfully
2. Choose a business name and logo
Give your business name some thought and choose one that's both practical and professional. After all, your name will be on all your quotes, invoices, marketing materials, uniform, and even van.
But don't spend weeks and weeks agonizing over your name—this will unnecessarily delay starting your business.
Your name and logo will go hand-in-hand. Create a logo to place on your uniform that's easily recognizable and memorable for customers. To design a logo, use a designer or services like like Canva and 99designs.
READ MORE: How to build a brand for your home service business
Patriot Chimney was named after the company's founders—two combat vets turned certified chimney sweeps. Their logo is simple, bold, and easy to use on business cards, uniforms, vans, lawn signs, and more.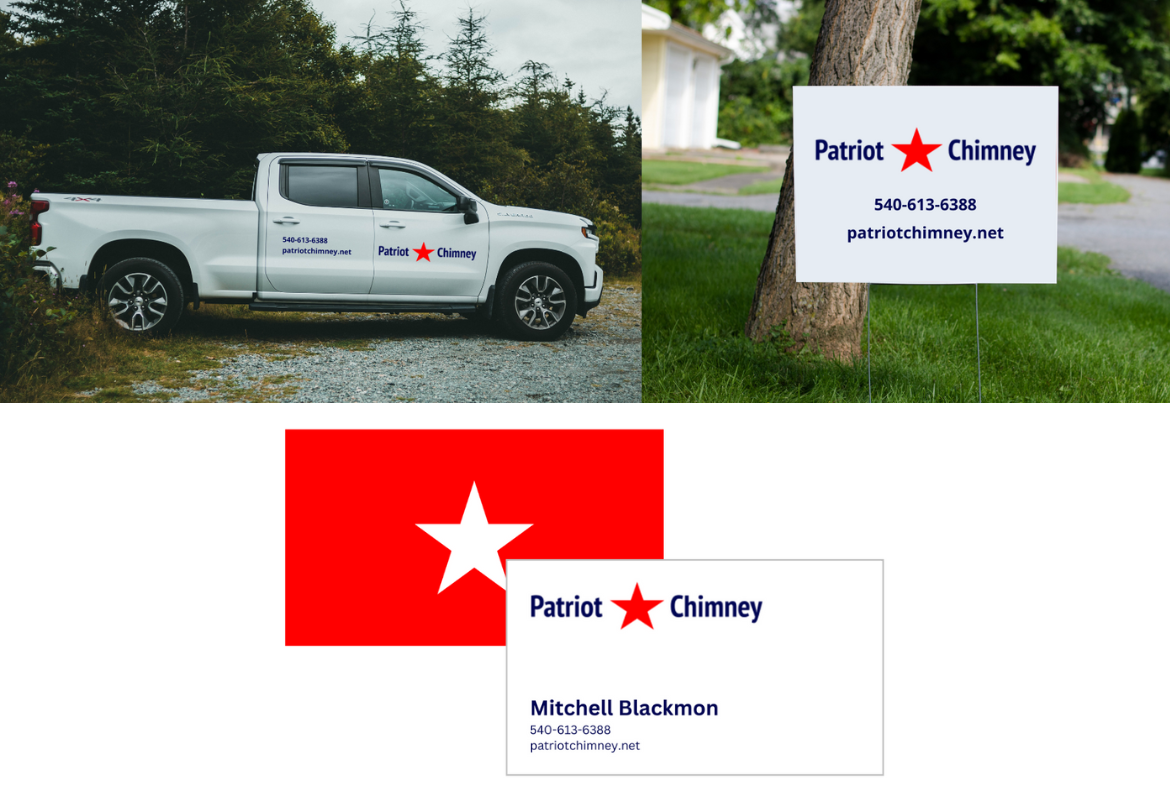 3. Register your business and get insurance
This part isn't the most glamorous—it involves loads of paperwork. However, it's something you have to deal with if you want to legally start a chimney sweep business.
First, choose your business structure (LLC, corporation, sole proprietorship, or partnership). An LLC is usually an excellent option as you won't be liable if sued.
Second, register your business with local and state governments and get the required permits and licenses. Business licensing requirements vary by state and city, so contact the local municipality or the Small Business Administration for guidance.
Third, get general liability insurance that protects you if you accidentally damage someone's property, and worker's compensation for your employees.
Getting small business insurance can be tricky, but you need that peace of mind. Shop around and get quotes from several insurance companies if you want, but whatever you do, don't skip this step.
READ MORE: The 28 best entrepreneur books to read as a small business owner
4. Build a service list and price list
There are many services you can offer as a chimney sweep such as chimney inspections, remodels, chimney sweeping, fireplace cleaning, chimney relining, and pipe and liner repair.
But you don't have to offer them all to run a profitable chimney cleaning business. Instead, focus on those services that have a market, you're good at, and you want to do.
FREE TOOL: Create profitable estimates with our free profit margin calculator
Once you have your service list, calculate your service prices. If you've already been working as a chimney service technician, you should have an idea of chimney service pricing, profits, and costs in your region.
Use this information as a guide, but don't rely on your competitors to determine your chimney company pricing. Instead, use a smart pricing strategy that works for you, like tiered, hourly, or value-based pricing.
You should take into consideration how much you need to charge to reach your profit margin goals, too.
5. Determine what chimney sweep equipment and tools to buy
The exact equipment you need depends on what services you plan to offer. That said, here's a list of chimney sweep equipment and tools you'll probably need at some stage in your business.
Chimney Sweep Supplies and Materials
Rotary cleaning rods
Vacuum cleaner
Ladders and step stool
Angle grinder
Grout bag
Fireplace cleaning tools
Cleaning and wire brushes
Drill and impact driver set
Power tool batteries
Hang light
Assorted tools (plyers, crowbar, chisel, hammer)
Extension cord
Measuring tape
PPE (harnesses, masks, leather gloves)
READ MORE: Do I need an accountant for my small business?
Keep in mind that you don't have to buy all this equipment at once. You can wait until you've booked a job that requires a specific tool before you decide to buy.
You also don't have to invest in top-of-the-line equipment, which places financial burden on your chimney sweep business. Use quality second-hand equipment and finance it instead of buying it outright.
Just make sure that if you do finance the equipment, you have enough money coming in to pay back the line of credit.
READ MORE: Get flexible financing designed to work for your small business
Besides the essential supplies and materials, you also need chimney cleaning business software. This is software that helps run your chimney sweep business from a single platform.
Manage clients, accept online bookings, quote jobs, check schedules and job notes on a mobile app, schedule employees, track time, invoice clients, and much more.
Chimney service business software like Jobber can help you save time, look more professional, and run a more efficient and profitable chimney sweep business.
6. Use marketing to build your client list
There's no shortage of ways to market yourself when starting out. To avoid getting overwhelmed, focus on marketing tactics that will help you get a few clients fast.
Here are some home service marketing basics that you can try:
READ MORE: 3 steps to make your marketing stand out
Even if you're just starting out and don't have a team to delegate the work, use a combination of basic marketing tactics to stay top of mind and influence homeowners in your target market.
After you have your first few customers, you can focus on long-term strategies like optimizing your website for search engines, collecting reviews, and setting up a referral program.
(Referrals are an excellent source of revenue for chimney service businesses. If you provide a good clean job and excellent customer service, customers will be happy to call you again—and send their friends.)
READ MORE: 5 ways to stay competitive on customer service
How did Patriot Chimney market their business?
Patriot Chimney used both digital marketing and door-to-door marketing when starting out. They also hired a sales person to go door-to-door with flyers on a regular cadence.
7. Set up systems to book work, schedule, and complete jobs
Next up, think about how you'll handle customers once you start to get leads from your marketing:
READ MORE: When to send an invoice to customers
Set up these systems as early as possible to avoid unhappy customers, negative reviews, and frustrated teammates.
Jobber's dashboard shows you what's on the docket for the day, as well as your open work requests, quotes, jobs, and invoices. All the information you need about your business is at your fingertips.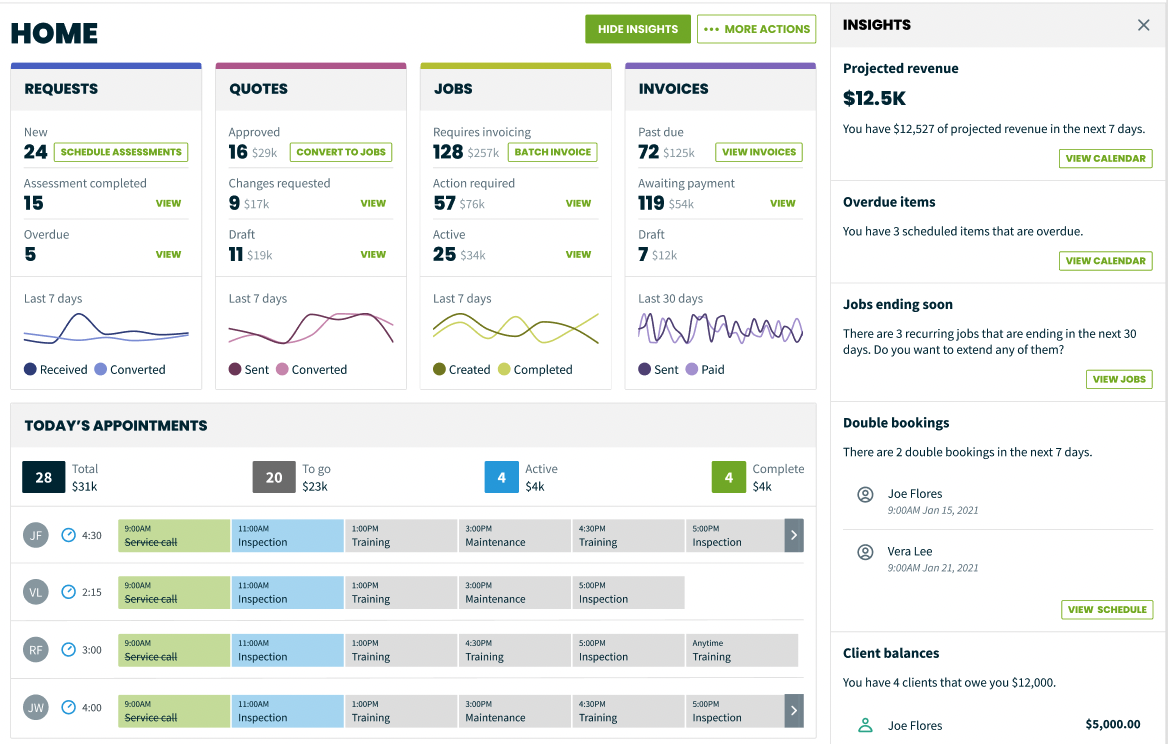 8. Plan for growth
By now, you should be just about ready to start your chimney sweep business. But before you pull the trigger, start thinking about some bigger picture questions:
How big do I want my chimney sweep business to be?
What are my profit goals?
Would I ever want to bring in partners?
How will I keep my costs down?
How will I remain ahead of the competition?
By answering these questions early, you'll have a clearer picture of your goals, vision, and how to achieve them.
READ MORE: 4 ways itemized quotes help you grow your service business
For example, Patriot Chimney's goal is to double their net profit within a year. They plan to accomplish this by:
Continuously updating their pricing so it's more in line with client demand
Buying material in bulk
Introducing new technology to automate tasks and reduce manual processes so they can concentrate on business growth
Start your chimney cleaning business today
Starting a chimney sweep business is a big business opportunity, but it's also a big challenge. Complete startup tasks like getting experience, building a service list, marketing your business, and planning for growth.
This process will go even more smoothly if you optimize your business like Patriot Chimney did—and it'll help you remain efficient and profitable.