10 Chimney Sweep Marketing and Advertising Ideas
October 24, 2023
7 min. read
Knowing the best chimney sweep marketing and advertising strategies is key to attracting new leads, standing out from your competitors, and ultimately, growing your business.
Luckily, you don't need a massive marketing budget to put your chimney business name in front of prospective customers.
To help you get more chimney sweep customers, we've compiled a list of the top 10 marketing and advertising ideas.
Try these chimney sweep marketing ideas:
1. Create a website
Your website is often the first impression a potential customer has of your business—making it one of your most important marketing tools. It tells visitors what services you provide, what areas you service, and why they should choose your business over the competition.
To make sure your website hits the mark, make sure to include:
Your name, logo, and branding
Your contact information
The chimney sweep services you offer
The area you serve
A call to action that tells visitors what they should do next, like "request a quote" or "book a service"
Here's what Flame Masters' website homepage looks like:
You can choose to hire a freelancer, or create your own website with drag and drop website builders like Wix or Squarespace.
2. Distribute chimney sweep flyers or send postcards
Flyers and postcards are an easy and cost effective way to promote your chimney sweep services within the communities you serve. They are also a great reminder that it's time for homeowners to have their chimney swept before the winter season.
You can print off chimney sweep flyers and put them in mailboxes in your service area—just make sure to avoid homes with signs saying "no flyers".
Or, use Jobber's Mailchimp integration to design and send printed postcards straight to the homes of your client list.
Pro Tip: Include a promo code on your flyers and postcards so it's easy to see how much revenue you're generating from direct mail campaigns.
3. Invest in chimney sweep advertising on Google
There are two different types of Google ads you can use to advertise your chimney sweep business—search ads or display ads.
Google Search ads are text ads that appear at the top of the search results page when a customer searches for keywords relevant to your business, like "chimney sweep in [city]".
Here's what a chimney sweep Search ad looks like:
Search ads typically include a headline, description, and a URL that sends users to your website to learn more about your business or to request a service.
Google Display ads are graphic or video ads that appear on websites your ideal customer is likely to visit. They're used to remind customers who've visited your site in the past of your services and encourage them to get in touch.
Both Search ads and Display ads run on a pay-per-click (PPC) payment model. Which means you're charged when a potential customer clicks on one of your ads, regardless of whether they book a service or not.
4. Use local SEO
Local SEO (search engine optimization) is a digital marketing strategy that helps improve your visibility in local search results on search engines like Google.
Here's how to use local SEO to put your chimney sweep services in front of prospective customers:
Claim your Google Business Profile
Google Business Profile is a free online business listing that appears on Google Search or Maps whenever someone in your local area searches for chimney sweep services.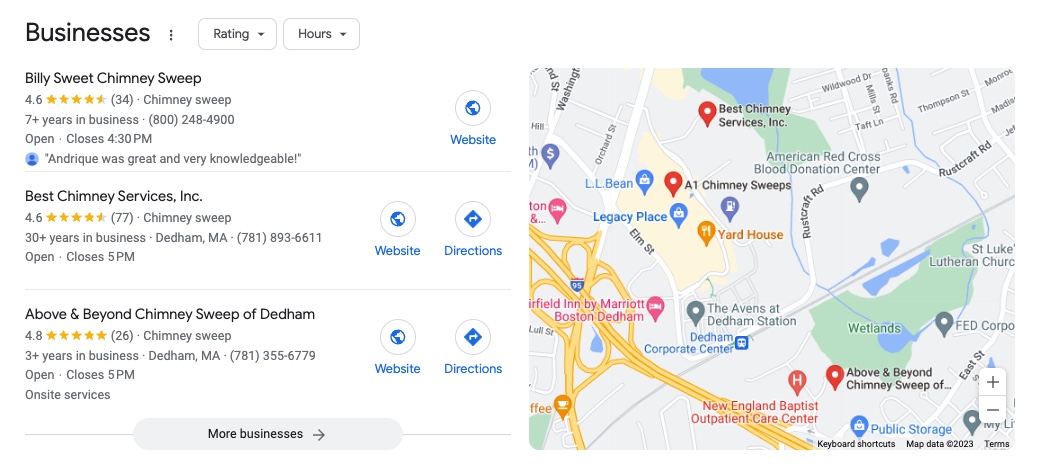 When setting up your Google Business Profile, be sure to include:
Business hours
Company description
Contact information
Photos of your team or past jobs
Service area
Customer reviews
Get listed on online directories
Getting your business listed on online directories can help you attract more visitors to your website and increase visibility to potential customers.
Here's how to get started with online directories:
Make sure your business is listed on all the major directories, including Google, Yelp, and Bing Places
Become a member of your local Chamber of Commerce to connect with new customers in your service area
Use WhiteSpark or BrightLocal to find other local directories to list your chimney sweep business on.
Optimize your website
Optimizing your website for SEO will help you appear higher on the search results page when a prospective customer is looking for chimney services in your service area.
Here's how to optimize your chimney sweep website:
Create individual web pages for all of the services you offer
Include the locations you serve
Start your own chimney sweep blog to share your expertise
Make sure your website is quick to load and easy to navigate
5. Connect with leads through email marketing
Email marketing is an effective way to stay top of mind with leads and re-engage past customers who may be interested in annual chimney cleanings.
Here's how you can use email campaigns to generate new and repeat business:
Highlight company updates, such as new chimney detailing services or extended service hours
Provide tips and advice on chimney care and the importance of regular chimney sweeps
Offer special discounts and promotions to encourage new and existing customers to book a service before the busy season starts
Collect feedback from customers about their chimney sweep experience to help improve your services
You can also reuse and repurpose your social content for other social media sites like Instagram, Twitter, or TikTok.
7. Start a customer referral program
A customer referral program is a great way to turn happy customers into new business for your chimney sweep company.
Here's how to create a winning customer referral program:
Provide a great customer experience that gets your customers talking
Offer incentives like gift cards or service discounts that encourages customers to refer their friends and family to your business
Educate your customers about your referral program through follow-up emails or text messages once the job is complete
READ MORE: 15 brilliant customer referral program ideas (with examples)
8. Try video marketing
Video marketing helps you reach and educate potential customers on the importance of chimney sweep services.
It's easy to create high quality and engaging video content with nothing more than your mobile device. Try:
Creating and sharing Instagram Reels or TikToks of chimney sweep jobs
Answering questions about your business or chimney sweep services in real time with Instagram Live
Sharing helpful chimney care and maintenance tips with longer YouTube videos
9. Ask customers to write a review
Requesting online reviews or testimonials from satisfied customers can help you build a reputation as a trusted chimney sweep business and stand out from the competition.
You can ask for reviews in person when the job is done, over the phone, through email, or even with a text message. Then, make it easy for your customers by providing detailed instructions and a link to your review site.
Showcase your reviews by creating social media posts, posting them to a testimonial page on your website, or adding them to your flyers or postcards.
10. Pay for leads on lead generation websites
Attract leads fast by using lead generation sites like Thumbtack, Angi, or TaskRabbit to connect with new customers.
Depending on which site you choose, you'll have to pay for an annual subscription or pay a small fee for each lead you receive.
Here's how to make the most out of lead generation sites:
Pick the best lead generation website for your chimney sweep business.
Create a business profile that lists the chimney sweep services you offer and the areas you serve.
Set a monthly advertising budget that you can afford to avoid overspending on leads.
READ MORE: Apps like Thumbtack: 12 lead gen sites for service pros
Whether you're just starting your chimney sweep business or or you've been operational for years, building a strong marketing strategy will help you reach the right customers and grow.
Choose 1-2 few of the tactics listed above to start, see which ones work best for your business, and update your strategy as you go.