How Do Landscaping Companies Work in the Rain?
Your landscaping company can still work on rainy days. If you plan ahead, you can keep your team working despite rain and continue to run and grow your business.
We'll show you how to plan properly for bad weather, manage schedule delays for your customers and crew, and spend rainy days productively.
How you can manage rainy days as a landscaper:
1. Create a rainy day policy
A rainy day policy tells your clients that you won't complete work in rainy weather, long before the rainy day actually comes.
Your rainy day policy should let clients know:
Why it's safer to reschedule appointments for dry days
You'll be the one to decide whether it's safe enough to do certain jobs in the rain
Your steps for rescheduling rainy day appointments
What will happen if the rainy weather continues
Here's an example of a rainy day policy note, which you can add to the bottom of your lawn care contracts, quotes, and appointment confirmation texts:
Rainy day policy note example
We want to keep your lawn tidy, our employees safe, and our equipment in good condition. To make sure this happens, we reserve the right to adjust service times or delay appointments in the event of rain.
We'll do our best to serve you as soon as possible, and you'll only be billed for our time once that service has been provided. Thank you for your understanding and for your business!
Email this policy to all your clients right before the rainy season starts. This message will prepare them for frequent rescheduling due to rainy weather.
Your rainy day policy email could look like this:
Rainy day policy email example
Hi [CLIENT NAME],
Looking ahead at the forecast, we're entering our rainy season.
We will continue to try our best to work on your property on our regularly scheduled day. However, there may be times in the upcoming weeks that your service day is delayed or moved slightly due to weather conditions. When this happens, we will work hard to make sure your property stays maintained and that you get back on your regular schedule.
Our goal is to keep your lawns and landscapes beautiful and your satisfaction high, so we will never mow or landscape if your property is too wet.
As always, we appreciate your business!
Sincerely,
[YOUR COMPANY NAME]
2. Work in the rain when it's possible
If there are services you can still provide in the rain, keep them on the schedule. A bit of rain might not be worth rescheduling a job.
Generally, it's safe to landscape in the rain if you're not cutting grass, digging holes in the ground, or working with power tools.
Here are landscaping and lawn care services that are usually safe to perform in the rain (as long as you're using manual tools):
Tree pruning
Hedge and shrub pruning
Bush trimming
Mulch and compost installation
Sodding
Weeding
READ MORE: How to start a weed control business
If the rain is so heavy that it floods your client's property, avoid doing any type of landscaping work. Excess water and mud can create slippery conditions for your workers and make a mess of the property.
Whether you decide to work in the rain should also depend on your climate. If it rains often in the spring or all year, canceling landscaping work whenever it rains could cost you lots of revenue. But if rain is rare, it might be safer to reschedule.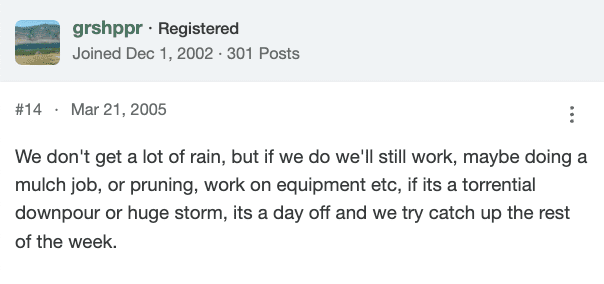 Avoid mowing and lawn maintenance in heavy rain
Mowing in the rain is only safe if it's raining lightly. Workers can slip and fall on wet ground while operating mowers and edge trimmers, and might come into contact with blades.
It can also be inconvenient and messy, since mowers can get clogged by wet clippings and spit out clumps of grass.
Dethatching and aeration aren't ideal in heavy rain, either—you can accidentally tear grass at the roots instead of pulling out just the thatch. Too much water creates muddy soil, which can undo your dethatching and aerating work.
If you choose to do lawn maintenance in the rain, only use gas-powered mowers and machines since it's dangerous to get electrical equipment wet.
FREE TOOL: Try our free landscaping receipt template
3. Build flexibility into your scheduling
To avoid scheduling headaches and reduce overtime work, create room in your schedule so you can easily reschedule rainy day work you had to cancel. Here are a few scheduling methods you can use for your team:
A) Leave one day of the week for make-up work
Many landscaping businesses work four days per week, and leave a fifth day for extra work or rescheduled jobs.
For example, you might schedule all your jobs for Monday to Thursday, and none on Friday. This gives you Fridays to do any work that had to be rescheduled due to rain.
This lawn care business owner uses Friday and Saturday as make-up days, depending on how many times it rains during the week:
B) Offer your clients a multiple-day service window
Instead of booking a landscaping visit for a specific day, book it for a two- or three-day service window. If it rains on one of those days, you'll be able to complete the work another day as long as it's in that service window.
You'll still need to share your rainy day policy with your clients in case it rains on all those service days.
READ MORE: How to build a profitable lawn mowing schedule [free template]
C) Alternate landscaping and lawn care jobs—and prioritize landscaping when it rains
If you provide both landscaping and lawn care services, an alternating schedule can make it easier to rearrange visits due to rain. Here's what a normal alternating schedule would look like for one week:
Landscaping visits should come first in the schedule, since it's safer and easier to do landscaping work in the rain than lawn maintenance. This way, you'll only have to push back your lawn care appointments if it rains.
Here's a scenario using the alternating scheduling system:
On Monday and Wednesday, you scheduled a landscaping project for Amy.
On Tuesday, you're mowing for Bob.
It's going to rain on Monday and Tuesday.
If you push back your Monday and Tuesday visits, you'll have to push back all your jobs for the week, too—and that affects all your future work days. Here's what you can do instead:
Move Amy's second landscaping appointment from Wednesday to Tuesday.
Reschedule your Tuesday mowing job to Wednesday (when it's sunny).
Now, you only have to landscape in the rain.
Clients will be happier to get their projects done sooner instead of having them delayed. Plus, this schedule helps you avoid overtime and weekend work.
If you leave one day of the week for make-up work (in this example, Friday), you'll have an extra day for delayed appointments in case it keeps raining.
READ MORE: The 8 best scheduling apps for small business owners
D) Use an easily customizable scheduling tool
Instead of updating spreadsheets and paper when you have to reschedule multiple visits at once, you can use bulk scheduling in Jobber to do it in minutes.
When you reschedule a visit in Jobber's scheduling software, the employee assigned to that job will get a notification on their phone with all the details.
You can also set up automated notifications to keep your clients in the loop when you update appointment details.
4. Send schedule updates to your clients
As soon as you know it's too rainy to work, send an email or text message to tell your clients you need to reschedule. If there's a storm or hurricane that will last for the whole week or longer, call your customers to reschedule for a later date.
Here are a few ways you can notify your clients:
Email all your clients at once. When you need to cancel all your jobs on a rainy day, you can send a single email to all the clients you had booked for that day. Let them know that you'll text them individually with their new appointment date and time—or that they'll get an automated email notification.
Call each client. Talking on the phone with clients individually can soften the blow of having to reschedule an appointment. Gently let them know that it's safest to wait until the rain stops, and try to work out a new visit date over the phone.
Announce schedule changes on social media. Encourage your clients to follow you on social media for service updates. There, you can post a single rainy day message where your clients can all see it at once. Tell upcoming clients that their scheduled work might be affected, too—even if they aren't booked for the rainy day.
READ MORE: The best lawn care and landscaping apps to help grow your business
5. Work on your business from indoors
When you can't work outdoors, you and your team can be productive at the office or shop. Spend rainy days catching up on work you normally don't have time for, such as:
Quotes, invoicing, and other paperwork: Spend time on paperwork that brings in business, like sending out quotes, bidding on new jobs, and following up on invoices. If you've been thinking about hiring more workers, use this time to write a landscaping or lawn care job description.
Cleaning up and organizing: Tidy the shop, do inventory, and run any leftover job debris over to the dump. This is a good way to keep your crews busy and paid—and still help your business.
Inventory: Take stock of what you have in the shop and what needs replenishing. Then pick up more soil, fertilizer, gloves, spare parts, and any other tools or supplies you need for landscaping and lawn care jobs.
Equipment maintenance: Create an equipment maintenance checklist to help you and your team inspect your mowers, tractors, core aerators, and power tools. Be sure to check oil levels, air filters, and tire pressure on all your machines.
Employee training and development: Train your team on work safety, new landscaping techniques, or other skills you wouldn't normally have time to teach. You can also use this time to brainstorm ways to solve common obstacles you face in the field.
Marketing: Update your landscaping website and social media profiles with new project photos, testimonials, and promotions. You can also look into new marketing ideas for your business, like landscaping flyers and door hanger advertising.
Client check-ins: When you can't work on a client's property, you can still work on strengthening your relationship with them. Send thank-you notes to your clients and ask for their honest feedback. You can also use this time to ask for online reviews so you can look better to potential clients.
READ MORE: How to sell a landscape business and maximize your profits
Always be prepared for rainy days
In the landscaping business, you'll always have to deal with rainy days. It's best to have a plan in place to keep your business running, your employees busy, and your clients happy.