Managing Your Business
The 8 Best Mobile Field Service Apps to Boost Efficiency
November 3, 2023
7 min. read
Between scheduling your crew, estimating jobs, and invoicing customers, running a field service is a tough balancing act. The best field service apps can save you time and effort on these tasks so you can focus on getting the job done right.
How do you choose between dozens of well-reviewed field service apps? Many of these apps offer the same features, but they're not all the perfect fit for the way you work.
Browse our list of the best mobile apps for field service teams to find the right one for your small business type, team size, and day-to-day needs.
Our top picks for mobile field service apps:
1. Jobber
To reduce the stress of running your field service business, manage your entire operations—quoting, scheduling, invoicing, and payments—using Jobber.
Jobber is field service management software that lets you quote and schedule new work, stay connected with customers automatically, get invoices paid online, and complete all your front-office and field service duties more efficiently (and with less effort).
Use the Jobber mobile app to keep all your job and client information organized, whether you're a solopreneur or managing a team in the field. To save you time, it automates admin work like customer appointment confirmations and invoice payment reminders.
More Jobber capabilities:
The Jobber app is available in English or in Spanish to manage day-to-day work in the field.
2. ServiceTitan
ServiceTitan helps field service companies with large teams or multiple locations estimate, schedule, dispatch and complete work.
With a focus on complex dispatching and digital job forms, ServiceTitan is ideal for large-sized businesses in HVAC, plumbing, and electrical contracting with commercial clients.
While ServiceTitan doesn't offer automated quote and invoice follow-ups or an online customer portal, it does let you send and receive text messages between your team and customers.
More ServiceTitan capabilities:
Front-office features include dispatching, call tracking, job booking, and customer membership management
Field operations features include an estimate builder, digital job forms, and time tracking
3. Fieldwire
Construction businesses, specialty contractors, and architects or designers use Fieldwire to share information and collaborate with on-site field workers.
With Fieldwire, you can create and manage field work tasks within a large project, see project plans and blueprints from the jobsite, and communicate with field workers in real time.
More Fieldwire capabilities:
Create long-term project schedules with multiple milestones
Add status updates, photos, and videos to a project task
Generate fully customizable construction reports on request or on a schedule
4. FleetSharp
FleetSharp is a fleet management app that uses GPS to help field service businesses locate, monitor, and track the efficiency of your work vehicles. You can use FleetSharp to map out more efficient routes—which helps you reduce fuel costs and reach customers faster.
In the FleetSharp app, you can view details on each vehicle's speed, direction, and stops, along with detailed reports of vehicle activity. You'll also see where your teams are at any time so you can shorten time between appointments and reach more customers.
More FleetSharp capabilities:
View a location history for each vehicle, plus information on speed and direction
Map views with both map and satellite options
Get alerts to your mobile device about unsafe driving behavior or excessive idling
5. Dynamics 365 Field Service
If you dispatch field technicians for repair and maintenance work at large facilities—like warehouses and distribution centers—use Dynamics 365 Field Service to work efficiently.
Dynamics 365 Field Service simplifies the process of scheduling and dispatching crews across multiple locations. Use it to track jobsite progress for crews that need to fix technological outages, maintain complex commercial HVAC systems, and conduct utility repairs.
The Dynamics 365 Field Service mobile app guides your field techs through schedule changes and the service tasks they need to complete on-site.
More Dynamics 365 Field Service capabilities:
Manage work orders for equipment repairs and maintenance
Automatically generate recurring maintenance appointments for equipment
Generate invoices on a recurring schedule for your maintenance agreements
Manage inventory and request purchase orders
6. CompanyCam
CompanyCam lets you easily snap and annotate images of your field service tasks and keep your clients informed along the way.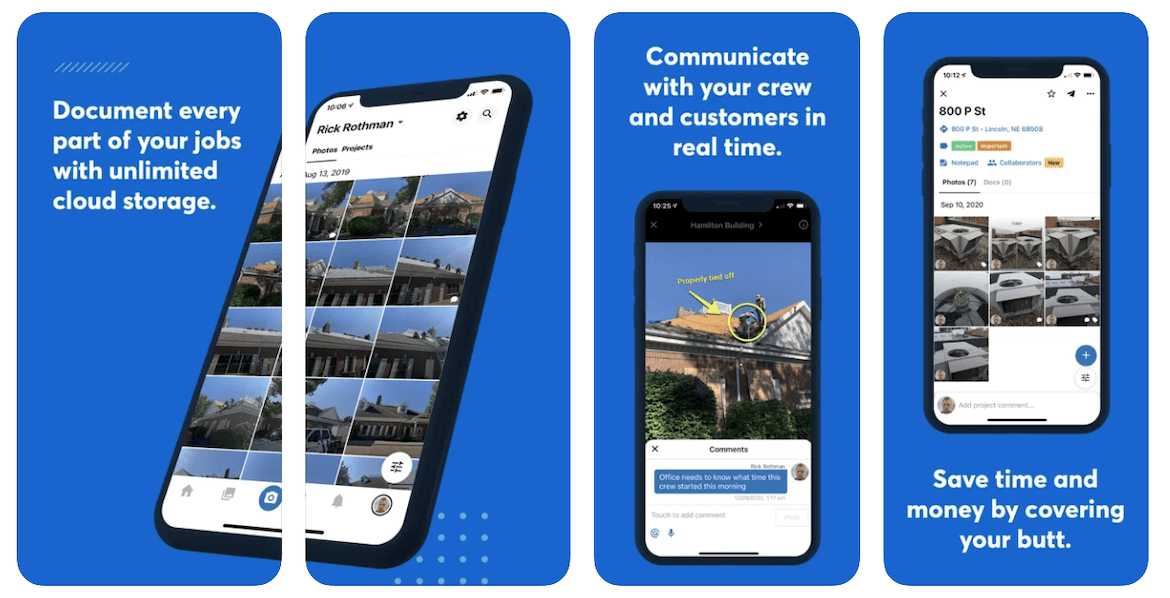 Taking images of your progress on a job helps to build trust and keep your customers informed. CompanyCam helps you do that with shareable photo galleries, live photo feeds, a before and after camera, document scanning, and more.
Plus, add comments, tags, or voice notes to images to show your crew what areas need additional work.
More CompanyCam capabilities:
Add text, annotations, and drawings directly to photos to provide context or instructions
Create and apply multiple tags to photos to categorize them within and across your projects
Easily share live progress updates with your clients, team, or subcontractors
Every photo taken in CompanyCam is instantly time-stamped, saved by location, and visible to the whole team
Unlimited cloud storage to store as many photos as you need
Pro Tip: Use CompanyCam's integration with Jobber to share images of your work progress with customers on jobs and invoices.
7. Connecteam
Connecteam helps field service business owners with employee and task management. It's especially useful for planning shift schedules, managing timesheets, creating jobsite forms, and optimizing the performance of your mobile service workers.
Use Connecteam if you need a free field service management app mainly for employee management—its free plan supports up to ten users. However, you'll have to use separate apps for invoicing and estimating.
More Connecteam capabilities:
Easily manage field worker availability and shift swaps
Build work schedules that your team can access on their mobile devices
Automatically log hours onto digital timesheets
Communicate with staff via chat and see who read your messages
8. Skedulo
Skedulo helps field service businesses with complex job scheduling requirements or large teams. For example, it automatically suggests the worker in your roster who's the best match for the job based on their qualifications.
Although it's designed for many different sectors (including health care and real estate), Skedulo has tools that can help you manage scheduling for technical maintenance and repairs at customer properties.
More Skedulo capabilities:
Assign jobs, track progress, and reassign tasks
Receive updates on field work progress
Access reports that show workforce productivity and job costs
Facilitate communication between dispatchers, managers, and mobile workers
What to look for in a mobile field service app
When choosing a mobile field service management app, see what types of businesses (size, industry, etc.) each app is built for.
Then look specifically at the apps that can solve your most urgent problems—whether that includes scheduling, invoicing, or customer relationship management.
Evaluate these features when choosing your mobile field service app:
Ease of use. Every new tool takes some learning, but service management software that's too complex can eat into your workday and waste more time than it saves.
Desktop availability. Your field service management app needs to run effectively from a computer, too, if you're managing schedules and customer communication from your home office or headquarters.
Task automation. A great field service app can turn repetitive tasks—like appointment reminders—into automatic, effortless work that runs in the background while you focus on growing your business.
Customization. Choose an app you can adapt for your business's specific needs. If it's too hard to customize to fit your current workflow, it might not be worth the hassle or costs.
Integrations. What other software do you need your field service app to connect and communicate with? Before choosing one, check if it integrates with the CRM app or accounting app you already use and can't replace.
Analytics and reporting. If you need detailed insights into your sales, accounting, or marketing activities, pay close attention to the analytics and report customization that your new service management software offers.
Customer support. A great support and setup team will get you onboarded quickly and help you get the most from your app. When researching field service software, read app reviews and see what users say about the customer support team.