14 Fence Company Marketing Ideas to Attract New Customers
Fence company marketing helps you attract leads, tell them about the services you offer, and turn them into paying customers.
Whether you've been in business for years or you're just starting a fencing company, your fence installation marketing strategy can take many forms. Try these 14 ideas to see which ones work best for your business.
Try these 14 fence contractor marketing strategies:
1. Build a fencing business brand
Your business brand tells a potential customer who you are and what to expect from your business. Build a professional brand that includes:
A fence company name that's easy to spell, say, and remember
A logo that attracts customers (design your own with a logo generator like Looka)
Brand colors, patterns, icons, and photos that are recognizable and consistent
A unique selling proposition describing how you're different from other fencing contractors (e.g., fast construction, custom design, local support with permits)

Here's an example of a fencing company brand that looks professional and inspires trust: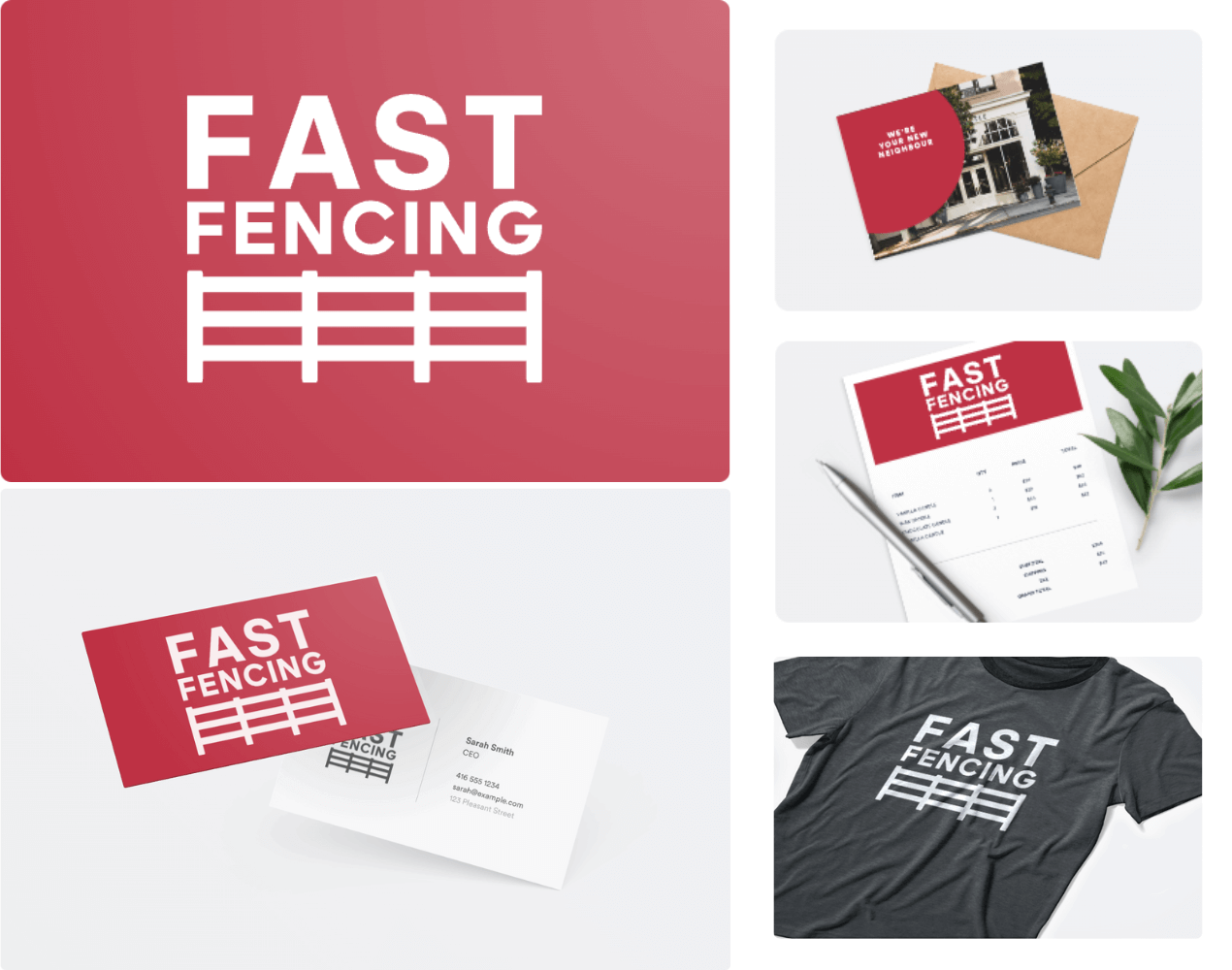 2. Design a fencing website
An online presence helps you promote your fencing business and attract potential customers. Start by creating a website that includes:
A home page with a company overview, a description of your fencing services, contact details, and service area
A call to action (e.g., "call now for your free quote," "book a free consultation")
High-quality photos showing your previous fence construction projects
Links to your social media profiles
More details about your fencing company (e.g., team bios, company values)
Testimonials from satisfied customers

Pro Tip: Book customers from your website faster using online booking software.
3. Spend time on fence company SEO
Local SEO (search engine optimization) helps your fence business show up in search engine results for keywords that potential customers are searching, like "fence installer dallas."
Set up your free Google Business profile, and your business could show up like this in Google's search results:
Potential customers will see even more information when they click on your company, including your business name, logo, contact details, reviews, and service area.
You can also list all the fencing services and materials you offer, such as chain link fence installation or wood fence repair.
4. Set up social media profiles
Reach your customers on social media by creating a Facebook business page and sharing educational or entertaining content that's relevant to them.
It's also a good idea to try social media platforms such as Instagram, Twitter, TikTok, Pinterest, and Nextdoor to see which ones bring you the most likes and followers.
If you're looking for commercial customers, you might find more success on LinkedIn. This popular social media platform for professionals can help you reach new commercial leads with fence company advertising.
5. Invest in digital marketing
Digital marketing (also called internet marketing) helps you reach ideal customers online through search engines and on social media.
Search engine marketing shows your ads in search results on Google and Bing. These can be Google Local Services ads or text-based search ads. Google ads can look like this:
With social media marketing, you can show ads to potential customers on Facebook, Instagram, and other social networks. Here's what Instagram and Facebook ads could look like:
6. Get listed on lead generation sites
Lead generation sites like HomeAdvisor, Angi, Thumbtack, and Yelp help you attract leads who are actively looking for a fencing contractor.
Create accounts on these sites to educate potential customers about your fence installation business and make it easy for them to contact you.
Here's what your Thumbtack profile could look like: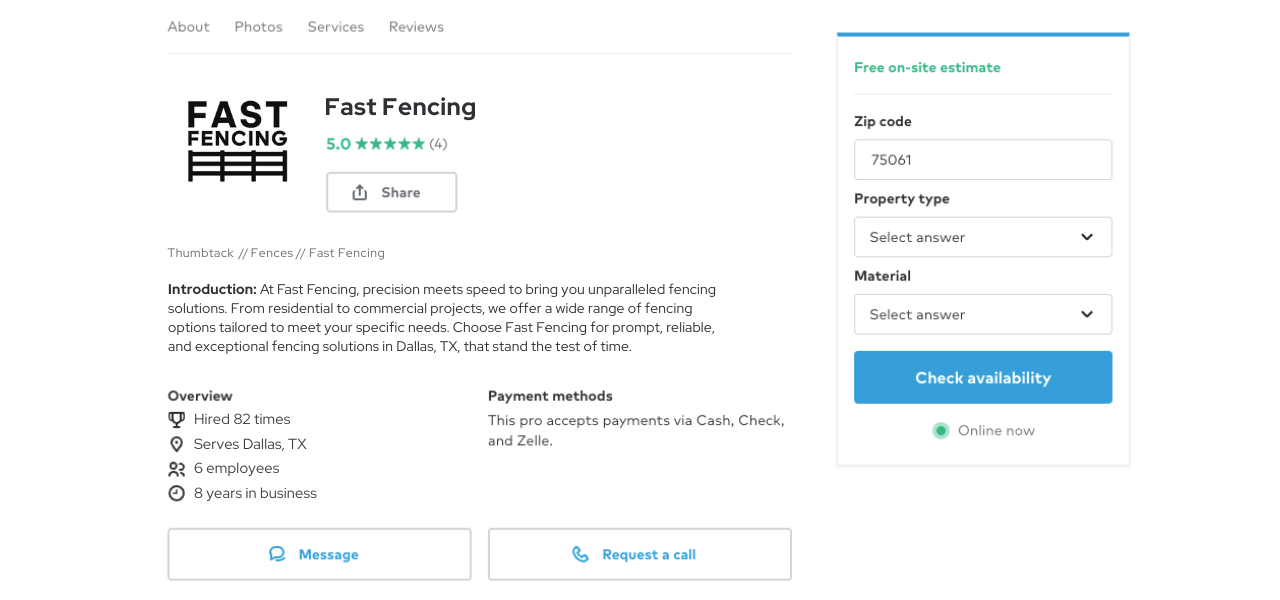 7. Send email marketing
Email marketing helps you promote your services and send content to past, current, and potential customers that keeps you top of mind. Try these ideas for marketing emails:
Introduce your small business and fencing services to new leads
Offer special fencing packages, discounts, or promotions
Share useful information for fence owners, like how to pressure wash a wooden fence
Spotlight loyal customers to show off your previous work

You can also use emails to follow up after service inviting satisfied customers to leave a review or give a referral, or to share a feedback survey asking customers about their experience.
Pro Tip: Add subscribers to your email list by offering a free e-book, checklist, or other valuable piece of content in exchange for their email address.
8. Send out direct mail marketing
You can distribute fencing flyers, door hangers, and postcards to large groups of people in a certain area. There are several ways to do that:
Get your local postal service to send marketing postcards to homes in a certain ZIP code or to people who have recently moved, since they may need to build a new fence
Put flyers in mailboxes in newer neighborhoods —however, be aware that some areas have rules about soliciting, or have community mailboxes that you can't access
Visit the neighborhoods where you'd like to work and put door hangers on front doors belonging to homes without fences, or homes with old fences in need of replacement

Your direct mail could take many forms, depending on how you're distributing it and what you're communicating to potential customers. These are just a couple of examples:
Pro Tip: Every piece of ad mail should have a unique promo code on it. That way you know which flyers, postcards, or door hangers brought in the most leads.
9. Put up yard signs
While you're building a fence, place a wire sign on the customer's front lawn with your logo and contact details. That way, anyone walking past will see your work and know who did it.
This is a quick, easy, and fairly inexpensive marketing tactic that should be part of every job. Just make sure you ask each new customer about placing the sign ahead of time.
Here's an example of what your lawn sign could look like: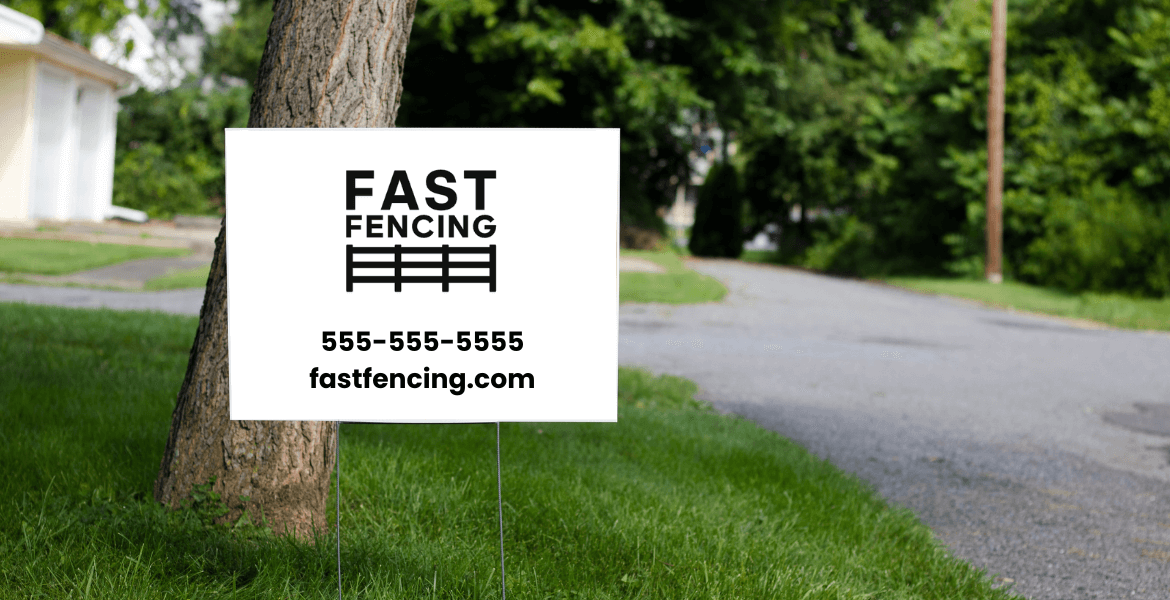 10. Ask for reviews and referrals
One of the best ways to market your fence business is through word of mouth. Once you've finished a job, ask customers for reviews on Google, Facebook, and any lead generation sites or online listing pages.
You can also ask customers to refer your business to family and friends. Referral marketing earns leads who already trust you—and it doesn't cost anything but a small service discount or gift card.
Pro Tip: Offer the best customer service you possibly can and do your best to solve any problem. Your customers will likely be happy to promote your business in exchange.
11. Reconnect with past customers
Fencing may feel like a one-and-done service, but it doesn't have to be. Reconnect with old clients to see if they've moved to a new home or want to update their fencing.
Go through your field service CRM to look for customers who paid their invoices on time, were satisfied with your work, or might benefit from changes to your service offering.
12. Build a network in your service area
Building a local network can help you keep up with community news and find opportunities to advertise your fencing services.
Try these ideas for building relationships with other businesses in your service area:
Join your local Chamber of Commerce
Become a member of your neighborhood's community league
Join neighborhood Facebook groups in your area
Attend trade shows for fencing and other home services
Find partners in other industries (e.g., roofing, landscaping) who can send you leads
Network with other entrepreneurs who get what you're building in the Jobber Entrepreneurship Group
13. Support community events
Build brand awareness and make yourself a trusted name in your community by taking part in local events and initiatives. This could include ideas like:
Sponsoring local sports teams
Donating to fundraisers for important causes
Volunteering at holiday celebrations as the business owner
Donating your fence installation services to organizations in need
Maintaining and repairing fences for elderly community members
14. Wrap your company truck
Get a branded decal or wrap for your work vehicle so potential customers know it belongs to you. This helps advertise your fence business and services while you're driving around town.
Include your business name, logo, brand colors, and contact info on your vehicle. That way potential customers can contact you if they're interested in learning more about your services.
See an example of a professional-looking fence company truck wrap in our video with DFW Patios—and yes, they do fences, too: