How to Start a Painting Business: An Easy Guide (With Expert Advice)
March 1, 2022
10 min. read
Learning how to start a painting business the right way can help you get more customers, turn a profit, and do what you love for a living.
Take it from Graham Audenart, founder of Painters Enterprise, who's helped thousands of homeowners since starting his company in 2003. With some of Graham's advice, we'll walk you through how to get started in the painting industry and build the foundation for a successful painting business.
How do I start my own painting business?
1. Learn professional house painting skills
Learning how to paint professionally can save you from making mistakes that cost you money and clients. Before you get your first job, here are some professional house painting skills that all painters should know:
Proper scraping, patching, and sanding techniques to prep a room for painting
Basic painting techniques to get an even coat and avoid touch-ups
How to use brushes and rollers
How to cut in paint
How to use different kinds of paints (oil based, latex, acrylic, etc.)
When to use primer (for most interior painting jobs except touch-ups and refreshes)
The best way to paint rooms (from top to bottom)
Getting hands-on experience is the best way to learn. Many painting contractors start by working for a painting company for one or two years. This experience can also give you insight into the industry and how to start a painting business of your own.
2. Register your business, get a license, and painting insurance
You need to set up your business legally before you paint your first house. Follow these steps carefully to make sure you're registered, licensed, and insured properly.
Choose a business structure and register your company name
Once you've chosen a unique painting company name, you're ready to complete the paperwork you need to run your business legally.
First, decide what business structure you want to register your business as. These are the typical options for small businesses:
Sole proprietorship — You run your operations alone and want complete control over your business.
Partnership — You're opening your painting business with two or more people who are still legally considered self-employed.
Limited liability company (LLC) — You run a medium or high-risk business, and you want to protect yourself from personal liability.
READ MORE: Should I incorporate my small business?
Then you'll need to register your company name. This process is different depending on where you live:
Pro Tip: Type "YOUR CITY NAME + business laws" into Google to find your local regulations for painting businesses.
Get a business license
A business license is what legally allows you to run your business. You need a license to operate your business—no exceptions.
The specific kind of license you need will vary from state to state, so contact your local Chamber of Commerce or the Small Business Administration (SBA) to find out what you need.
Licensing and registration can cost between $75 and $400 USD per year, depending on your region. You'll need to display your business license in your office or when asked to provide proof of registration.
Get painting business insurance
Painting insurance protects you, your business, and your future employees from losses caused by injury, property damage, or other unexpected incidents. There are different types of insurance you can choose from, depending on the coverage you need:
General liability insurance
Health insurance
Vehicle insurance
Workers' compensation
Business owners' policy
Employment practices liability
Insurance is your safety net, and it's an essential part of running your painting business. Shop around for the right insurance plan for your small business and check out various providers in your area.
3. Set up accounting and bookkeeping
Open a business bank account to keep your business's finances and assets separate from your personal ones. This is the first step to easier bookkeeping, and it's a requirement if you decide to incorporate your business.
A separate account is also important for monitoring business cash flow so you can pay overhead costs, yourself, and your employees or subcontractors.
READ MORE: Bookkeeping vs. accounting: which one do you need for your business?
In the future, you might want to hire an accountant to save time and stress. You could also invest in painting contractor software that syncs with QuickBooks so you can easily manage your invoicing, payments, and accounting online.
4. Decide which types of painting services to offer
Choosing what services you want to offer will help hone your skills, focus your marketing strategy and save you from promising work that you're not prepared to do.
Here are some types of painting services you might offer:
Interior painting
Exterior painting
Construction painting
Repaints
Staining
Drywall repairs
Wallpaper removal
Metal door painting
Deck reconditioning
Pressure washing or power washing
The painting services you offer should depend on what you want to do, what you're good at, and what your clients need.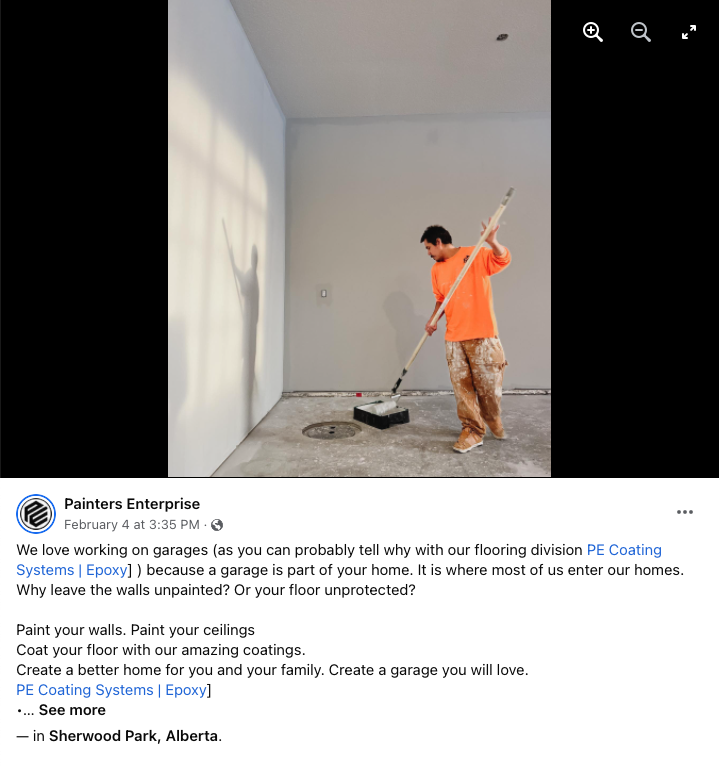 Choose your target clients
Start by deciding whether you want to offer residential or commercial painting services. Residential and commercial jobs will affect your business plan and bottom line in different ways:
Residential painting clients are easier to book and the jobs are simpler, but it's less likely you'll get recurring work. You'll have to work hard on getting a big client list to stay profitable.
Commercial painting clients are more likely to give you recurring work and more profitable projects, but cash flow is much slower. You'll need to pay more for people, expenses, and materials—and you'll get paid less frequently.
Once you have your first clients, figure out what they typically want and focus on those service offerings. If you have a client who asks for specific paint services that you don't offer, you can always subcontract that out.
5. Choose your painting equipment
Painting equipment can be expensive, so start by investing in the essentials and build your inventory of equipment over time.
If you're a house painter, you'll need the following painting supplies:
A few brushes of different sizes
Roller
Paint tray
Drop cloths
Sandpaper
Painter's tape
Scrapers
Ladder and a caulking gun (for exterior paint jobs)
You can rent advanced tools, like paint sprayers, when you actually need them. Those can cost over $500 to purchase and eat into your other important startup costs.
For commercial painting jobs, you'll absolutely need:
A ladder
Canvas drop cloths
Caulk and compound
Sandpaper and scrapers
Industrial primer
A pressure washer
A tape measure
Stir sticks
An extension pole
Edging tools
Graham recommends always keeping your paint tools with you, and not borrowing supplies from your clients, or the painters you're working with.
"As soon as you find yourself in a situation where you need a specific tool, go out and get the tool. You need proper tools to get the job done properly!"
READ MORE: Painting equipment list: 50 must-have tools for professional painters
6. Learn how to estimate painting jobs and price your services
You need to estimate your painting jobs properly to keep your small business profitable. To create an accurate estimate:
Visit the client's home or building and inspect the conditions of the space
Estimate how many hours it will take you to complete the job
Multiply the time by the cost of labor
Add your materials, overhead costs, and your desired profit margin
Use software to total the estimate and send your client a copy of the quote
READ MORE: How to estimate and quote a painting job
Estimate software can help you calculate costs and quantities automatically, add markup, and include photos of products you can offer. When the job is done, it's easy to convert your estimate into a painting invoice using Jobber's quote management software.
Pro Tip: Use a CRM to keep track of your pricing over time and the changes you make. Finding the right pricing that supports your business is a process!
Learn how to write painting contracts
Painting contracts are legal agreements between you and your clients that outline the services you're providing.
Once you've sent a painting cost estimate and your client has approved it, you should send a final quote that lists the scope of work, total costs, and your contract that states your terms and conditions.
READ MORE: How to get painting contracts
Find it difficult to create quotes for your painting contracts? You can use our free painting estimate template as a quote template—it already has all the sections you need.
7. Get your first painting customers
The first step to marketing your painting business is establishing a brand and an online presence. These make your business easy for a potential customer to find.
Brand your painting business
Your brand is how the public sees your business. It's the look and personality of your company, and it should hint at what sets you apart from your competitors. To build your brand:
Know your value proposition. What makes your painting company different? It could be your main client base (e.g., senior citizens, clients who work night shifts), your values (e.g., being eco-friendly), or a personality trait you're proud of. Write a short, memorable line that summarizes that.
Create a logo and choose your company colors. Try an online logo generator like Looka to make something simple and easy to read. Your logo and colors should reflect what makes your business unique.
Get a dedicated business phone number and email address. There are free email options available, or you can use a custom name after the '@' symbol if you've purchased a domain name for your website.
Choose a uniform. This helps you (and your team) represent your company when you're on the job. You could order t-shirts with your name and logo, or even pants, hats, or face masks that match your brand colors.
Make branded business cards and vehicle decals that include your logo, company name, phone number, website, and email address.
Build an online presence
Most of your future clients are looking for businesses online. Setting up your online presence helps potential customers easily find your business on the internet and contact you for your services.
Here are a few simple ways to build an online presence:
Create a Facebook business page and share before-and-after photos, client reviews, and discounts on services
Create profiles on Instagram and LinkedIn
Claim your Google My Business listing
Make a simple website (using online website builders like Wix or Squarespace)
Create listings on online directories like Yelp, Houzz, HomeAdvisor, or Angi
READ MORE: How to build an online presence for your business: 4 low-cost steps
8. Hire subcontractors or employees
Subcontractors are great for projects that require specific skill sets, while employees are great for on-going, long term projects.
Hiring painting subcontractors has helped Graham complete more work, take on bigger jobs, open more locations. You can rely on subcontractors to supply all their own materials, which is one less expense and responsibility to worry about.
Employees, on the other hand, will stay with you on a consistent, permanent basis—so you have a team you can train and grow with. You'll have to budget for each painter's salary as well as employee benefits, training, and additional paint tools.
READ MORE: Subcontractors vs. employees: a complete overview
Pro Tip: Make sure you've read your local subcontracting laws before you start hiring a subcontractor.
Build a profitable painting business with the right tools
Running a painting business and doing what you love is going to be extremely rewarding. You're taking a big step—but if you make a careful business plan for your service offerings, estimating, advertising, and hiring, you'll build a business that succeeds and grows.
Come back to this guide when you need help, and check out our painting business resources for more advice.
Originally published in September, 2019. Last updated on March 1st, 2022.