10 Skills Every Handyman Needs to Run a Business
July 18, 2019
8 min. read
Do you have to be a "born entrepreneur" to successfully start a handyman business? Not necessarily. It might help, but you'll be at an advantage if you hone the right skill sets too. What skills do you need to check off to help you get there? That's what we're covering in this article.
Here are ten skills that some of the most successful business owners in your industry have, and what you should work on to run a successful handyman business:
Technical Skill
Customer Service
Communication
Email marketing
Budgeting
Scheduling
Working with others
Hiring
Organization
The ability to say no
1. Technical skill
If you're going to be the main service provider, then you need sharp technical skills. However, if you're starting a business with a technical partner, then you don't need to focus on this as much.
Handyman services include anything from hanging a picture frame to setting tiles for an entire bathroom. If you're a Jack of all trades, but a master at none, start honing your technical skills. In the meantime, narrow your service offerings to what you excel at.
Alternatively, you can figure out what services your clients need most based on work requests and demand. For example, if you live in a big city that's comprised mostly of condos, consider only offering what condo home owners need help with: hanging pictures, light fixtures, painting, tiling, and floor installations, and avoid anything else.
READ MORE: Learn the difference between a handyman and a contractor
2. Customer service
Customer service is extremely important and often overlooked in the handyman industry. This means that there's a lot of opportunity to compete on customer service.
This is a broad skill set to focus on, but consider starting small with the following:
Tell your clients exactly what services you offer, your rates, and what they should expect the moment you start working together.
Once you've clearly outlined offerings and expectations, you need to follow through. That's one of the big differentiators between someone who has great customer service skills and someone who doesn't.
Be professional before, during and after you work with clients, even if it's difficult to do. For example, have a handyman license and insurance, an online presence, reviews, a firm warranty and customer service policy, and follow up.
If you uphold all this and stick to it, you'll set expectations for your clients and create a pleasant experience for them throughout the relationship. It shows them that you care about their satisfaction, which goes a long way for building your business.
FREE TOOL: Try our free handyman receipt template
3. Communication
Great communication is no easy task, especially when you're in the field. However, it makes all the difference.
When you communicate clearly with clients it means that everyone is on the same page, less mistakes are made, things move faster, and you waste less money.
Iron out your workflow so you and your clients know exactly what to expect and when to expect it. That way, there are no surprises.
Follow up with clients at every stage of the project. Here are some examples:
Remaining in the loop with your client throughout the process makes you look incredibly professional. It helps you develop a strong reputation, and it helps you get paid faster.
If it makes things easier, you can automate this whole communication process with handyman software.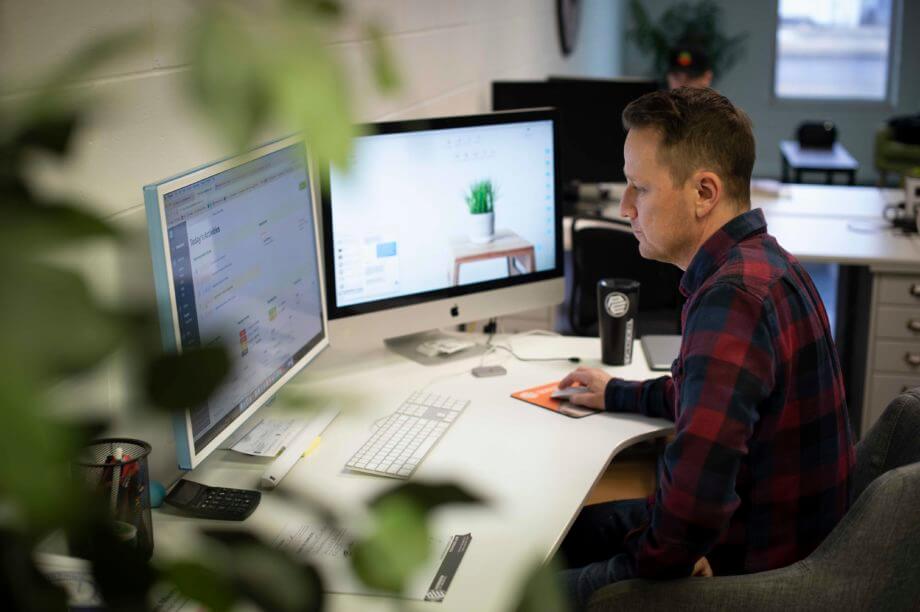 4. Marketing
You didn't go to trade school for digital marketing, but that doesn't mean that it's too late to use it to your advantage. Keeping in touch with your customers to stay top of mind can be a silver bullet. You can easily do that with the right tools.
Email marketing is a great example. It requires little effort, it can be automated, and some software, like MailChimp, can integrate with your handyman software.
All you have to do is use a template and hit "send" to your CRM's client list. You're instantly able to remind all your clients about seasonal promotions, discounts, or service reminders.
What is a CRM?
A CRM (client relationship management tool) is basically a digital Rolodex that helps you keep track of client contact information, account notes, system information, and service history. A good field service management software should offer this as a feature.
5. Budgeting
Cash-flow, budgeting for materials, overhead, and salaries might be uncharted territory for some. If it is new for you, start building this skill with a basic budgeting strategy using Owner's Draws.
Start by creating a separate business bank account. Put all your profits into that account from the start. Next, take an Owner's Draw starting at the very first month––even if it's only $50 a month. This is your first step to learning how to budget, starting with your own salary.
Most people wait too long to learn about budgeting and they forget to pay themselves, or run out of money on expenses. You can always increase the amount you pay yourself over time. This process is very important because it teaches you how to create the right conditions for sustainable growth over time. Running a sustainable business is all about revenue vs. profit!
6. Scheduling jobs
If you're trying to hone your scheduling skills using pen and paper, you might be wasting time on a skill that can easily be left to software. Sometimes, the strongest skills you have are deciding what's worth your time and energy and what should be left to automation.
Scheduling is one of those things. If you learn how to use job scheduling software for handymen then you'll have more control and flexibility with your schedule, you'll have a better view of what's happening on a daily basis across your team, and you'll be more efficient at dispatching your team.
With scheduling software, you'll have more time to spend on other skills that need your attention, and that help improve your bottom line.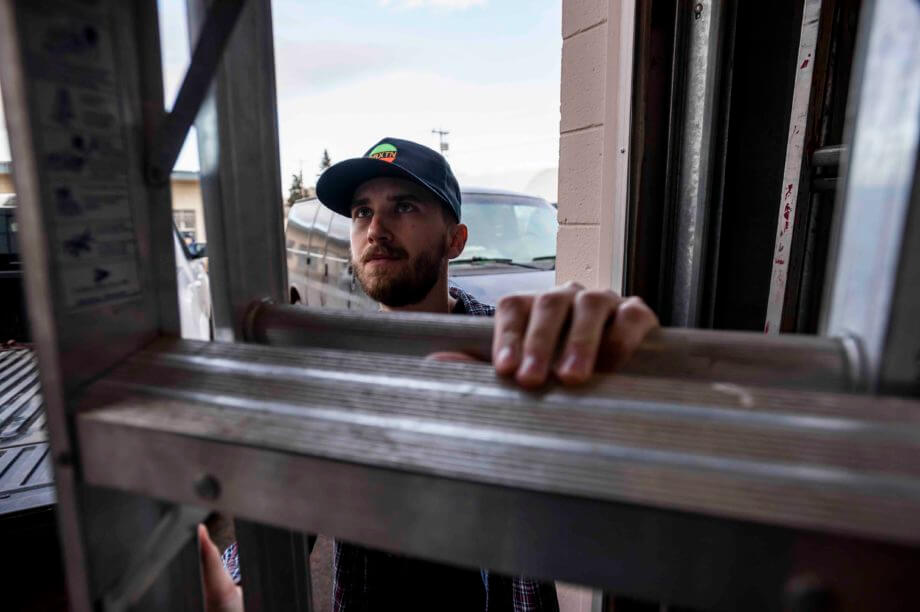 7. Working with others
Even the most seasoned and successful professionals need to work with others to get their business running at maximum efficiency. If you think you can do it all on your own, then you might be in for a surprise when you want to increase your profit margins or scale your business.
Working with a team when you're just starting out can give you a huge technical and business advantage. Working with other expert handymen and business owners can really help.
You can start by finding a partner who has more experience in your weak areas. For example, if you don't know how to find clients, do search engine optimization, market your business, or build a website, then find someone who does.
That person should be able to help you make tough business or technical decisions based on their personal experience.
8. Learn how to hire employees
Hiring employees is inevitable for any business owner who wants to scale their business. You never want to be the bottleneck of your own business, but if you're your only employee, you might end up being one.
Hiring an employee or two will empower you to spend less time in the field and more time building your business. Working on the business instead of in the business is a great use of your time and energy.
The best way to tackle hiring is by creating a process that you stick to and learn from.
For example, start with standard job listings and observe what types of talent roll through and make adjustments to your job descriptions as you see fit. Next, score your candidates during the interview process and take the highest scoring candidates out in the field for a technical interview.
If you need some hiring pointers, check out these hiring strategies straight from other entrepreneurs just like you!
READ MORE: Hire qualified employees faster with a handyman job description
9. Be organized
Being organized might seem like a skill that comes naturally, but it's easy to find workarounds with tech if it's not your thing. Tech can prompt you to complete important tasks, keep you on the ball, and complete a ton of tasks for you so you don't forget anything.
For example, if you're having trouble remembering everything you need to prep the night or morning before going out in the field, consider using tech to help you out.
A handyman app will give you access to all the information you need in the field and then some. So when you show up to the job site, you have the full project outline in your hand that can be converted into an invoice the second you hit "complete" in the app. It will even send your client the invoice for you!
10. The ability to say "no"
Taking on clients is great, but taking on too many clients is dangerous. It could lead to working outside of your scope and letting quality slip. You're going to have to learn how to say "no" to some clients in order for your business to flourish.
This seems counter-intuitive, right? Money is money!
Not exactly. In the handyman industry, taking on any project could result in overstepping permit and license boundaries. That could cost you in fines down the line if something goes wrong.
READ MORE: How to get a Florida handyman license
Plus, taking on the projects and clients that are a bad fit could harm your business model. You might learn this through trial and error as you work with new properties, clientele, neighbourhoods, and projects. But you'll recognize it when it happens. For example, a project might end up taking much longer than anticipated, or your pricing strategy is costing you money.
When you recognize a bad fit, respectfully decline the project and referthe prospect to someone else in your network instead.
Regardless of whether you consider yourself a born entrepreneur or not you always need to flex new muscles and hone your skills to successfully run a handyman business!