Marketing Tips for Electricians: 10 Ways to Get More Customers
July 26, 2022
7 min. read
Creating an effective electrician marketing strategy helps you get new electrical job leads and stand out from the competition.
In this article, we've compiled a list of electrical contractor marketing ideas to help you build your customer base and schedule more work.
The best digital marketing tips for electricians:
1. Create a professional electrician website
To build a strong online presence for your business, start by creating a professional electrician website. It's a way for potential customers to learn more about your business and request your services hassle-free.
Your electrician website should include:
Your electrical business name, logo, and contact information
The electrical services you offer
Your service areas
Background information about your company
Reviews and testimonials from past electrical customers
An easy way to request work or book services online
You can use a website builder like Wix, GoDaddy, or WordPress to build your new website or pay a website designer to create your site for you.
2. Use SEO to appear higher on search results
Search engine optimization (or SEO) is a digital marketing strategy that focuses on improving your website to help your business appear higher on search engine pages.
Optimizing your website with SEO can help customers looking for electrical services find your business on Google.
Here are four quick ways to optimize your website for search engines:
Include key terms or phrases a customer would use to search for your services, like "24-hour electrician," "certified electrician," "commercial electrician," or "residential electrician".
Add your company name, address, and phone number to every page of your website.
Make sure your website is mobile-friendly, quick to load, and easy to navigate.
Use WhiteSpark or BrightLocal to find the top citation sites to list your electrical business.
You can choose to optimize your website yourself or hire an agency or freelancer that offers SEO services to do it for you.
READ MORE: SEO for contractors: an easy guide
3. Set up your Google Business Profile
Make it easier for a potential customer to find your services online by claiming your free Google Business Profile (formerly Google My Business).
Setting up your Business Profile helps your electrical business show up on Google Search and Google Maps.
It can also help potential customers decide if they want your services based on your customer reviews, images, business hours, etc.
Your Google Business Profile should include:
Company website URL
Phone number
Business hours
Business address
Business category (should be an electrician or electrical engineer)
Description of your business
The electrical services you offer
A profile image
Customer reviews
4. Invest in digital advertising for your electrical business
Advertising online can put your business in front of customers looking for help.
There are two types of Google Ads that you'll want to use to advertise your electrical business–Local Service Ads and pay-per-click (PPC) ads.
With Local Services Ads, you'll be charged for every lead you receive. PPC ads require you to pay every time someone clicks on one of your ads–regardless of whether it turns into a sale.
Local Services Ads
Google's Local Services Ads target potential customers in your defined service area. The ad appears at the very top of the search results page and lets leads book an appointment with you right from Google Search.
Here's what it looks like for an electrician advertisement.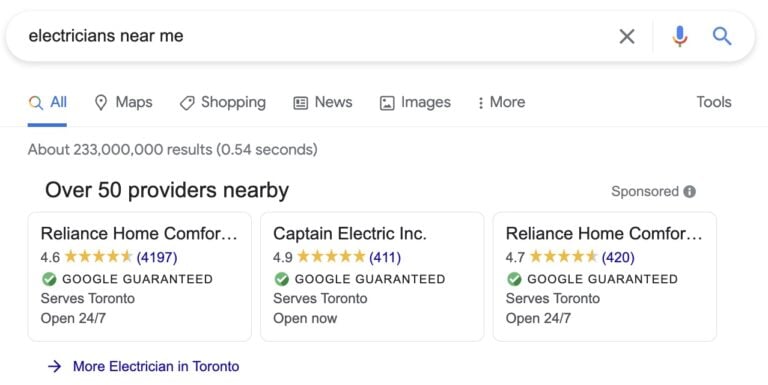 Pro Tip: To earn trust with potential customers and stand out among the other Local Services Ads, apply for the Google Guarantee Badge.
PPC ads
Pay-per-click advertising offered by Google lets you advertise to people searching for keywords that are relevant to your business, like "electrician in [CITY]," "residential electrician," or "master electrician."
When a customer searches one of these terms, your ad will appear at the top of the search results page.
The ad includes a headline, description, and URL that sends users to your website to request a service or learn more about your business.
Pro Tip: Use Google Analytics to see which ads are getting the most visitors to your website and update your ad budgets accordingly.
6. Send email marketing campaigns to new and existing customers
Sending email campaigns is a great way to remind your customers of your services and keep them engaged with your business.
Use email marketing to offer deals, update customers about changes to your business, or remind existing customers about recommended maintenance.
Pro Tip: Use Jobber's MailChimp integration to automatically sync your customer email addresses and send professional, ready-to-run email campaigns.
7. Pay for leads on lead generation sites
Lead generation websites like Thumbtack, Angi, or TaskRabbit can connect you with potential customers looking for your services–for a small fee.
Depending on the site, you'll have to pay an annual subscription or pay for each lead your business receives.
Here's how to get the best quality leads from lead generation sites:
Provide a detailed list of your electrical services
Define your company's service area
Set a monthly budget
Once the job is complete, use these lead sites to collect customer reviews and improve your brand's reputation.
READ MORE: 14 Thumbtack alternatives for your home service business
8. Collect online reviews for your electrical services
Requesting online reviews from happy customers can help you build a reputation as a trusted electrical business.
You can ask for reviews in person, over the phone, via email, or even a text message. Just make the process as easy as possible for your customers by providing detailed instructions and a link to your preferred review site.
Then show off your hard-earned reviews by sharing them on social media, creating a testimonial page for your website, or adding them to flyers or door hangers.
READ MORE: How to respond to negative reviews (with expert examples)
9. Ask existing customers for referrals
Start a customer referral program to turn happy customers into new business for your electrical company.
You can ask for a referral in person when the job is complete, in a follow-up email, or even right on the bottom of your plumbing invoice.
Encourage your customers to refer family or friends by offering an incentive, like a discount on services, company swag, or even gift cards.
Customer referrals start with great customer service
Your customer referral program will only be a success if you're providing a great customer experience.
Here's how you can easily improve your customer service with electrician software like Jobber:
READ MORE: 15 Brilliant customer referral program ideas (with examples)
10. Share your knowledge with blog posts
Writing interesting and educational content positions your electrical business as industry experts and keeps you top-of-mind for customers who may need your services down the road.
Creating blogs for that purpose (a strategy known as content marketing) can also help your SEO strategy and improve your rankings on the search results page.
To start, write a list of the most common questions customers ask, like:
Does my home need rewiring?
Why is my circuit breaker tripping?
Why do my lights flicker?
Then use your blog posts to answer these questions in detail and post them to an electrician blog webpage on your electrician website.
Get more customers for your electrical business
To grow your small business, you'll need the right mix of marketing strategies that promote your electrical services to the right people, in the right places.
Use this list as a starting point to see which marketing tips work best and develop a marketing plan that helps you attract more customers.